After School Hummus
Dairy-Free |
Gluten-Free |
Kid Approved |
Quick & Easy |
Snacks |
Low Sodium |
No Added Sugars |
Vegetarian
This snack staple is the perfect blend of mashed beans, spices, oil, and yogurt.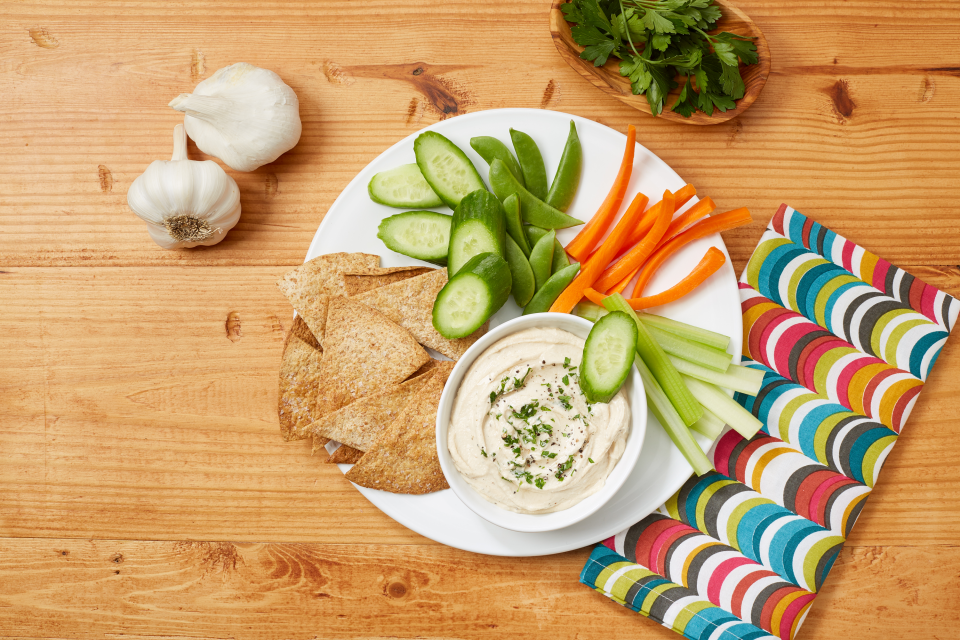 Serving size:
2 tablespoons
Prep time:
15 minutes
Total time:
15 minutes
Equipment:

Can opener

Colander

Blender or food processor

Utensils:

Spoon
Serving Suggestion:
Serve with fresh vegetables, pita chips, or crackers
Recipe sourced from Share Our Strength's Cooking Matters
1 15 ounce can no salt added garbanzo beans (chickpeas)
2 medium garlic cloves, peeled
1 1/2 tablespoons lemon juice
1 teaspoon ground cumin
2 tablespoons olive or vegetable oil
1/8 teaspoon ground black pepper
1/2 cup plain non-fat yogurt OR 2 tablespoons water
Instructions
Before you begin wash your hands, surfaces, utensils and tops of cans.
Use a colander to drain garbanzo beans. Discard liquid.
In the bowl of a blender or food processor, combine garbanzo beans, garlic, lemon juice, cumin, oil, and pepper. Blend on low speed until the beans are mashed and consistency is smooth.
Stir in 1/2 cup yogurt OR 2 tablespoons water with a spoon.
For best results, refrigerate for several hours or overnight so the flavors can blend.
Tips
You can substitute garlic powder (1/4 teaspoon) for garlic clove.
For a shorter blending time, mash beans with a fork, chop garlic finely, and then stir ingredients thoroughly before adding to the blender.
Store the hummus in an airtight container in the refrigerator. Use within 2-3 days.
Add 1/3 cup chopped red pepper for a different flavor.
Featured
Ingredients


What goes in After School Hummus?

Low-Fat Yogurt

Garlic Cloves

Canned Garbanzo Beans
Nutritional Information
(Per Serving)
See complete nutrition facts >>
Comments