Baked Flaked Chicken
Kid Approved |
Main Dishes |
Low Fat |
Nut-Free
This classic baked chicken dinner is easy enough for the busiest of weeknights. Flake it, bake it, and enjoy.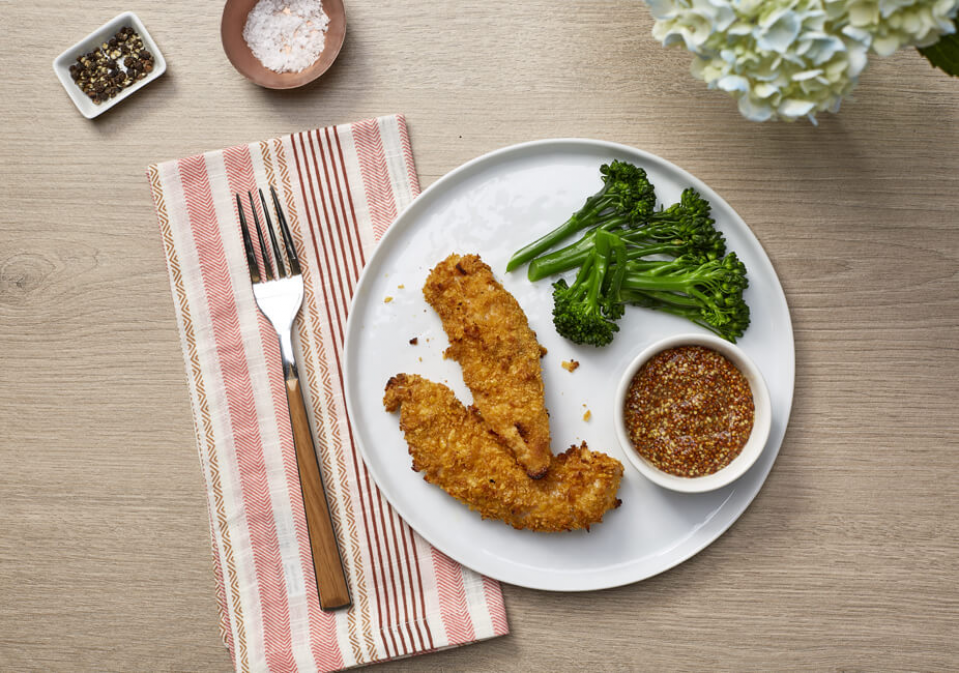 Temperature:
375 degrees
Serving size:
4 oz of chicken
Prep time:
20 minutes
Cook time:
25 minutes
Total time:
45 minutes
Equipment:

Zip-close bag

3 medium bowls

9x13-inch baking sheet

Utensils:

Knife

Fork

Measuring cups and spoons




Recipe Sourced from Share our Strength's Cooking Matters
* Cost and availability of recipe ingredients may vary across different regions of Ohio. Cost per serving information should be used as a general guide when considering recipe cost.
1 pound boneless skinless chicken tenderloins or breasts
1 1/2 cups corn flake cereal
3 tablespoons whole wheat or all-purpose flour
1/4 teaspoon salt
1/8 teaspoon black pepper
1 tablespoon garlic powder
1 large egg
2 tablespoons low-fat milk
Non-stick spray
Instructions
Before you begin, wash your hands, surfaces, and utensils.
Preheat oven to 375 degrees. Spray baking sheet with non-stick spray.
Remove skin, if any, from chicken pieces. If working with large chicken breasts, cut in half lengthwise for faster cooking time. Trim any excess fat.
Crush corn flakes in a zip-close bag. Pour into medium bowl.
In a second medium bowl mix flour, salt, black pepper and garlic powder.
In a third medium bowl, add eggs and milk. Whisk with a fork.
Dip each chicken piece into flour mixture, then egg mixture, then corn flakes. Each piece should be fully coated with flakes.
Place chicken pieces on prepared baking sheet, evenly spaced. Spray pieces lightly with non-stick spray.
Bake for 20–25 minutes until chicken is crispy, and has reached internal temperature of 165 degrees.
Featured
Ingredients


What goes in Baked Flaked Chicken?

Low-fat Milk

Eggs

Chicken Breast

Flour

Corn flakes
Nutritional Information
(Per Serving)
See complete nutrition facts >>
Comments