Banana Split Oatmeal
Breakfast |
Kid Approved |
Snacks |
Low Fat |
Vegetarian |
WIC Friendly |
One-Two Serving
Breakfast or snack? You decide. Either way, you'll enjoy it lickety-split.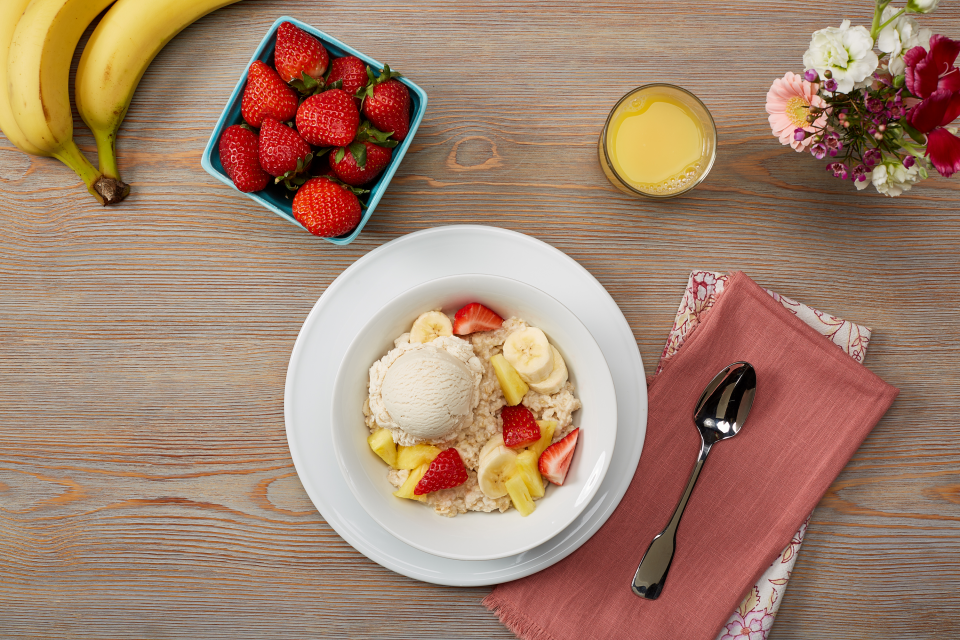 Temperature:
High
Serving size:
Entire Recipe
Prep time:
2 minutes
Cook time:
2 minutes
Total time:
4 minutes
Equipment:

Microwave safe cereal bowl

Microwave

Utensils:

Measuring cups and spoons

Spoon
1/3 cup quick-cook oatmeal
1/8 teaspoon salt
3/4 cup very hot water
1/2 banana, sliced
1/4 cup canned pineapple in juice, drained
1/4 cup fresh strawberries, sliced
1/2 cup frozen low-fat yogurt
Instructions
1. Before you begin, wash your hands, surfaces, utensils, produce, and tops of cans.
2. In a microwave-safe cereal bowl, combine oatmeal and salt; stir in water.
3. Microwave on high power for 1 minute, then stir. Microwave on high power for another minute and stir again.
4. Microwave an additional 1 minute on high power until oatmeal reaches the desired thickness. Stir again.
5. Top with fruit and frozen yogurt.
Featured
Ingredients


What goes in Banana Split Oatmeal?

Oatmeal

Pineapple

Strawberries

Banana
Nutritional Information
(Per Serving)
See complete nutrition facts >>
Comments