Beef and Vegetable Pot Roast
Dairy-Free |
Gluten-Free |
Kid Approved |
Main Dishes |
No Added Sugars |
High in Fiber |
Egg-Free |
Nut-Free
Get that meat-and-potatoes feeling from this hearty, wintery, home-cooked favorite.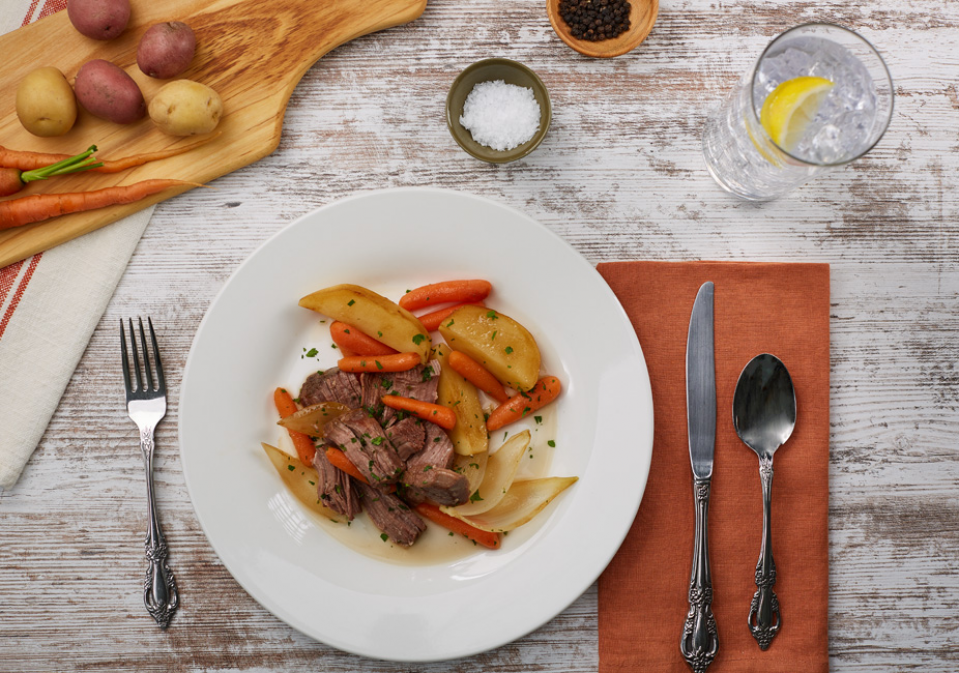 10 hours, 10 minutes
Total Time
Temperature:
Low setting on slow cooker
Serving size:
1, 2-inch slice of roast beef, 1/2 cup carrots, and 1/2 cup potatoes
Prep time:
10 minutes
Cook time:
10 hours
Total time:
10 hours, 10 minutes
Equipment:

Slow cooker

Large frying pan

Small bowl

Utensils:

Serving spoon

Measuring cups and spoons
* Cost and availability of recipe ingredients may vary across different regions of Ohio. Cost per serving information should be used as a general guide when considering recipe cost.
1 3 to 3 1/2 pound boneless beef OR chuck roast
1 tablespoon olive oil OR vegetable oil
2 pounds baby carrots
6 medium potatoes, quartered
1 large onion, quartered
3 teaspoons Celebrate Your Plate Salt-Free All-Purpose Seasoning OR meat seasoning mixture
1 32 ounce carton low-sodium beef broth
1/4 teaspoon salt
Instructions
Before you begin, wash your hands, surfaces, produce, and utensils.
In a large frying pan over medium heat, brown roast in oil on all sides.
Plate carrots, potatoes, and onion in a 6 quart slow cooker. Place roast on top of vegetables; sprinkle with seasoning blend and salt. Add broth and cover with slow cooker lid.
Cook on low for 10-12 hours, until beef and vegetables are tender.
Featured
Ingredients


What goes in Beef and Vegetable Pot Roast?

White Onion

Carrots

Potatoes

Beef Roast

All-Purpose Seasoning Blend
Nutritional Information
(Per Serving)
See complete nutrition facts >>
Comments