Blueberry Protein Smoothie
Breakfast |
Snacks |
Low Sodium |
No Added Sugars |
Vegetarian |
WIC Friendly |
One-Two Serving
This smoothie is made with fruit, milk, tofu and orange and lime juices for a bright and creamy treat full of antioxidants!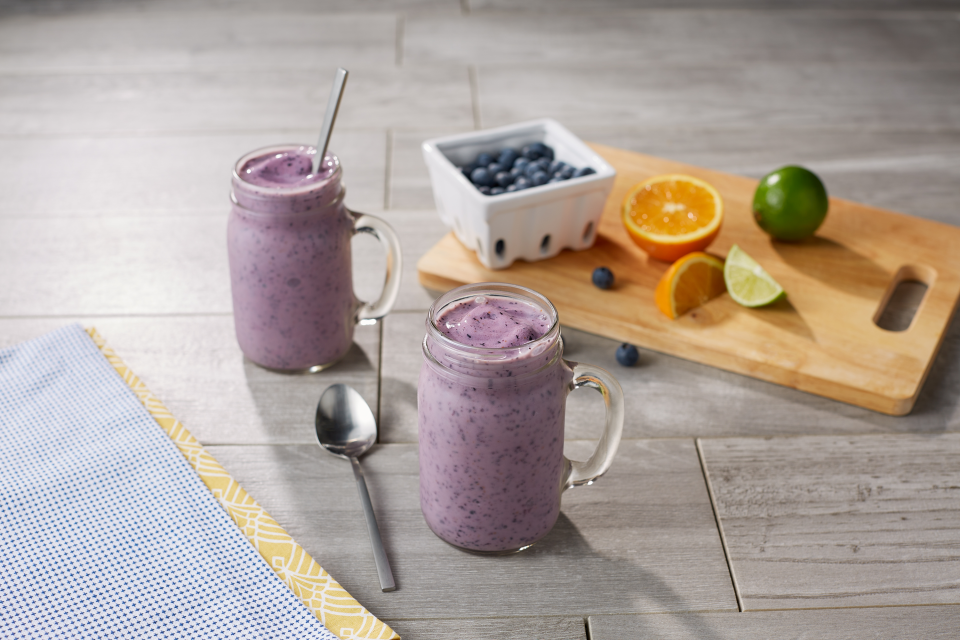 Serving size:
~1 cup (1/2 of recipe)
Prep time:
10 minutes
Total time:
10 minutes
Equipment:

Blender

Measuring cups

Measuring spoons
3/4 cup frozen blueberries
1 ripe banana
1 cup skim milk
3 ounces silken tofu
1/2 cup orange juice (juice from 1 orange)
1 teaspoon lime juice, ~1/2 lime (optional)
Instructions
Before you begin, wash your hands, surfaces, utensils, and fruit.
Combine all ingredients in a blender.
Puree until completely smooth.
Serve immediately.
Refrigerate leftovers within 2 hours.
Tips
Add 2-3 more teaspoons of lime juice for more tartness.

If using fresh lime, freeze extra lime juice to use later.

For a different flavor, try using frozen mixed berries.
Featured
Ingredients


What goes in Blueberry Protein Smoothie?

Orange Juice

Banana

Skim Milk

Frozen Blueberries

Silken Tofu
Nutritional Information
(Per Serving)
See complete nutrition facts >>
Comments