Blueberry Protein Smoothie
Breakfast |
Snacks |
Low Sodium |
No Added Sugars |
Vegetarian |
WIC Friendly |
One-Two Serving
This smoothie is made with fruit, milk, tofu and orange and lime juices for a bright and creamy treat full of antioxidants!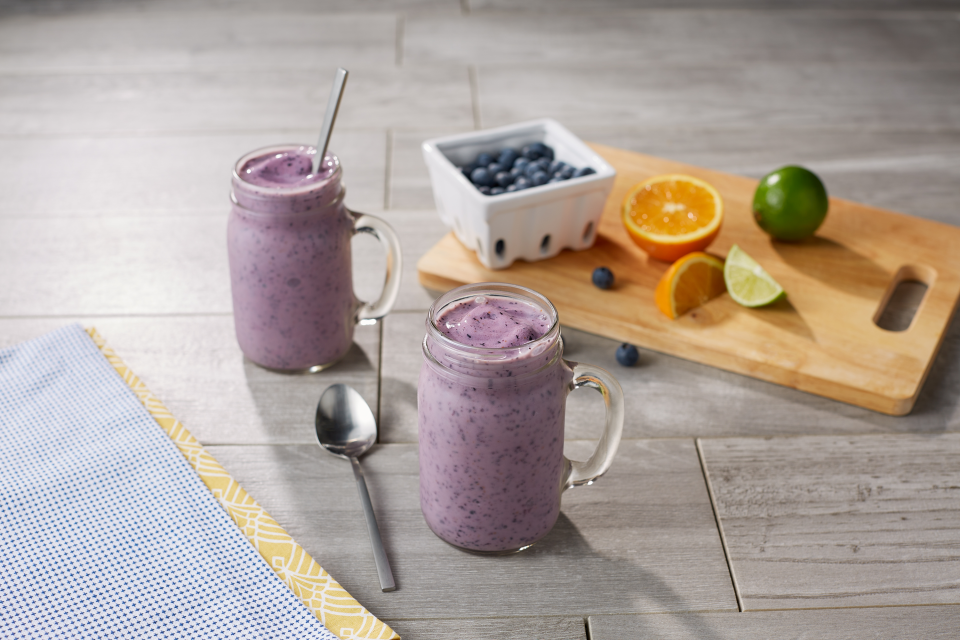 Serving size:
~1 cup (1/2 of recipe)
Prep time:
10 minutes
Total time:
10 minutes
Equipment:

Blender

Measuring cups

Measuring spoons
3⁄4 cup frozen blueberries
1 ripe banana
1 cup skim milk
3 ounces silken tofu
1⁄2 cup orange juice (juice from 1 orange)
1 teaspoon lime juice, ~1/2 lime (optional)
Instructions
1. Combine all ingredients in a blender.
2. Puree until completely smooth.
3. Serve immediately.
4. Refrigerate leftovers within 2 hours.
Tips
Add 2-3 more teaspoons of lime juice for more tartness.

If using fresh lime, freeze extra lime juice to use later.

For a different flavor, try using frozen mixed berries.
Ingredients


What goes in Blueberry Protein Smoothie?

Orange Juice

Banana

Milk

Frozen Blueberries

Silken Tofu
Nutritional Information
(Per Serving)
See complete nutrition facts >>
Comments