Carrot, Orange, and Jicama Salad
Dairy-Free |
Gluten-Free |
Quick & Easy |
Salads |
Side Dishes |
Low Sodium |
Low Fat |
High in Fiber |
WIC Friendly
Like a cross between a potato and an apple, jicama (hick-ah-mah) is a sweet-crunchy addition to this healthy salad.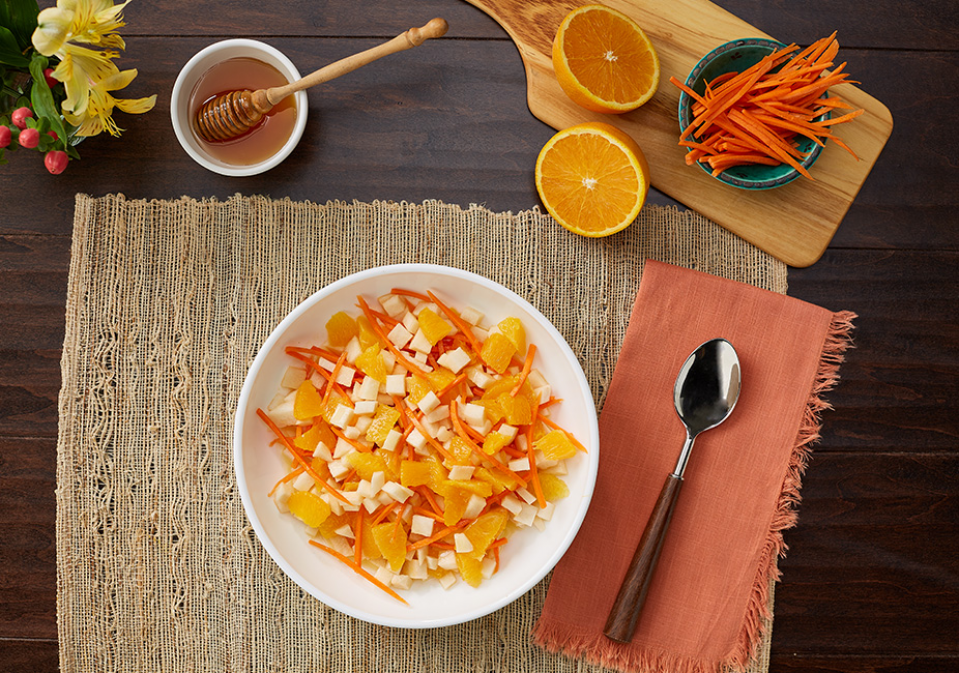 | | |
| --- | --- |
| Temperature: | N/A |
| Serving size: | 1 cup serving |
| Prep time: | 10 minutes |
| Cook time: | N/A |
| Total time: | 10 minutes |
| Equipment: | Medium Bowl, Small Bowl, Measuring Cups and Spoons |
| Utensils: | Mixing Utensil for Medium Bowl, Mixing Utensil for Small Bowl, Mixing Spoons for Salad |
Serving Suggestion:
Recipe sourced from Oregon State University's Food Hero
3 cups jicama, (one medium, or two small jicama) peeled and cut into small pieces
1 cup carrots, peeled and coarsely grated
2 cups oranges, peeled and cut into small pieces
2 teaspoons olive or vegetable oil
2 tablespoons orange juice
1 tablespoon honey
2 teaspoons lime juice
1/4 teaspoon salt
Instructions
Before you begin, wash your hands, surfaces, utensils, and produce.
In a large bowl, mix jicama, carrots, and oranges. Set aside.
In a small bowl, combine oil, orange juice, honey, lime juice, and salt. Mix until well-blended.
Pour dressing over the salad and stir lightly.
Serve immediately.
Tips
Jicama is often a seasonal ingredient found in the summer. If jicama is not available near you, try substituting 3 cups green Granny Smith apples, chopped into small pieces.
To prepare jicama, gently peel off brown outer skin using a peeler, as you would a potato.
Featured
Ingredients


What goes in Carrot, Orange, and Jicama Salad?

Carrots

Orange Juice

Oranges

Honey

Jicama
Nutritional Information
(Per Serving)
See complete nutrition facts >>
Comments