Cauliflower Mock Potato Salad
Gluten-Free |
Salads |
Side Dishes |
No Added Sugars |
Vegetarian |
WIC Friendly |
Egg-Free |
Nut-Free
Cauliflower, cooking's greatest chameleon, lets you keep all the flavor but none of the carbs of your fav side dish.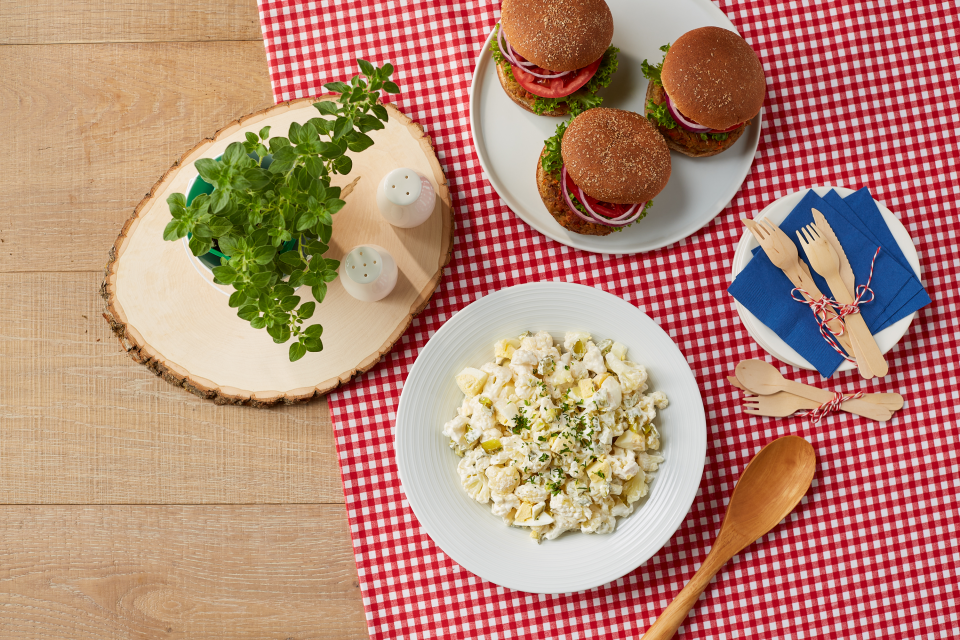 Temperature:
Medium-high heat
Serving size:
3/4 cup
Prep time:
10 minutes
Cook time:
10 minutes + 30 minutes of chill time
Total time:
50 minutes
Equipment:

Cutting board

Large pot or bowl for cooking cauliflower on stove or in the microwave

Colander

Medium bowl

Small bowl

Utensils:

Knife

Measuring cups and spoons
* Cost and availability of recipe ingredients may vary across different regions of Ohio. Cost per serving information should be used as a general guide when considering recipe cost.
1 1/2 cups cauliflower (about 1/2 of a small head)
2 hard boiled eggs, peeled and chopped
1/2 cup plain Greek low-fat yogurt
2 teaspoons Dijon mustard
1 dash black pepper
2 dill pickle spears, chopped
Instructions
Before you begin, wash your hands, surfaces, utensils, and vegetables.
Chop cauliflower into bite-size pieces and cook:
On the stove: Add cauliflower to boiling water and cook for 5 minutes or until a piece can be pierced easily with a fork.
OR
In the microwave: Add cauliflower to large bowl with two teaspoons of water and microwave on high for 5 minutes. Stir and cook for an additional 5 minutes.
Drain cauliflower and add to a medium bowl. Add eggs and pickles to bowl.
In a small bowl, combine yogurt, mustard, salt, and black pepper. Add to the cauliflower mixture and toss to combine.
Refrigerate for at least 30 minutes before serving.
Featured
Ingredients


What goes in Cauliflower Mock Potato Salad?

Low-fat Yogurt

Cauliflower

Eggs

Dijon Mustard
Nutritional Information
(Per Serving)
See complete nutrition facts >>
Comments