Cauliflower Tots
Side Dishes |
Snacks |
No Added Sugars |
Vegetarian |
WIC Friendly
Crispy, cheesy, and the perfect healthy alternative to traditional tots.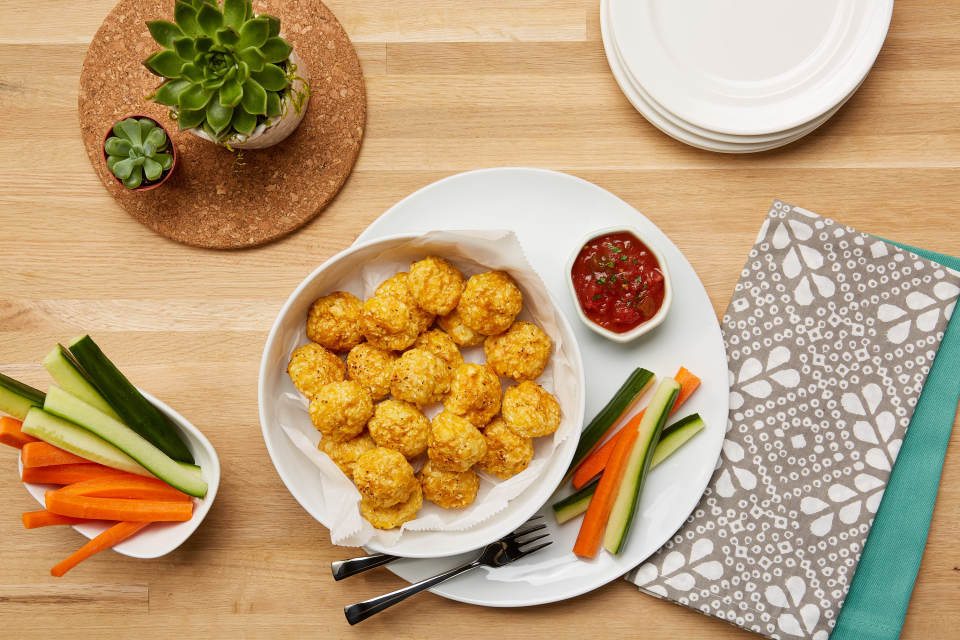 Temperature:
400 degrees
Serving size:
5 tots
Prep time:
15 minutes
Cook time:
20 minutes
Total time:
35 minutes
Equipment:

Baking sheet

Tin foil or parchment paper (optional)

Box grater

Large bowl

Utensils:

Measuring cups and spoons

Non-stick spray
Non-stick spray
2 cups cauliflower (about half of a medium head)
1 egg
3 tablespoons flour
1/4 cup low-fat shredded cheddar cheese
1/4 teaspoon pepper
Instructions
1. Before you begin wash your hands, surfaces, utensils, and vegetables.
2. Preheat oven to 400 degrees. Spray baking sheet with non-stick spray or line with parchment paper or tin foil.
3. Grate cauliflower into a large bowl using the large holes of a box grater.
4. Add egg, flour, cheese, and pepper to cauliflower, mix well.
5. Form ~20 balls or logs of the cauliflower mixture. Evenly distribute them on a prepared baking sheet.
6. Bake for 20 minutes.
Featured
Ingredients


What goes in Cauliflower Tots?

Cauliflower

Eggs
Nutritional Information
(Per Serving)
See complete nutrition facts >>
Comments