Chewy Fruit & Nut Bars
Breakfast |
Snacks |
Low Sodium |
Vegetarian
It's true! These fruit and nut bars are easy to make and can be personalized to your specific tastes.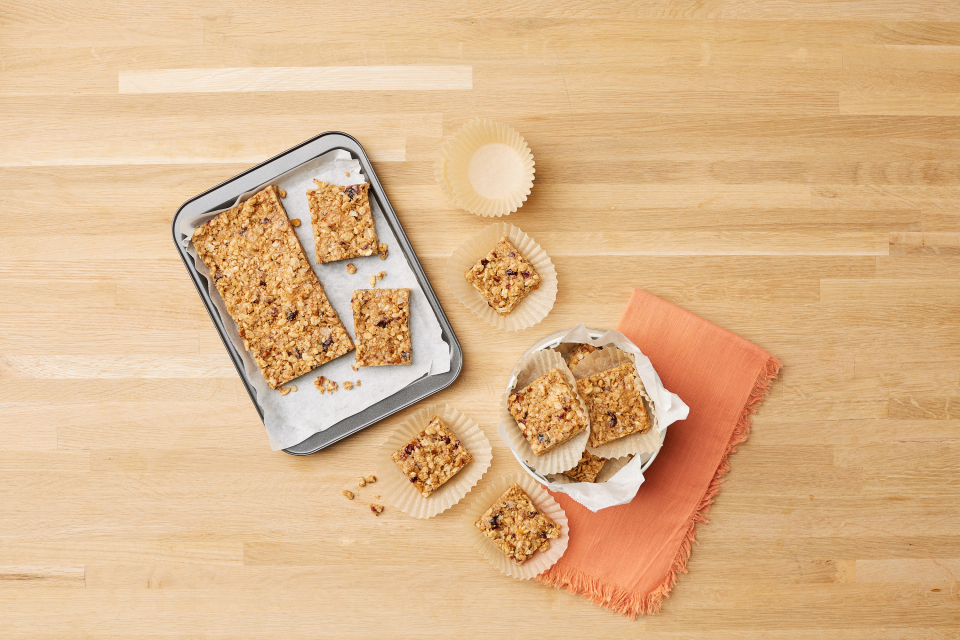 4 hours, 20 minutes
Total Time
Serving size:
1 piece
Prep time:
20 minutes
Cook time:
Doesn't apply, but 4 hours of chill time
Total time:
4 hours, 20 minutes
Equipment:

Square 9x9 pan

Wax or parchment paper

Medium size bowl

Measuring cups

Measuring spoons

Small, microwave-safe bowl

Utensils:

Mixing spoon
Serving Suggestion:
Recipe modified from Share Our Strength's Cooking Matters
1/2 cup chopped nuts, any type
3/4 cup dried fruit, any type, chopped into small pieces if necessary
3/4 cup quick-cooking oats
3/4 cup crispy rice cereal
2 tablespoons unsweetened shredded coconut (optional)
1/2 cup nut butter, any type
1/4 cup honey OR maple syrup
1 tablespoon olive or vegetable oil
1/2 teaspoon vanilla extract (regular or imitation)
Instructions
1. Before you begin, wash your hands, surfaces, and utensils.
2. Line a square 9x9 pan with wax or parchment paper.
3. Put the nuts, dried fruit, oats, rice cereal, and coconut (if using) in a medium-sized bowl and toss well.
4. Put the nut butter, honey, and oil in the small bowl and microwave for 30 seconds until the nut butter is softened. Stir until smooth. Add the vanilla and stir again.
5. Pour the nut butter mixture into the oat/cereal mixture and mix until well combined.
6. Put the mixture into the prepared pan and pat down as hard as you can.
7. Cover with plastic wrap and refrigerate at least 4 hours and up to one week.
8. Cut into 16 pieces.
Featured
Ingredients


What goes in Chewy Fruit & Nut Bars?

Dried Fruit

Nuts
Nutritional Information
(Per Serving)
See complete nutrition facts >>
Comments