Confetti Cornbread
Kid Approved |
Side Dishes |
Low Fat |
Vegetarian |
Nut-Free
Why not jazz this cornbread up a bit? Add some colorful diced bell pepper, or a little jalepeño if you're feeling spicy!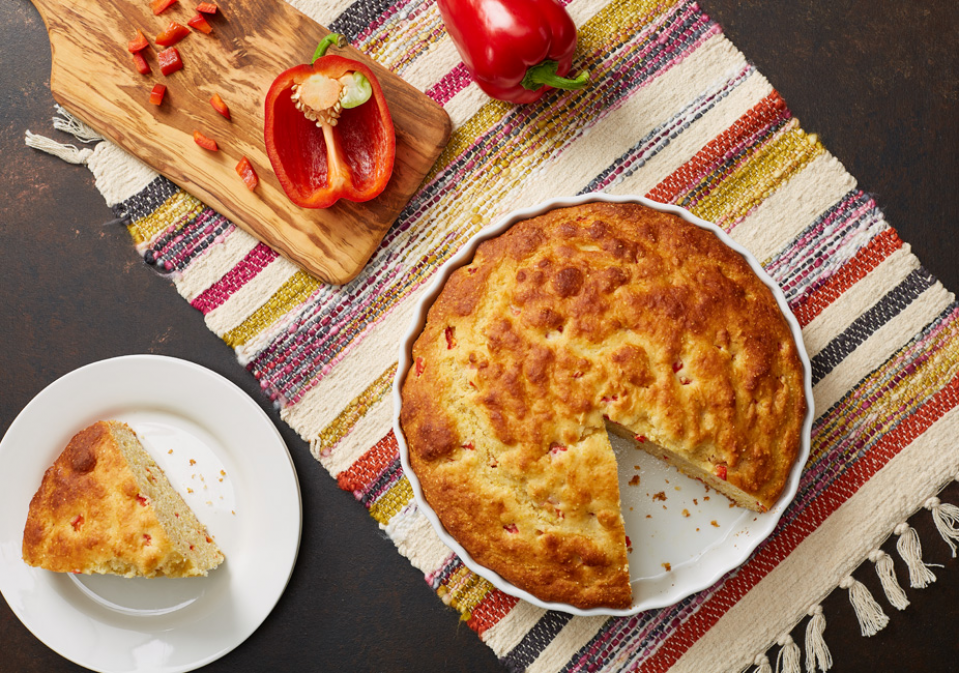 Temperature:
400 degrees
Serving size:
1, 3 inch square of cornbread
Prep time:
20 minutes
Cook time:
30 minutes
Total time:
50 minutes
Equipment:

Medium bowl

Large bowl

Baking dish

Utensils:

Mixing spoon or spatula

Measuring cups and spoons
* Cost and availability of recipe ingredients may vary across different regions of Ohio. Cost per serving information should be used as a general guide when considering recipe cost.
1 cup low-fat milk
1 tablespoon white vinegar OR lemon juice
1 (red, orange, or green) bell pepper, diced OR 2 (jalapeño or serrano) peppers, seeds removed
1 large egg
1/3 cup plain low-fat yogurt
1 cup all-purpose flour
1 cup cornmeal
1/3 cup sugar
2 1/2 teaspoons baking powder
1/4 teaspoon salt
Non-stick spray
Instructions
Before you begin, wash your hands, surfaces, produce, and utensils.
Add white vinegar or lemon juice to milk to make homemade buttermilk. Mix thoroughly and set aside for 5-10 minutes.
Preheat oven to 400 degrees.
In a medium bowl, beat egg slightly with a fork.
Add homemade buttermilk, yogurt, and peppers to the egg. Mix until smooth.
In a large bowl, mix flour, cornmeal, sugar, baking powder, and salt.
Add egg mixture to dry ingredients. Blend with a rubber spatula or mixing spoon until just moist, and only small lumps remain. Do not overmix or cornbread will be too dense.
Coat a baking dish with non-stick spray. Pour in batter.
Bake on middle rack of oven until edges are lightly browned and a toothpick inserted in the middle comes out clean, about 25–30 minutes. Remove from oven. Let cool in pan for 10 minutes before serving.
Tips
If using jalapeño or serrano peppers, remove stems, and halve. Scrape out seeds with the tip of a butter knife.
Featured
Ingredients


What goes in Confetti Cornbread?

Bell Pepper

Low-fat Yogurt

Low-fat Milk

Lemon Juice

Corn Meal
Nutritional Information
(Per Serving)
See complete nutrition facts >>
Comments