Creamy Pumpkin Dip
Quick & Easy |
Snacks |
Low Sodium |
Low Fat |
Vegetarian |
WIC Friendly |
Egg-Free |
Nut-Free
This dip makes a great appetizer or dessert—it's up to you!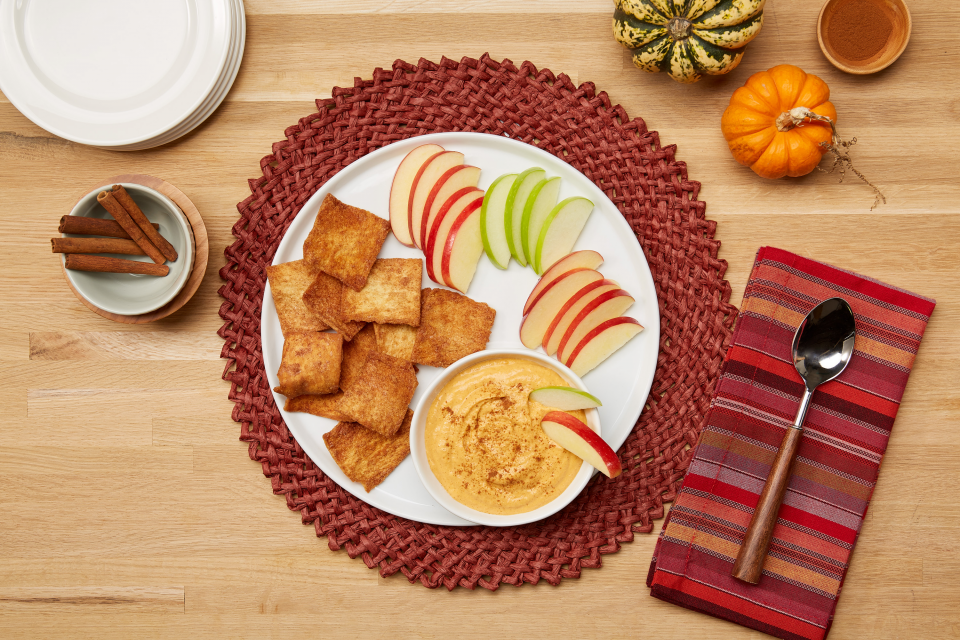 Temperature:
N/A
Serving size:
1/4 cup
Prep time:
15 minutes
Cook time:
N/A
Total time:
15 minutes
Equipment:

Large bowl

Cutting board

Can opener

Utensils:

Mixing spoon

Knife

Measuring cups and spoons
* Cost and availability of recipe ingredients may vary across different regions of Ohio. Cost per serving information should be used as a general guide when considering recipe cost.
1 15 ounce can pumpkin puree
1 cup (vanilla or plain) low-fat yogurt
1 teaspoon ground cinnamon
1/2 teaspoon ground nutmeg (optional)
2 cups fruit (apples, pears, bananas, etc.), cut for dipping
Instructions
Before you begin, wash your hands, surfaces, utensils, and produce.
In a large bowl, combine pumpkin, yogurt, cinnamon, and nutmeg. Stir until smooth.
Serve immediately with cut produce.
Featured
Ingredients


What goes in Creamy Pumpkin Dip?

Low-fat Yogurt

Apples

Cinnamon

Pumpkin Puree

Nutmeg
Nutritional Information
(Per Serving)
See complete nutrition facts >>
Comments