Crispy Cheese Baked Broccoli
Baked in the oven and ready in 20 minutes, enjoy this crispy, crunchy dish as the perfect side or appetizer.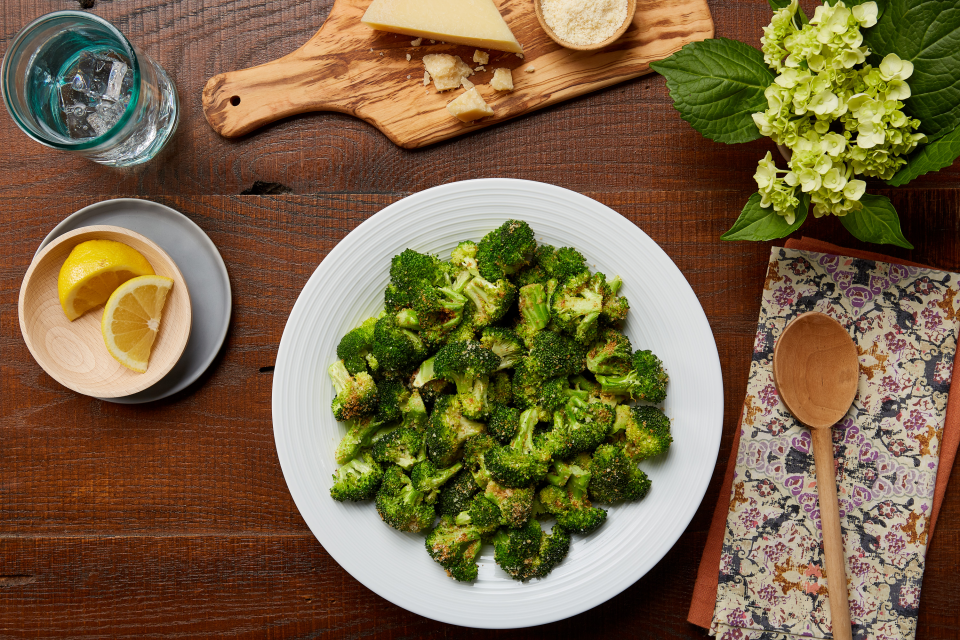 Temperature:
400 degrees
Serving size:
1 cup
Prep time:
10 minutes
Cook time:
10 minutes
Total time:
20 minutes
Equipment:

Cutting board

Baking sheet

Utensils:

Knife

Measuring cups and spoons

Tongs or two forks for tossing
Non-stick spray
2 large heads of broccoli, chopped into bite-size pieces (~4 cups)
1/2 cup breadcrumbs
1/2 cup Parmesan cheese
1 teaspoon garlic powder
2 tablespoons olive or vegetable oil
Instructions
1. Before you begin wash your hands, surfaces, utensils, and vegetables.
2. Preheat oven to 400 degrees.
3. Spray baking sheet with non-stick spray.
4. Place chopped broccoli on baking sheet. Drizzle with oil and toss with garlic powder, breadcrumbs, and Parmesan cheese.
5. Put baking sheet in the oven and bake for 18-20 minutes, tossing halfway through baking.
Featured
Ingredients


What goes in Crispy Cheese Baked Broccoli?

Garlic Powder

Olive Oil

Broccoli
Nutritional Information
(Per Serving)
See complete nutrition facts >>
Comments