Crispy Cheese Baked Broccoli
Quick & Easy |
Side Dishes |
Vegetarian |
Egg-Free |
Nut-Free
Baked in the oven and ready in 20 minutes, enjoy this crispy, crunchy dish as the perfect side or appetizer.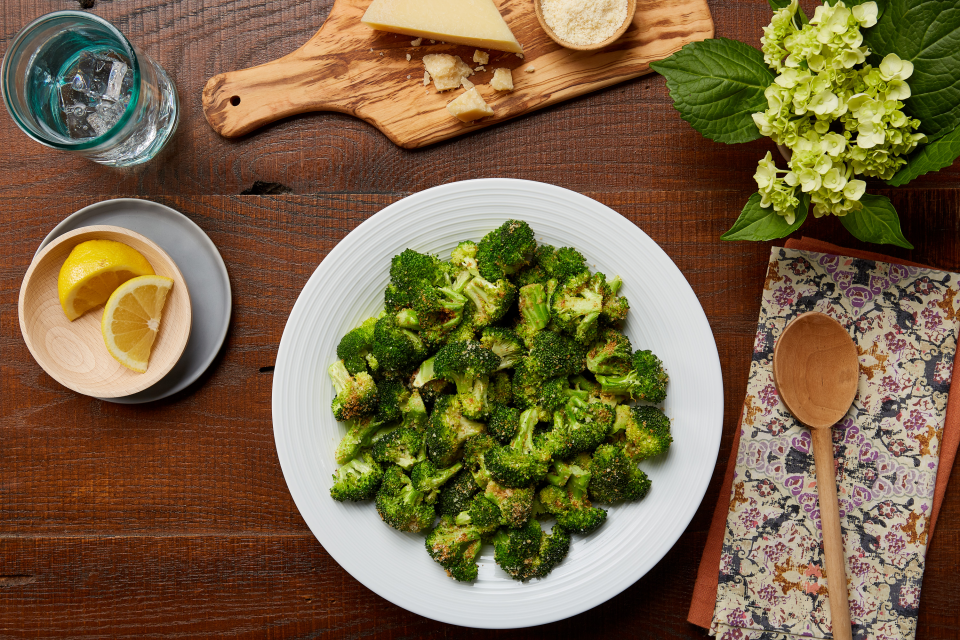 Temperature:
400 degrees
Serving size:
1 cup
Prep time:
10 minutes
Cook time:
10 minutes
Total time:
20 minutes
Equipment:

Cutting board

Baking sheet

Utensils:

Knife

Measuring cups and spoons

Tongs or two forks for tossing
* Cost and availability of recipe ingredients may vary across different regions of Ohio. Cost per serving information should be used as a general guide when considering recipe cost.
Non-stick spray
2 large heads broccoli, chopped into bite-sized pieces
1/2 cup bread crumbs
1/2 cup grated Parmesan cheese
1 clove garlic, minced OR 1 teaspoon garlic powder
2 tablespoons olive oil OR vegetable oil
Instructions
Before you begin, wash your hands, surfaces, utensils, and vegetables.
Preheat oven to 400 degrees.
Spray baking sheet with non-stick spray.
Place chopped broccoli on baking sheet. Drizzle with oil and toss with garlic powder, breadcrumbs, and Parmesan cheese.
Put baking sheet in the oven and bake for 18-20 minutes, tossing halfway through baking.
Featured
Ingredients


What goes in Crispy Cheese Baked Broccoli?

Garlic Powder

Olive Oil

Broccoli

Parmesan Cheese
Nutritional Information
(Per Serving)
See complete nutrition facts >>
Comments