Flavored Water
Breakfast |
Dairy-Free |
Gluten-Free |
Kid Approved |
Quick & Easy |
Low Sodium |
Low Fat |
No Added Sugars |
Vegan |
Vegetarian |
WIC Friendly |
Egg-Free |
Nut-Free
Simple, refreshing and a healthy way to get everyone drinking more water.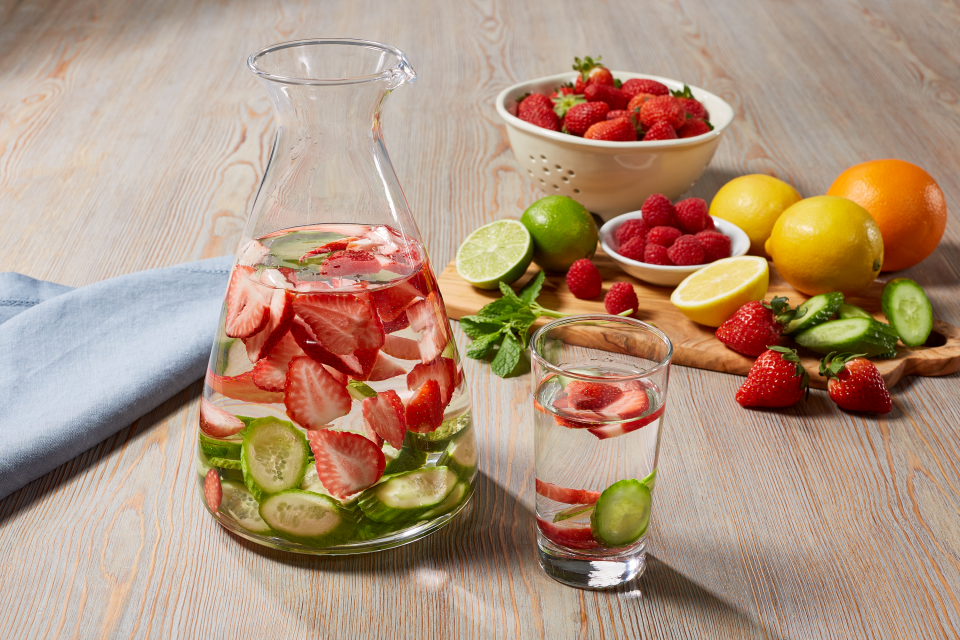 Temperature:
N/A
Serving size:
2 cups
Prep time:
5 minutes
Cook time:
N/A
Total time:
5 minutes
Equipment:

Colander

Cutting board

Pitcher

Utensils:

Knife

Measuring cups and spoons
* Cost and availability of recipe ingredients may vary across different regions of Ohio. Cost per serving information should be used as a general guide when considering recipe cost.
1-2 cups fresh fruit, chopped (see flavor suggestions below)
1 lemon OR lime, juiced
8 cups water
Instructions
Before you begin, wash your hands, surfaces, utensils, and produce.
Add chopped fruit and lemon or lime juice to a large pitcher. Fill pitcher with water and cover with plastic wrap.
Store overnight in refrigerator.
Flavor suggestions:
1 cup watermelon, 1 lime, 5 mint leaves
1 cup strawberries, 1/2 cucumber (sliced)
2 cups pineapple cubes, 5 mint leaves, 4 slices of ginger
1 orange (thinly sliced), 1 pint raspberries
Tips
After drinking the water you can eat the fruit or use it in a smoothie.
Featured
Ingredients


What goes in Flavored Water?

Strawberries

Lime

Lemon

Raspberries
Watermelon
Nutritional Information
(Per Serving)
See complete nutrition facts >>
Comments