Fluffy Banana Pancakes
Breakfast |
Dairy-Free |
Kid Approved |
Main Dishes |
Quick & Easy |
Low Fat |
Vegan |
Vegetarian |
Egg-Free |
Nut-Free
Make these fluffly pancakes for breakfast and make an average week day feel like Saturday morning.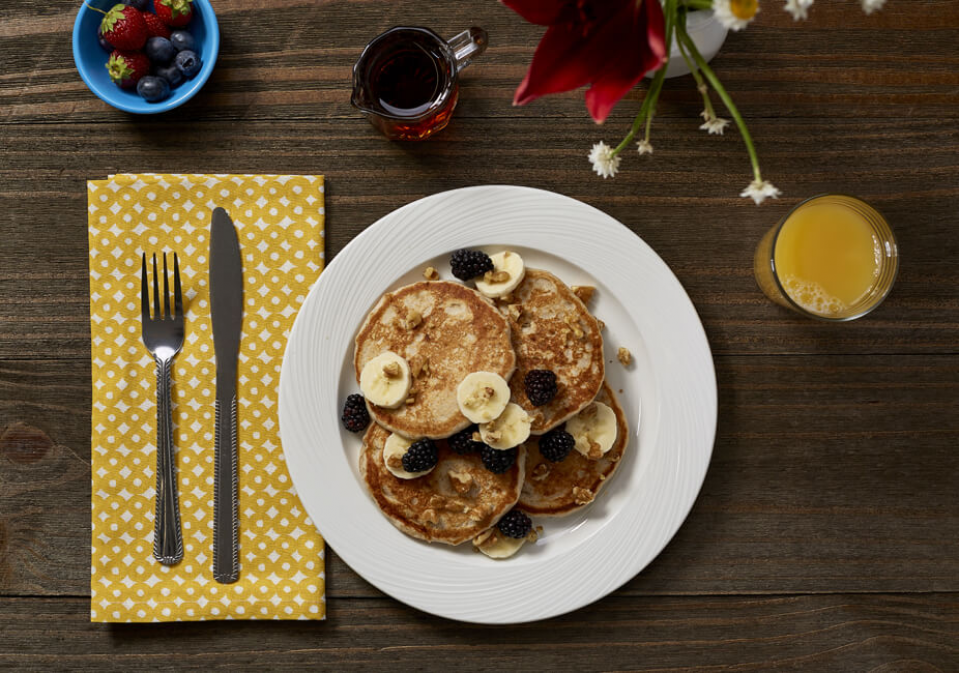 Temperature:
Medium heat
Serving size:
4 pancakes
Prep time:
10 minutes
Cook time:
15 minutes
Total time:
25 minutes
Equipment:

Large bowl

Large frying pan or griddle

Utensils:

Fork or whisk

Mixing spoon

Measuring cups and spoons
* Cost and availability of recipe ingredients may vary across different regions of Ohio. Cost per serving information should be used as a general guide when considering recipe cost.
Non-stick spray
1/2 cup ripe banana, mashed (about 1 medium banana)
1 cup low-fat (dairy or soy) milk
2 tablespoons vegetable oil OR canola oil
1 tablespoon sugar
1 teaspoon (real or imitation) vanilla
1 1/2 cups all-purpose flour OR 1/2 cup whole wheat flour
1 tablespoon baking powder
1/2 teaspoon salt
1/2 teaspoon cinnamon
Instructions
Before you begin, wash your hands, surfaces, utensils, and fruits.
In a large bowl, mash banana with a fork. Add milk, oil, sugar, and vanilla to the bowl. Whisk until well combined.
Add the flour to the wet ingredients, then sprinkle the baking powder, salt, and cinnamon on top of the flour. Mix gently until ingredients are combined but the batter is still lumpy.
Heat a large griddle or frying pan over medium heat. Spray pan with stick non-stick spray and drop about 1/4 cup of the batter onto the pan. Cook until bubbles form on the pancake, then flip and cook until golden brown on the other side, about 2-3 minutes. Reapply non-stick spray to frying pan between batches to prevent sticking. Repeat with all the remaining batter.
Tips
Banana pancakes are a great way to use bananas that are starting to go brown.
Top it off! This recipe is great with different toppings like mixed berries, peanut butter or sugar-free pancake syrup.
Have left over pancakes? Freeze these by putting in an air-tight zip-close bag for up to two months. Defrost by heating in the microwave for 30 seconds to one minute.
Featured
Ingredients


What goes in Fluffy Banana Pancakes?

Cinnamon

Banana

Low-fat Milk

Flour
Nutritional Information
(Per Serving)
See complete nutrition facts >>
Comments