Fruit Salsa with Cinnamon Sugar Chips
Dairy-Free |
Kid Approved |
Snacks |
Low Fat |
High in Fiber |
Vegan |
Vegetarian
Sweet and healthy at the same time? Yes, please! Loaded with fruit and full of flavor, your family will love this treat.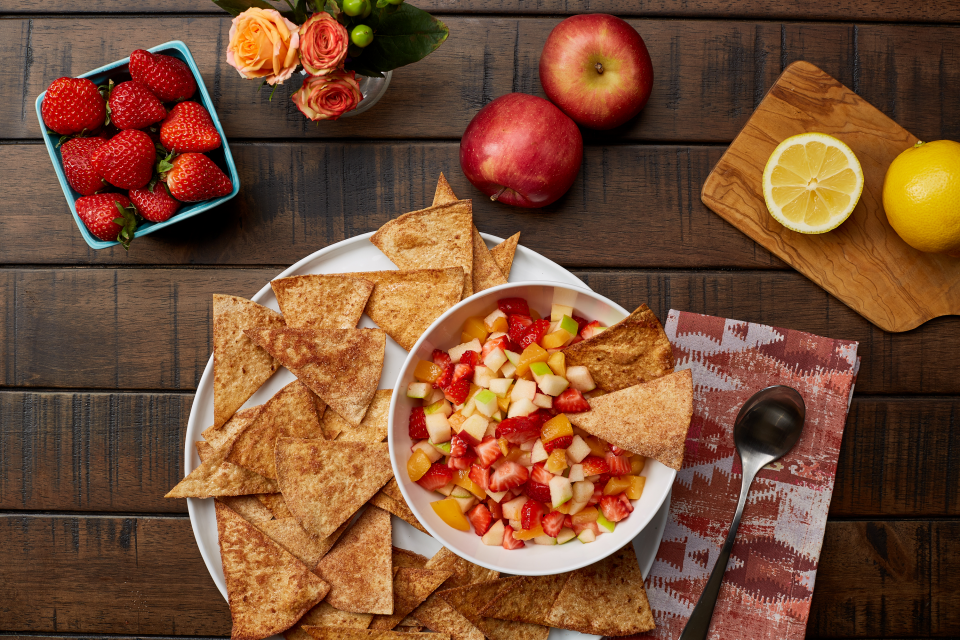 Temperature:
400 degrees
Serving size:
3/4 cup fruit salsa and 6 tortilla chips
Prep time:
15 minutes
Cook time:
30 minutes
Total time:
45 minutes
Equipment:

Cutting board

Can opener

Colander

Small bowl

Tin foil

Baking sheet

Utensils:

Knife
Serving Suggestion:

Adapted from the USDA Mixing Bowl.
For the fruit salsa:
4 cups fresh or canned fruit, diced (2 small apples, 1 15 ounce can sliced peaches in water or juice, drained, and 8 ounces fresh strawberries)
1 1/2 teaspoons lemon juice
For the cinnamon sugar chips:
1/4 cup granulated sugar
1 teaspoon cinnamon
6 6-inch whole wheat tortillas
Non-stick spray
Instructions
1. Before you begin, wash your hands, surfaces, utensils, produce, and tops of cans.
2. Preheat oven to 400 degrees.
3. While the oven is preheating, combine diced fruit with lemon juice in a medium bowl. Cover with plastic wrap and place in refrigerator until serving time.
4. Stack tortillas on a cutting board, cut stack in half, and cut each half into three wedges to make a total of 36 pieces.
5. In a small bowl, combine sugar and cinnamon.
6. Spray front and back of several tortilla wedges with non-stick spray. Press wedges one at a time into cinnamon sugar mixture before the spray dries. Arrange wedges on prepared pan(s) in a single layer.
7. When baking sheet(s) is full, bake 8-10 minutes, turning once halfway through baking time. If only using one baking sheet, bake second batch.
8. Cool chips and serve with fruit salsa.
Tips
Cooking times for the tortilla chips will vary for different ovens.
Featured
Ingredients


What goes in Fruit Salsa with Cinnamon Sugar Chips?

Apples

Cinnamon

Strawberries

Whole Wheat Tortillas
Canned Peaches
Nutritional Information
(Per Serving)
See complete nutrition facts >>
Comments