Hearty Lentil Stew
Dairy-Free |
Main Dishes |
Soups |
High in Fiber |
Vegan |
Vegetarian |
WIC Friendly
The perfect stew for cold weather, but tasty any time of year!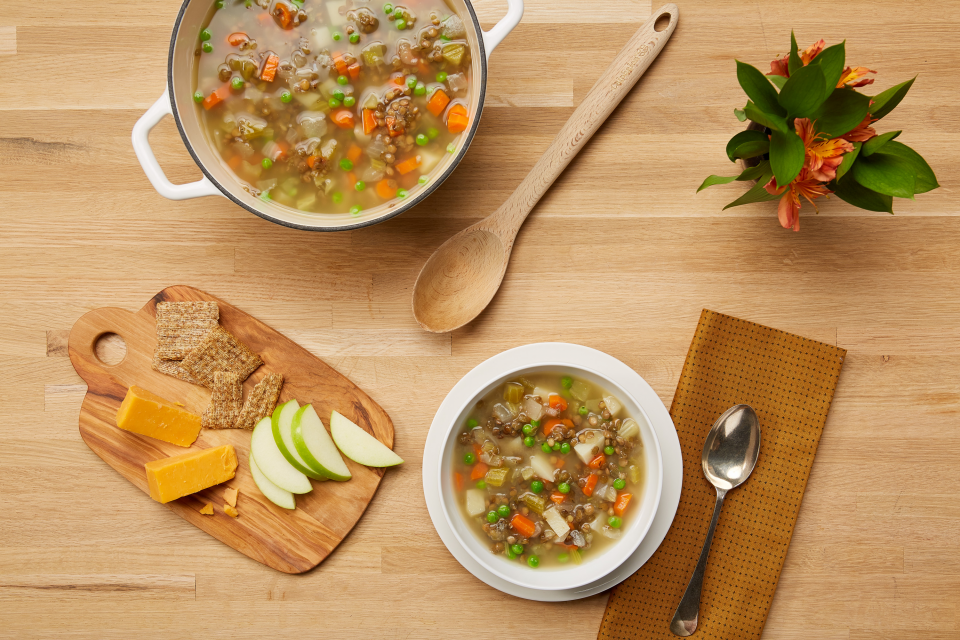 Temperature:
Medium, high, low
Serving size:
2 cups
Prep time:
15 minutes
Cook time:
45 minutes
Total time:
60 minutes
Equipment:

Cutting board

Large pot

Utensils:

Knife

Measuring cups and spoons

Mixing spoon
2 tablespoons olive or vegetable oil
1 yellow onion
4 cloves garlic, minced or 2 tablespoons garlic powder
4 carrots
4 stalks celery
2 pounds potatoes
1 cup dried brown lentils
1 teaspoon dried rosemary (optional)
1/2 teaspoon dried thyme (optional)
2 tablespoons Dijon mustard
6 cups low sodium vegetable broth
1 cup frozen peas
Instructions
1. Before you begin wash your hands, surfaces, utensils, and vegetables.
2. Dice onion, mince garlic and add to large pot with olive or vegetable oil and cook over medium heat for 3-5 minutes.
3. Dice celery and carrots and add to pot and cook for 3-5 more minutes.
4. Peel and cut potatoes into 1-inch cubes and add to pot along with lentils, Dijon mustard, vegetable broth and rosemary and thyme (if using).
5. Stir ingredients to combine, place lid on the pot, and increase heat to high until the stew reaches a boil. Once it reaches a boil, turn heat to low and simmer for 30 minutes, stirring occasionally.
6. Add frozen peas and cook for an additional 5 minutes.
Featured
Ingredients


What goes in Hearty Lentil Stew?

Celery

Carrots

Chopped Onions

Frozen Peas

Dried Brown Lentils
Nutritional Information
(Per Serving)
See complete nutrition facts >>
Comments