Jerk Seasoned Collards
Dairy-Free |
Gluten-Free |
Side Dishes |
Low Sodium |
Low Fat |
Egg-Free |
Nut-Free
These greens aren't just delicious, they're incredibly nutritious. Serve them alongside your favorite main course for a boost of vitamins and flavor.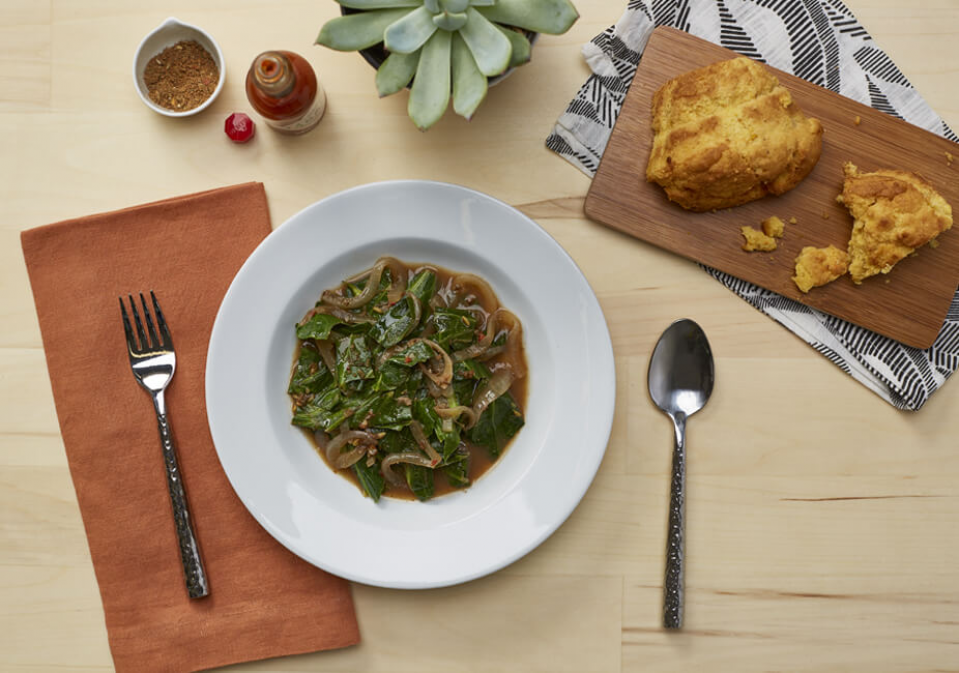 Temperature:
Medium-high heat
Serving size:
3/4 cup
Prep time:
10 minutes
Cook time:
35-50 minutes
Total time:
45-60 minutes
Equipment:

Large pot with lid

Utensils:

Mixing spoon

Measuring cups and spoons
* Cost and availability of recipe ingredients may vary across different regions of Ohio. Cost per serving information should be used as a general guide when considering recipe cost.
1 yellow onion, sliced
1 clove garlic, minced
1 tablespoon olive oil OR vegetable oil
1 1/4 teaspoons jerk seasoning
1/2 cup orange juice
2 cups low-sodium chicken broth
1 pound collard greens, chopped
Instructions
Before you begin, wash your hands, surfaces, utensils, tops of cans, and vegetables.
Add the onion, garlic, and oil to a large pot. Cook the onion and garlic over medium heat, stirring occasionally until onions are cooked and see-through (about 5 minutes).
Add the jerk seasoning, orange juice, chicken broth, and collard greens to the pot. Stir to combine. Cover pot with lid, and turn heat up to medium-high and bring to a boil.
Once boiling, turn the heat down to medium-low and let the collard greens simmer, stirring occasionally, until they are tender, about 30 to 45 minutes. The longer collards are cooked, the more tender they will be. Keep the lid in place when not stirring. Serve hot in bowl with broth.
Tips
If you like your greens softer simmer the pot for up to 45 minutes.
The broth that this recipe produces is called pot liquor! It's full of nutrients from the greens and a delicious part of this dish.
Featured
Ingredients


What goes in Jerk Seasoned Collards?

Collard Greens

Garlic Cloves

Low-sodium chicken broth

Yellow Onion
Nutritional Information
(Per Serving)
See complete nutrition facts >>
Comments