Lemony White Bean Salad
Dairy-Free |
Gluten-Free |
Quick & Easy |
Salads |
Side Dishes |
Low Sodium |
No Added Sugars |
High in Fiber |
Vegan |
Vegetarian |
Egg-Free |
Nut-Free
A light and lemony first course or side, this protein-packed dish pulls double-duty as a starch and a salad. Wow!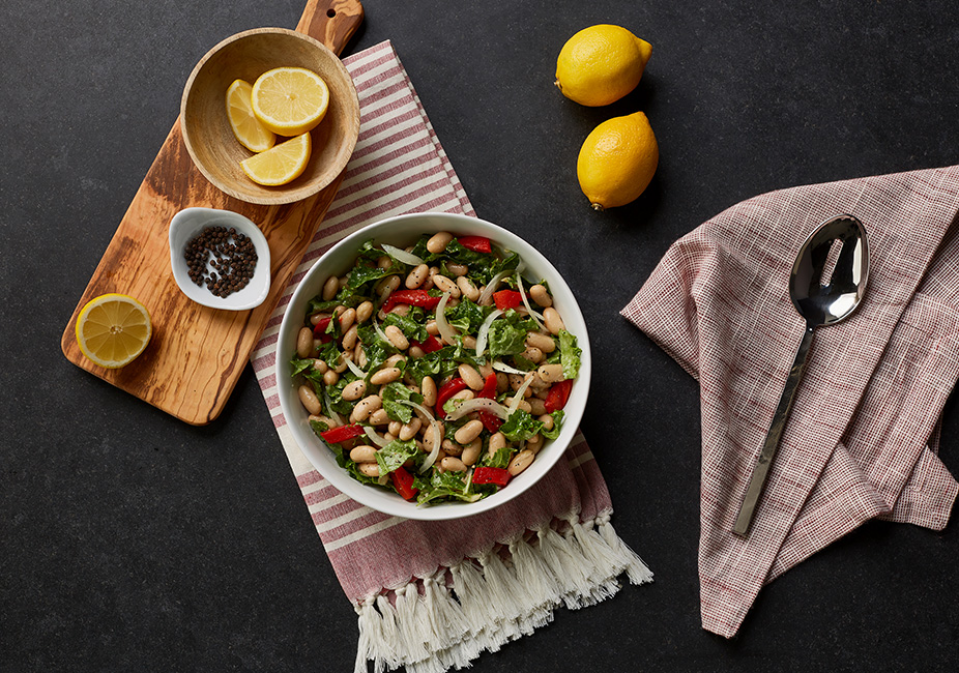 Temperature:
N/A
Serving size:
1 cup
Prep time:
15 minutes
Cook time:
N/A
Total time:
15 minutes
Equipment:

Cutting board

Large bowl

Whisk or fork

Can opener

Utensils:

Knife

Measuring cups and spoons
* Cost and availability of recipe ingredients may vary across different regions of Ohio. Cost per serving information should be used as a general guide when considering recipe cost.
1/2 cup olive oil OR vegetable oil
3 tablespoons lemon juice (about 1 lemon) OR white vinegar
1 tablespoon Dijon mustard
3 cloves garlic, minced OR 1 tablespoon garlic powder
1/4 teaspoon black pepper
2 15.5 ounce cans no salt added white beans (navy, Great Northern, cannellini, etc.), drained and rinsed
1/2 small onion, thinly sliced
2 cups (about 1/2 bunch) kale, torn into small pieces and large center stems removed
1/2 cup jarred roasted red peppers (optional)
Instructions
Before you begin, wash your hands, surfaces, vegetables, tops of cans, and utensils.
In a large bowl, use a whisk or fork to mix together olive oil, lemon juice, Dijon mustard, garlic powder, and black pepper.
Add beans, onion, kale, and roasted red peppers (if using). Toss to combine.
Refrigerate for at least one hour before serving.
Featured
Ingredients


What goes in Lemony White Bean Salad?

Chopped Onions

White Beans

Lemon

Kale

Roasted Red Peppers
Nutritional Information
(Per Serving)
See complete nutrition facts >>
Comments