Mini Pizzas
Kid Approved |
Side Dishes |
Snacks |
Vegetarian |
Egg-Free |
Nut-Free
Lunch, dinner or after school, these mini pies are easy to make and easier to enjoy.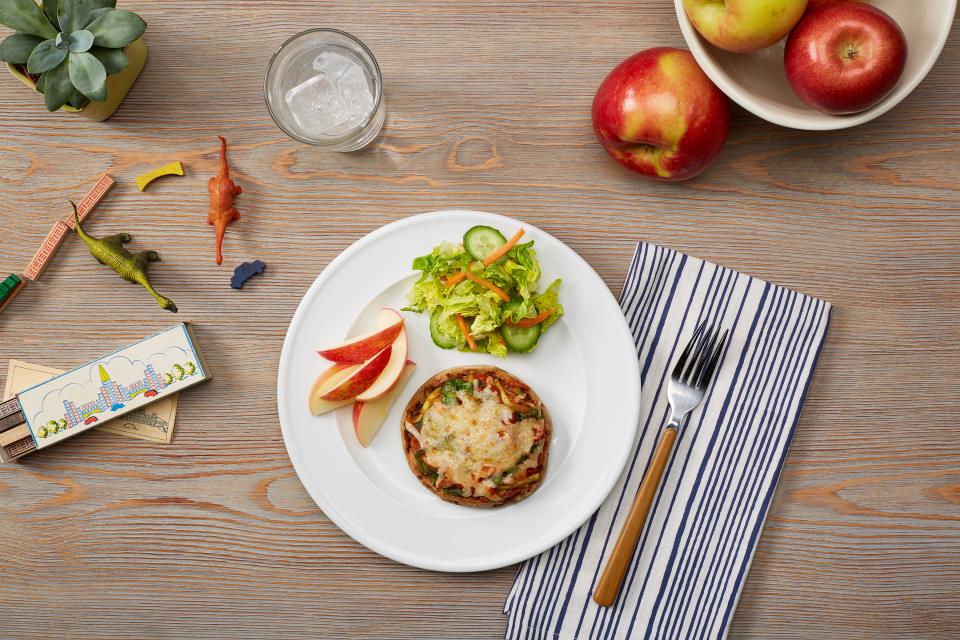 Temperature:
400 degrees, Medium heat
Serving size:
1 mini pizza (1/2 English muffin or 1/2 pita)
Prep time:
10 minutes
Cook time:
20 minutes
Total time:
30 minutes
Equipment:

Baking sheet

Cutting board

Grater

Medium saucepan

Utensils:

Knife

Mixing spoon

Soup spoon
* Cost and availability of recipe ingredients may vary across different regions of Ohio. Cost per serving information should be used as a general guide when considering recipe cost.
2 cups tomato sauce
1 medium zucchini, shredded
1 1/2 tablespoons Italian seasoning OR Celebrate Your Plate Italian Seasoning
1 cup fresh spinach, finely chopped
4 whole wheat English muffins OR 4 whole wheat pitas, cut into halves
1 cup mozzarella cheese, shredded
Instructions
Before you begin, wash your hands, surfaces, utensils, and produce.
Preheat oven to 400 degrees. Arrange English muffins or pita halves on a baking sheet and bake 15 minutes or until crisp.
While English muffin or pita halves are toasting, combine tomato sauce, shredded zucchini, and Italian seasoning in a medium sauce pan. Bring sauce to a simmer over medium heat and stir in chopped spinach.
When English muffins or pita halves are toasted, add 3 tablespoons tomato sauce to each and spread evenly with back of spoon.
Sprinkle mozzarella cheese on top of tomato sauce and bake for 8-10 minutes or until cheese is melted.
Tips
Frozen spinach could also work in the sauce, but you will need to squeeze out water from defrosted spinach until it's very dry or sauce will be watery.
Featured
Ingredients


What goes in Mini Pizzas?

Spinach

Zucchini

Tomato Sauce
Whole Wheat English Muffin
Nutritional Information
(Per Serving)
See complete nutrition facts >>
Comments