Mushroom and Barley Soup
Dairy-Free |
Main Dishes |
Soups |
No Added Sugars |
High in Fiber |
Vegan |
Vegetarian |
WIC Friendly |
Egg-Free |
Nut-Free
A deli staple! This flavorful soup is as hearty and healthy. Served steaming hot, it's also the antidote to the winter blues.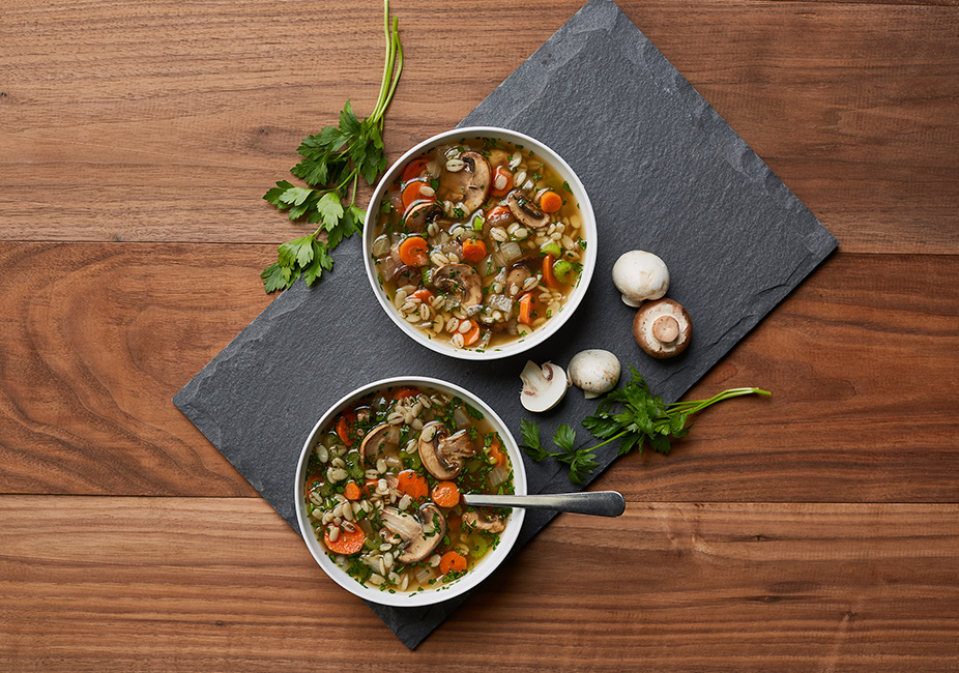 Temperature:
High heat, Medium heat, Simmer
Serving size:
1 1/2 cups
Prep time:
15 minutes
Cook time:
25 minutes
Total time:
40 minutes
Equipment:

Cutting board

Large pot

Utensils:

Knife

Measuring cups and spoons
* Cost and availability of recipe ingredients may vary across different regions of Ohio. Cost per serving information should be used as a general guide when considering recipe cost.
1 tablespoon olive oil OR vegetable oil
1 onion, chopped
2 stalks celery, thinly sliced
2 carrots, peeled and sliced into thin rounds
2 cups mushrooms, sliced
1/2 cup quick cooking barley
1 clove garlic, minced OR 1 teaspoon garlic powder
1/2 teaspoon ground thyme (optional)
3 cups low-sodium vegetable OR chicken broth
2 cups water
1 tablespoon fresh parsley (optional)
Instructions
Before you begin, wash your hands, surfaces, utensils, and vegetables.
Heat oil in a large pot over high heat. Cook onion, celery, carrots, and mushrooms until onions begin to soften, about 4 minutes.
Add remaining ingredients except parsley and bring to a boil.
Lower heat to a simmer and cook until the barley is tender, about 20 minutes.
If using, sprinkle parsley on top of soup before serving.
Featured
Ingredients


What goes in Mushroom and Barley Soup?

Celery

Carrots

Chopped Onions

Barley

Mushrooms
Nutritional Information
(Per Serving)
See complete nutrition facts >>
Comments