No-Crust Pumpkin Pie
Desserts |
Kid Approved |
Low Sodium |
Vegetarian |
Nut-Free
This quick and easy version of the holiday classic is full of creamy pumpkin flavor and lighter with no crust.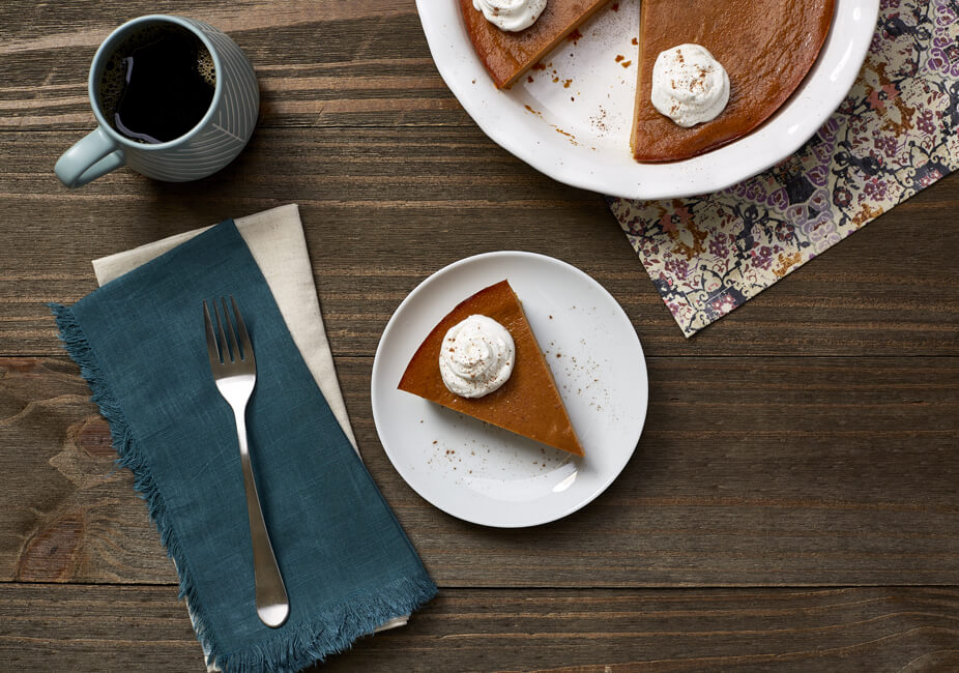 1 hour, 5 minutes
Total Time
Temperature:
350 degrees
Serving size:
1/8 of pie
Prep time:
10 minutes
Cook time:
55 minutes
Total time:
1 hour, 5 minutes
Equipment:

9-inch pie pan, Large bowl

Aluminum foil

Utensils:

Fork or spoon for stirring

Toothpick

Measuring cups and spoons




Recipe Sourced from University of Nebraska-Lincoln's Nutrition Education Program
* Cost and availability of recipe ingredients may vary across different regions of Ohio. Cost per serving information should be used as a general guide when considering recipe cost.
Non-stick spray
2 large eggs
1 15 ounce can pumpkin puree
1 1/2 tablespoons canola oil OR vegetable oil
1/4 teaspoon salt
2 teaspoons pumpkin pie spice OR 1 teaspoon cinnamon, 1/2 teaspoon ginger, 1/4 teaspoon nutmeg
1 cup non-fat dry milk
1/4 cup all-purpose flour
2/3 cup sugar
3/4 cup water
Instructions
Before you begin, wash your hands, surfaces, utensils, and tops of cans.
Preheat oven to 350 degrees. Spray a 9-inch pie pan with non-stick spray. Set aside.
Crack eggs into a large bowl. Wash hands with soap and water after cracking raw eggs. Add remaining ingredients except water and mix together.
Slowly stir in water until well mixed. Pour into prepared pie pan.
Bake for 45 to 55 minutes total, checking at 40 minutes. If edges are overly browning remove from oven and apply a loose ring of tin foil covering the edges, and put back in oven until finished. Pie is finished when middle of pie is set, and when inserted toothpick comes out clean.
Tips
Make this recipe gluten-free by substituting gluten-free flour.
Featured
Ingredients


What goes in No-Crust Pumpkin Pie?

Cinnamon

Pumpkin Puree

Eggs

Flour

Dry milk
Nutritional Information
(Per Serving)
See complete nutrition facts >>
Comments