Overnight Oats
Breakfast |
Gluten-Free |
Quick & Easy |
Low Sodium |
Low Fat |
Vegetarian |
WIC Friendly |
Egg-Free |
Nut-Free
The secret ingredient to these oats is time. You'll never make regular oats again.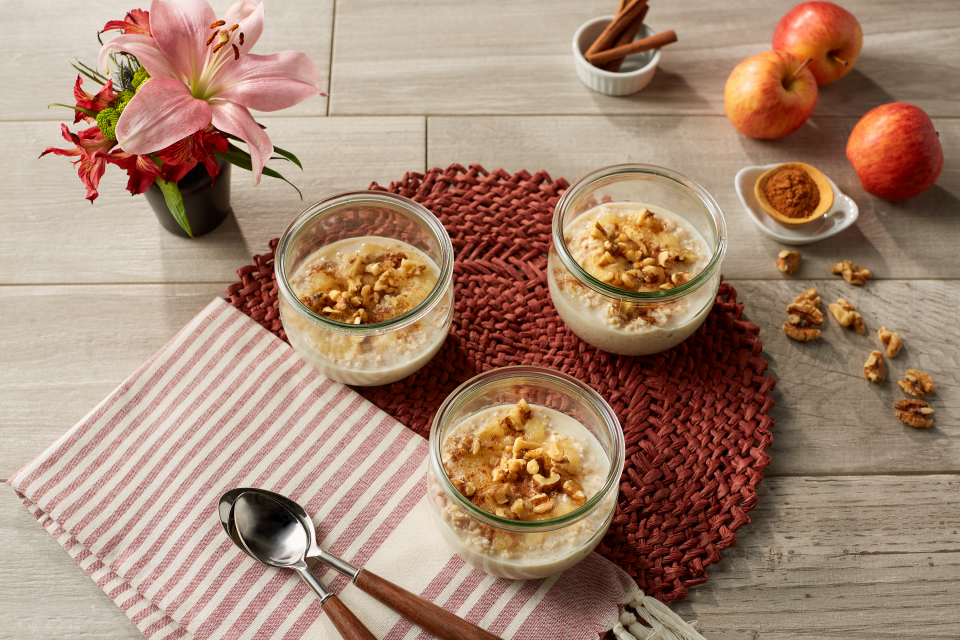 Temperature:
N/A
Serving size:
Entire recipe
Prep time:
5 minutes
Cook time:
N/A
Total time:
5 minutes
Equipment:

Small, air-tight container

Utensils:

Mixing spoon

Measuring cups and spoons
* Cost and availability of recipe ingredients may vary across different regions of Ohio. Cost per serving information should be used as a general guide when considering recipe cost.
1/2 cup rolled oats
1 dash salt
1/2 cup low-fat milk
1 teaspoon sweetener (sugar, brown sugar, maple syrup, honey, etc.)
Instructions
Before you begin, wash your hands, surfaces, utensils, and fruit, if using.
Mix together rolled oats, salt, low fat milk, and sweetener.
If using, stir in ingredients for a flavor combination.
Place in an air-tight container and refrigerate overnight.
Flavoring combinations:
Apple cinnamon walnut: 1/4 cup unsweet applesauce, 1/4 teaspoon cinnamon, 1 tablespoon walnuts
Brown sugar cinnamon: 2 teaspoon brown sugar, 1 teaspoon maple syrup, 1/4 teaspoon cinnamon
Chocolate peanut butter: 1/4 teaspoon cocoa powder, 1 teaspoon peanut butter
Tips
Overnight Oats can be stored in the refrigerator for up to two days.
Overnight Oats can be eaten warm or cold. To heat up, put oats in a microwave-safe container and heat on high for one minute and stir.
Featured
Ingredients


What goes in Overnight Oats?

Low-fat Milk

Honey

Oats
Nutritional Information
(Per Serving)
See complete nutrition facts >>
Comments