Pasta Primavera
Main Dishes |
Quick & Easy |
Side Dishes |
Low Sodium |
No Added Sugars |
Vegetarian
This flavorful pasta combines your choice of pasta and garden-fresh veggies for a light and refreshing dish.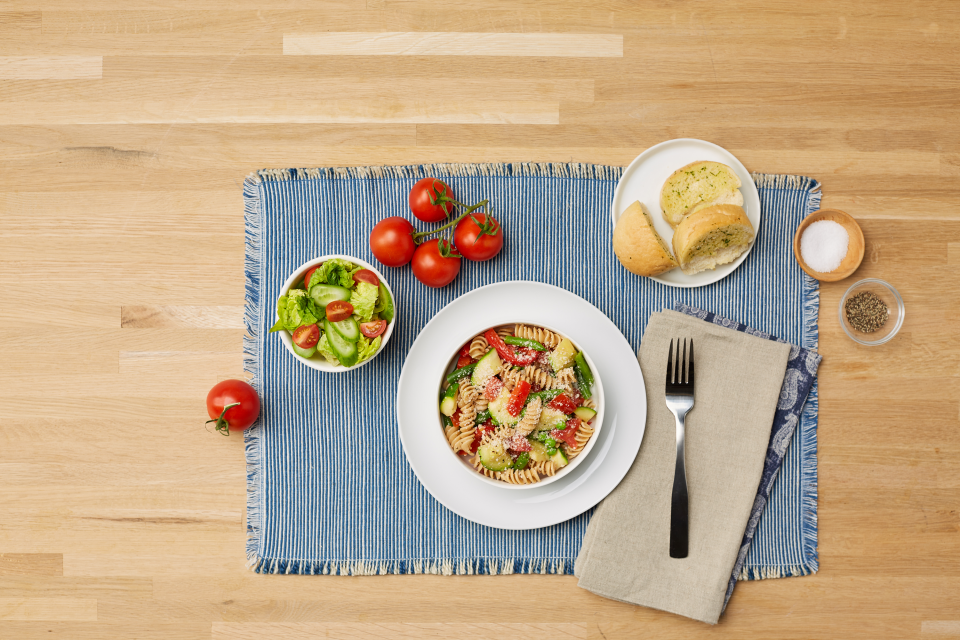 Serving size:
1 cup
Prep time:
5 minutes
Cook time:
15 minutes
Total time:
20 minutes
Equipment:

Cutting board

Large pot

Measuring spoons

Measuring cups

Non-stick skillet

Mixing spoon

Strainer

Utensils:

Knife
1 cup whole grain noodles, any shape, uncooked
1 tablespoon olive or vegetable oil
2 cups mixed vegetables, chopped (zucchini, onion, eggplant, carrots, peppers)
1 cup tomatoes, chopped
1/4 teaspoon garlic powder
1/8 teaspoon black pepper
1 teaspoon Italian seasoning
3 tablespoons Parmesan cheese
Instructions
1. Before you begin, wash your hands, surfaces, utensils, and vegetables.
2. Cook noodles according to package directions.
3. While noodles are cooking, heat oil in a skillet.
4. Add vegetables and garlic powder, pepper, and Italian seasoning and cook until tender; stir constantly.
5. Add tomato and sauté 2 more minutes.
6. When noodles are done cooking drain them, rinse with cool water, and add to the skillet with the vegetables.
7. Toss vegetables with noodles and sprinkle with Parmesan cheese.
Tips
For your mixed vegetables, try frozen vegetable mixes or in-season vegetables.
Featured
Ingredients


What goes in Pasta Primavera?

Garlic Powder

Chopped Tomatoes

Frozen Mixed Vegetables

Whole Grain Pasta
Nutritional Information
(Per Serving)
See complete nutrition facts >>
Comments