Pinto Bean Dip
Gluten-Free |
Quick & Easy |
Snacks |
Low Sodium |
Low Fat |
No Added Sugars |
Vegetarian |
WIC Friendly |
Egg-Free |
Nut-Free
Try this super easy-to-make recipe on game day or as a great party appetizer.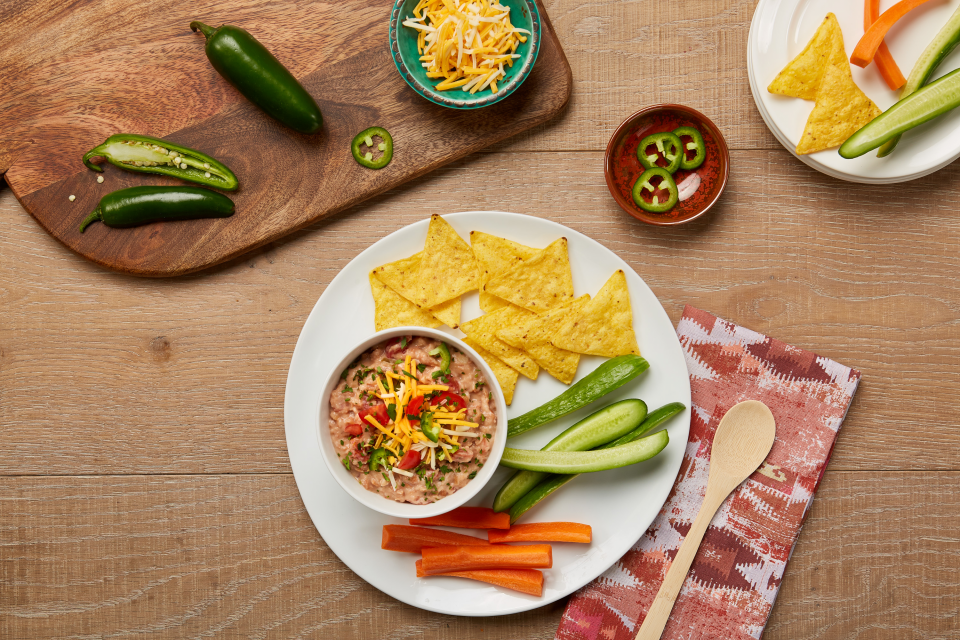 Temperature:
N/A
Serving size:
1/4 cup
Prep time:
15 minutes
Cook time:
N/A
Total time:
15 minutes
Equipment:

Large zip-close plastic bag

Can opener

Utensils:

Measuring cups and spoons
* Cost and availability of recipe ingredients may vary across different regions of Ohio. Cost per serving information should be used as a general guide when considering recipe cost.
1 15 ounce can of no salt added pinto beans, drained and rinsed OR 2 cups prepared dried pinto beans (about 2/3 cup dried beans)
1/2 cup plain low-fat yogurt
1/2 cup salsa
Vegetables for dipping, chopped
Optional toppings: shredded cheese, chopped tomatoes or onions, cilantro, jalapeños, etc.
Instructions
Before you begin, wash your hands, surfaces, utensils, and vegetables. If using dried beans, prepare according to package directions.
If using dried beans, prepare with. quick soak following package directions. Then cook beans following package instructions
Add beans to a large, zip-close bag. Squeeze extra air out of bag and seal. Mash beans with your fingers until beans have a smooth consistency.
Add yogurt and salsa to the bag. Reseal bag and mash with fingers until well-combined.
Serve immediately with freshly-cut vegetables or refrigerate for a firmer consistency.
Featured
Ingredients


What goes in Pinto Bean Dip?

Jalapeño

Chopped Tomatoes

Pinto Beans

Low-fat Yogurt

Chopped Onions
Nutritional Information
(Per Serving)
See complete nutrition facts >>
Comments