Ramen Cabbage Salad
Dairy-Free |
Quick & Easy |
Salads |
Side Dishes |
Egg-Free |
Nut-Free
Last-minute potluck invitation? Reimagine a packet of ramen to create this easy and satisfying salad.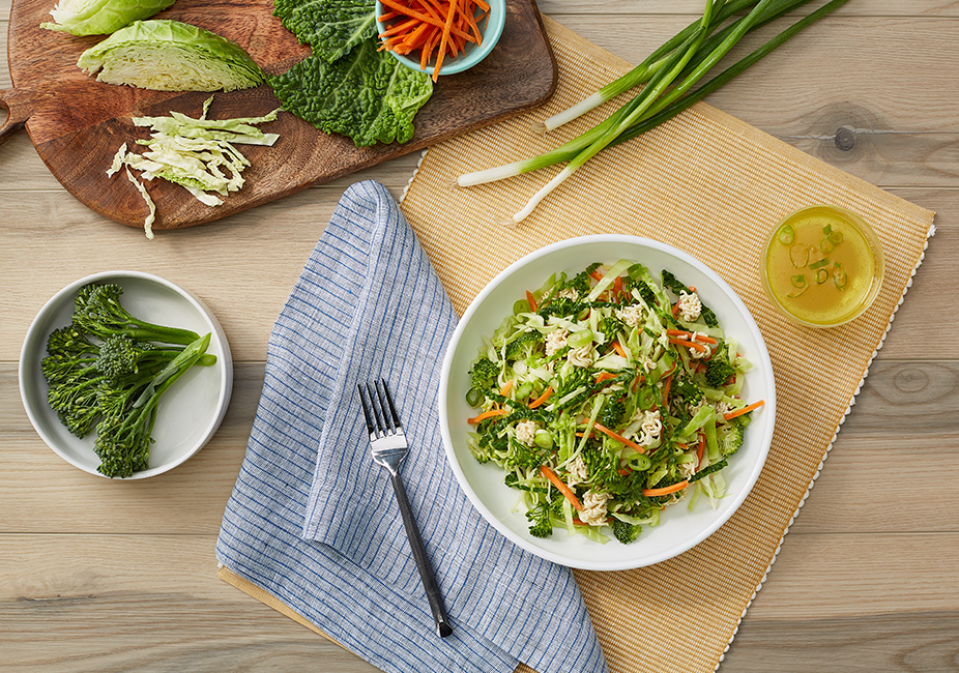 Temperature:
N/A
Serving size:
1 cup
Prep time:
5 minutes
Cook time:
N/A
Total time:
5 minutes
Equipment:

Large bowl

Small bowl

Utensils:

Fork or stirring utensil

Measuring cups and spoons
* Cost and availability of recipe ingredients may vary across different regions of Ohio. Cost per serving information should be used as a general guide when considering recipe cost.
For the Salad
5 cups cabbage, shredded
2 cups broccoli, chopped
1 cup carrots, shredded
1/2 cup green onions, chopped
1 package chicken flavored ramen noodles, crushed
For the Dressing
1 ramen seasoning packet
3 tablespoons apple cider vinegar
1 tablespoon sugar
2 tablespoons olive oil OR vegetable oil
Instructions
Before you begin, wash your hands, surfaces, utensils, and produce.
In a large bowl, combine cabbage, broccoli, carrot, green onions, and uncooked ramen noodles.
For the dressing, combine ramen seasoning packet, vinegar, sugar, and oil in a small bowl. Stir well.
Pour dressing over salad. Toss to coat. Refrigerate for 1 hour, or until ready to be served.
Tips
This salad also goes great with some more color! You can try adding red onion or some bell pepper for added flavor.
If you're watching your sodium intake, try using ½ of the ramen seasoning packet.
Shop your pantry! Other flavors of ramen such as beef, soy sauce, or miso flavor work just as well as chicken.
Featured
Ingredients


What goes in Ramen Cabbage Salad?

Carrots

Broccoli

Green onions
Shredded Cabbage

Ramen Noodles
Nutritional Information
(Per Serving)
See complete nutrition facts >>
Comments