Southwest Shredded Chicken
Dairy-Free |
Main Dishes |
Quick & Easy |
No Added Sugars |
High in Fiber |
WIC Friendly
Easy to make and even easier to add to salads, sandwiches, or burritos.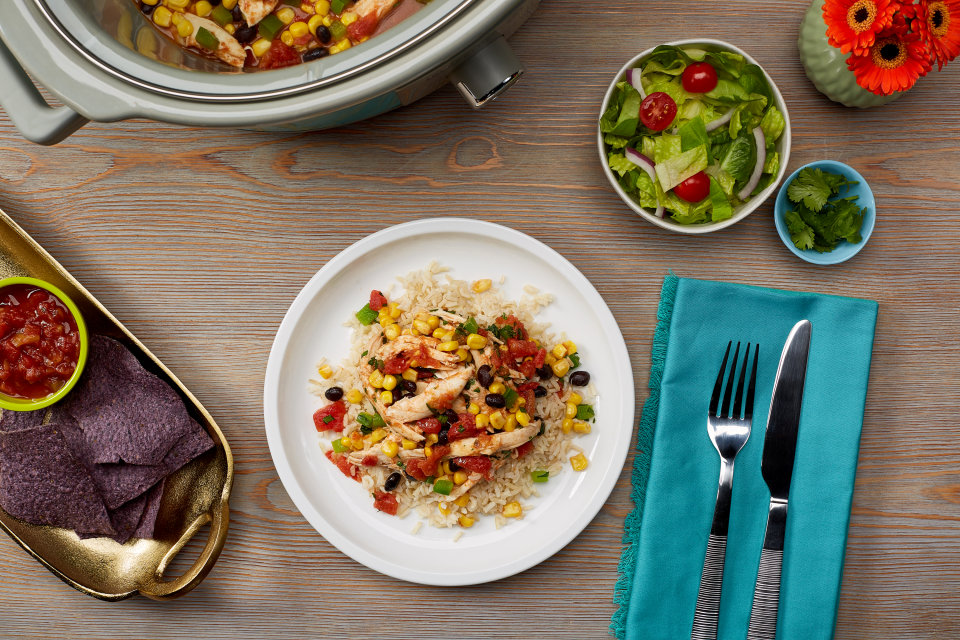 4 hours and 15 minutes on high or 8 hours and 15 minutes on low
Total Time
Temperature:
Low (8 hours) or high (4 hours)
Serving size:
½ cup chicken and ½ cup vegetables
Prep time:
15 minutes
Cook time:
4 hours on high, 8 hours on low
Total time:
4 hours and 15 minutes on high or 8 hours and 15 minutes on low
Equipment:

Crockpot/slow cooker

Colander or strainer

Can opener

Medium bowl

Utensils:

Two forks

Slotted spoon or large mixing spoon
2 pounds boneless, skinless chicken thighs or breasts
1 15 ounce can no salt added diced tomatoes with green chilies, not drained
1 15 ounce can no salt added black beans, drained and rinsed
1 15 ounce can no salt added corn, drained and rinsed OR 1 cup frozen corn
1 onion, diced
1 green pepper, diced
1/4 cup chopped fresh cilantro (optional)
1 15 ounce can low-sodium chicken broth
2 tablespoons low-sodium taco seasoning OR 1 teaspoon each of garlic powder, onion powder, cumin
Instructions
1. Before you begin, wash your hands, surfaces, utensils, produce, and tops of cans.
2. Place chicken in bottom of crockpot.
3. Add all remaining ingredients to crockpot (save a tablespoon of cilantro to sprinkle on top of finished dish, if using) and stir to combine. Cover with lid.
4. Cook on low for 8 hours or on high for 4 hours.
5. Thirty minutes before serving, transfer chicken to a medium bowl, and shred it using two forks.
6. Using a slotted spoon, transfer vegetables from cooking liquid to bowl with chicken and stir to combine.
7. Sprinkle with 1 tablespoon of cilantro, if using.
Optional: Drizzle extra cooking liquid over all.
Tips
Serve over salad, on a whole grain roll, steamed brown rice or as a taco or burrito filling.
Featured
Ingredients


What goes in Southwest Shredded Chicken?

Black Beans

Canned Corn

Canned Diced Tomatoes

Chopped Onions

Cilantro

Chicken Breast
Nutritional Information
(Per Serving)
See complete nutrition facts >>
Comments