Taco Salad
Main Dishes |
Quick & Easy |
Salads |
No Added Sugars |
High in Fiber |
WIC Friendly
It doesn't have to be Taco Tuesday to enjoy this zesty salad.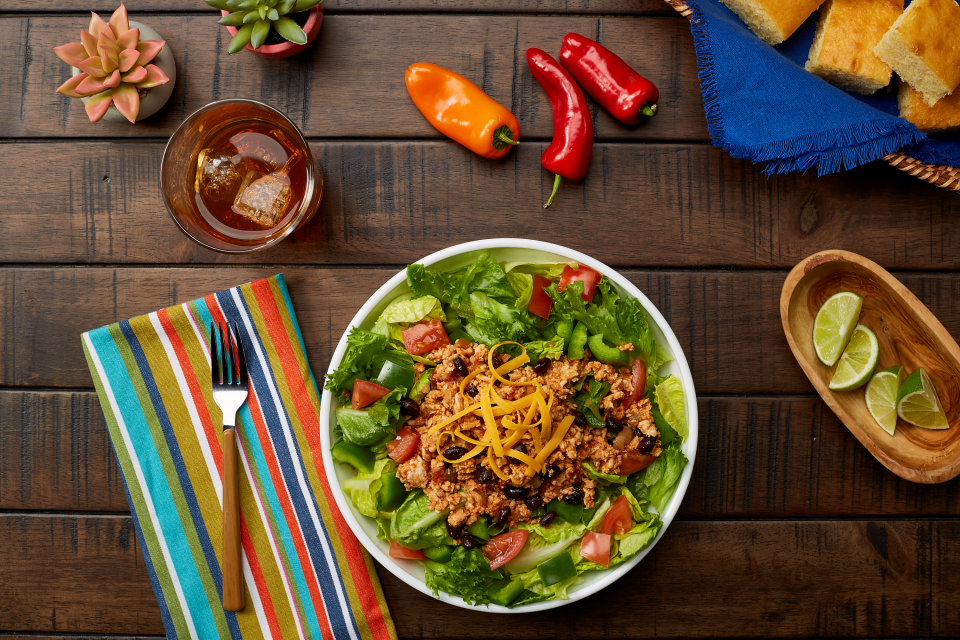 Temperature:
Medium
Serving size:
1 cup salad + 1 cup taco filling
Prep time:
5 minutes
Cook time:
10 minutes
Total time:
15 minutes
Equipment:

Large bowl

Skillet/frying pan

Can opener

Utensils:

Wood spons or spatula
1 tablespoon olive or vegetable oil
1 pound ground turkey, 93% lean
1 onion, chopped small
1/2 packet low-sodium taco seasoning OR 1 tablespoon chili powder, 1 tablespoon cumin, 1 teaspoon onion powder and 1/4 teaspoon cayenne powder
1 15 ounce can no salt added pinto or black beans, rinsed and drained
3/4 cup salsa
4 cups salad greens, torn into small pieces
2 tomatoes, chopped
1/2 cup green pepper, chopped
1/2 cup shredded cheddar cheese
Instructions
1. Before you begin, wash your hands, surfaces, utensils, produce, and tops of cans.
2. In a medium skillet, heat oil over medium heat. Add ground turkey, onion and taco seasoning. Using a wooden spoon or spatula, break meat apart into small pieces. Cook thoroughly until meat is no longer pink, about 6 to 8 minutes.
3. Add beans and salsa to skillet and gently mix to incorporate and cook 3 to 4 more minutes, stirring occasionally.
4. While meat is cooking, place salad greens, tomatoes and green pepper in a mixing bowl and toss gently.
5. When ready to serve, spoon meat mixture over salad greens and top with shredded cheese.
Tips
Leave taco meat on side until ready to serve.
Featured
Ingredients


What goes in Taco Salad?

Green Leafy Vegetables

Sliced Tomatoes

Chopped Tomatoes

Pinto Beans

Chopped Onions

Ground Turkey
Nutritional Information
(Per Serving)
See complete nutrition facts >>
Comments