Trail Mix
Dairy-Free |
Gluten-Free |
Kid Approved |
Quick & Easy |
Snacks |
High in Fiber |
Vegan |
Vegetarian
This tasty treat provides more crunch to your munch!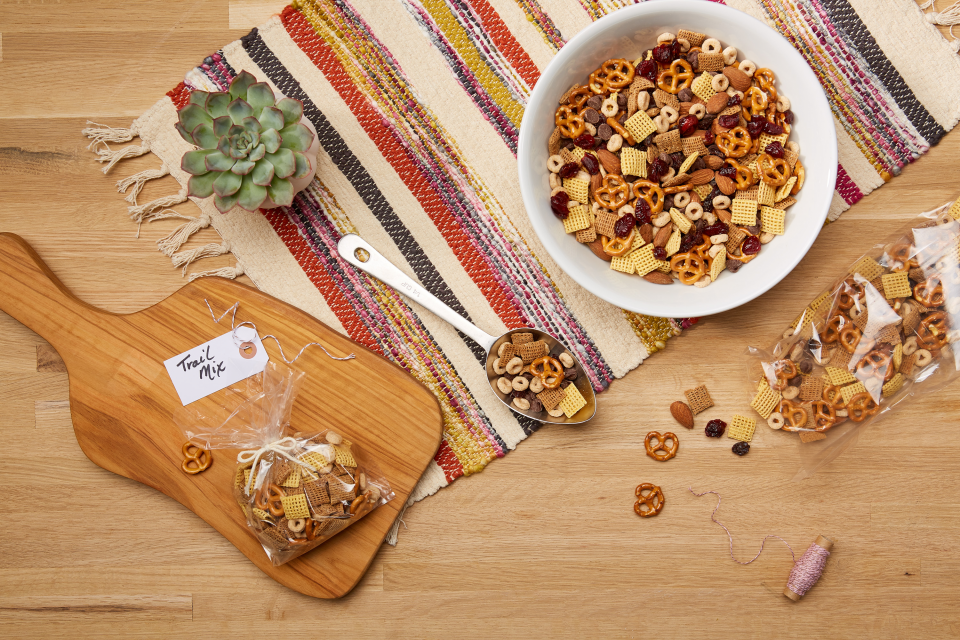 Temperature:
N/A
Serving size:
1 cup
Prep time:
5 minutes
Cook time:
N/A
Total time:
5 minutes
Equipment:

Large bowl

Serving dish/airtight container

Utensils:

Measuring cups
* Cost and availability of recipe ingredients may vary across different regions of Ohio. Cost per serving information should be used as a general guide when considering recipe cost.
3 cups whole grain (such as oat circles, corn squares) cereal
1/2 cup unsalted nuts (almonds, pecans, walnuts, etc.)
1/2 cup dried fruit (raisins, reduced sugar dried cranberries, banana chips, etc.)
1/2 cup small pretzels
1/2 cup chocolate chips
Instructions
Before you begin wash your hands, surfaces, and utensils.
Mix all ingredients together and store in airtight container for up to 1 week.
Featured
Ingredients


What goes in Trail Mix?

Dried Fruit

Cereal

Nuts

Small Pretzels
Nutritional Information
(Per Serving)
See complete nutrition facts >>
Comments