Tuna Boats
Mashed white beans lend a creamy texture to this mayo-free tuna salad, while Dijon, green onions, and lemon add some kick.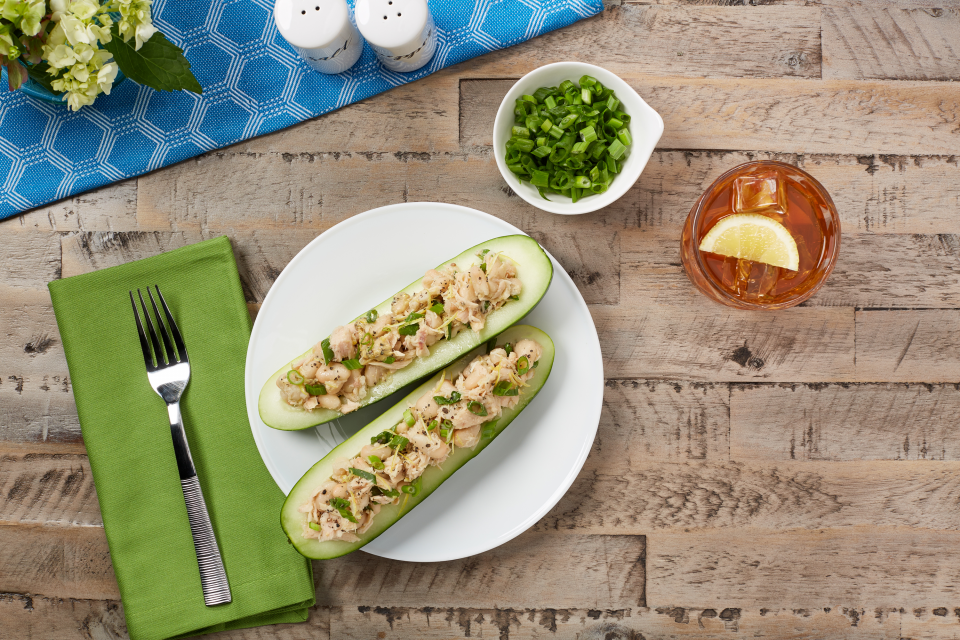 Serving size:
1 filled tuna boat
Prep time:
20 minutes
Total time:
20 minutes
Equipment:

Box grater

Can opener

Cutting board

Medium bowl

Measuring spoons

Utensils:

Knife

Spoon

Fork
Serving Suggestion:
Recipe sourced from Share Our Strength's Cooking Matters
2 large cucumbers
1 lemon
2 green onions, diced
2 6 ounce cans low-sodium tuna packed in water
1 15 ounce can no salt added white beans, drained and rinsed
1 tablespoon olive or vegetable oil
1 tablespoon Dijon or country mustard
1/2 teaspoon salt
1/4 teaspoon ground black pepper
Instructions
Before you begin wash your hands, surfaces, utensils, vegetables, and tops of cans.
Cut cucumbers lengthwise and scoop out seeds with a spoon.
Zest the entire lemon by scraping it across the small holes of a box grater and collecting the skin. Cut the lemon in half and squeeze the juice into a medium bowl.
Add the beans to the bowl and mash with a fork.
Add green onion, tuna, oil, mustard, salt, pepper, and lemon zest to the beans and mix to combine.
Evenly divide the tuna mixture between the 4 cucumber halves.
Tips
For a snack or party food, cut cucumbers into thick slices and place a dollop of tuna mixture on top of each slice.
Add chopped bell pepper or celery for extra color and crunch.
Try canned salmon, packed in water, instead of tuna for a different flavor.
Featured
Ingredients


What goes in Tuna Boats?

Cucumber

Green_onions

Tuna

White Beans

Lemon
Nutritional Information
(Per Serving)
See complete nutrition facts >>
Comments