Veggie and Tuna Melt
Main Dishes |
Quick & Easy |
Snacks |
Low Fat |
WIC Friendly |
Egg-Free |
Nut-Free
Chopped celery and grated carrots add color and crunch to this quick weeknight dinner.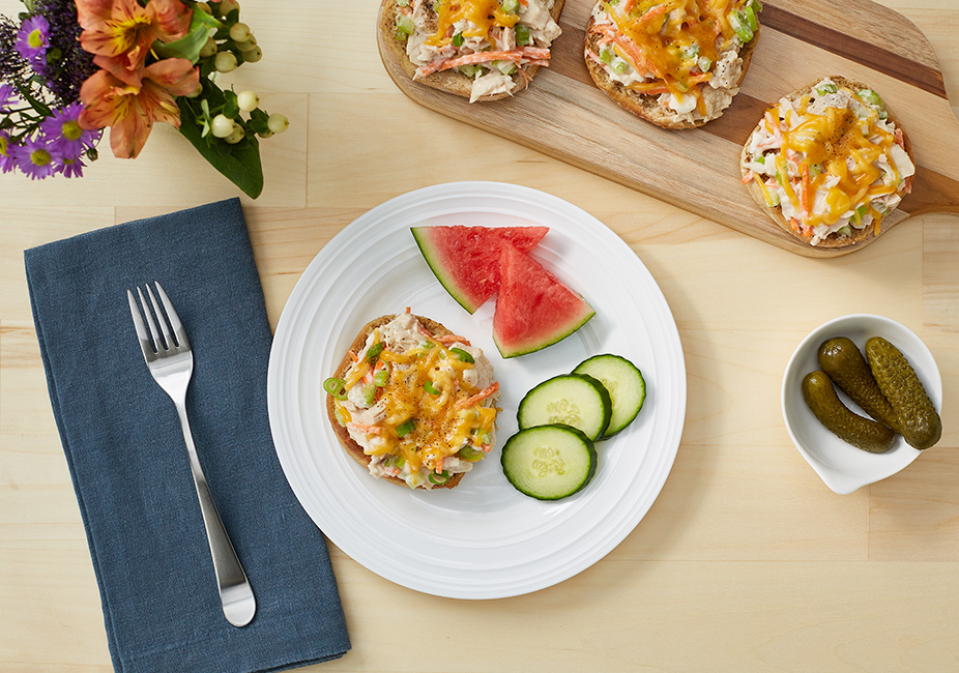 Temperature:
Broil
Serving size:
1 open-face sandwich
Prep time:
15 minutes
Cook time:
5 minutes
Total time:
20 minutes
Equipment:

Small bowl

Baking sheet

Utensils:

Mixing spoon

Measuring cups and spoons
* Cost and availability of recipe ingredients may vary across different regions of Ohio. Cost per serving information should be used as a general guide when considering recipe cost.
1 5 ounce can tuna in water, drained
1/4 cup celery (about 1 stalk), chopped
1 green onion, sliced
1/2 carrot, grated
1 tablespoon light mayonnaise
1/4 teaspoon black pepper
3 whole wheat English muffins
1/2 cup cheddar cheese, shredded
Instructions
Before you begin, wash your hands, surfaces, utensils, tops of cans, and produce.
In a small bowl, mix tuna, celery, green onion, carrot, mayonnaise, and black pepper.
Top each muffin half with tuna mixture and grated cheese. Place on baking sheet.
Set oven to broil. Place baking sheet with English muffins under broiler for about 3 minutes, or until cheese melts.
Featured
Ingredients


What goes in Veggie and Tuna Melt?

Celery

Carrots

Green onions

Tuna
Whole Wheat English Muffin
Nutritional Information
(Per Serving)
See complete nutrition facts >>
Comments