Veggie Crockpot Lasagna
Main Dishes |
No Added Sugars |
High in Fiber |
Vegetarian
Easy to assemble and even easier to cook, this meatless lasagna is still as hearty as can be.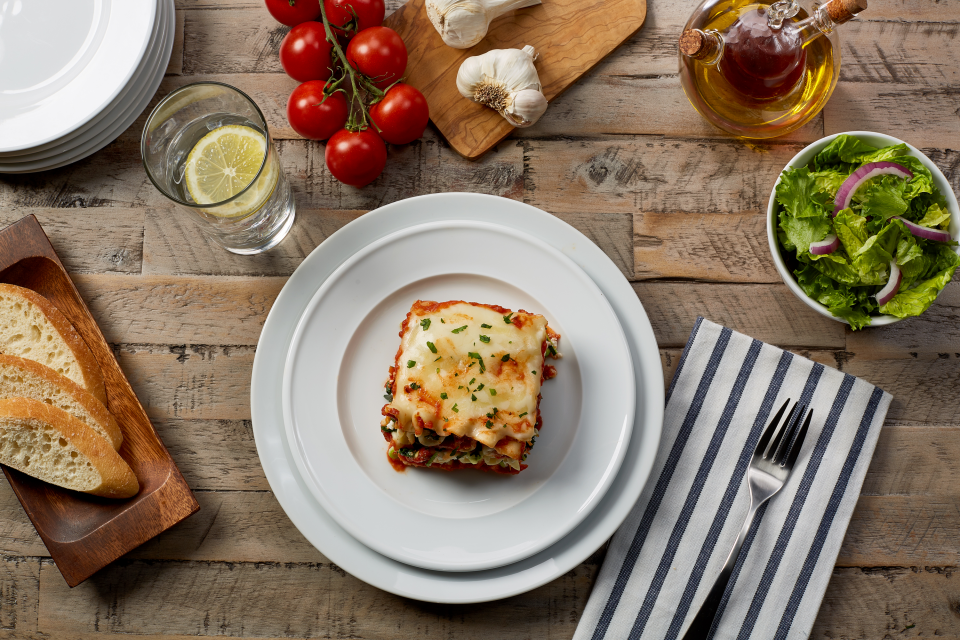 4 hours and 15 minutes
Total Time
Temperature:
High
Serving size:
1 cup
Prep time:
15 minutes
Cook time:
3 hours, let sit for 1 hour before cutting
Total time:
4 hours and 15 minutes
Equipment:

Crockpot (6-7 quart)

Cutting board

Utensils:

Measuring cups

Knife
Non-stick spray
2 24 ounce jars or cans of tomato sauce
9 lasagna noodles, uncooked
32 ounces ricotta or cottage cheese
3-4 cups fresh vegetables, chopped (kale, onion, carrots, and zucchini) OR 2, 12 ounce bags frozen vegetables
2 cups shredded mozzarella OR provolone cheese
1/2 cup Parmesan cheese
Instructions
1. Before you begin, wash your hands, surfaces, utensils, vegetables and tops of cans.
2. Spray crockpot with non-stick cooking spray.
3. Spread 1/2 cup tomato sauce on bottom of the crockpot.
4. Break noodles to fit and cover tomato sauce in the crockpot.
5. Layer 1/3 of ricotta OR cottage cheese, veggies, sauce, and shredded mozzarella OR provolone cheese.
6. Add another layer of noodles and repeat layering ingredients two more times for a total of three complete layers. End with a layer of noodles on top.
7. Top with parmesan cheese.
8. Cover and cook on high for 3 hours or on low for 5-6 hours. Turn crockpot off completely and let the lasagna cool for one hour.
Featured
Ingredients


What goes in Veggie Crockpot Lasagna?

Zucchini

Carrots

Tomato Sauce

Kale

Lasagna Noodles
Nutritional Information
(Per Serving)
See complete nutrition facts >>
Comments