Watermelon Summer Salad
Gluten-Free |
Quick & Easy |
Salads |
Side Dishes |
No Added Sugars |
Vegetarian |
Egg-Free |
Nut-Free
Bright and refreshing. Sweet yet tangy. Name a more perfect summer salad…we'll wait.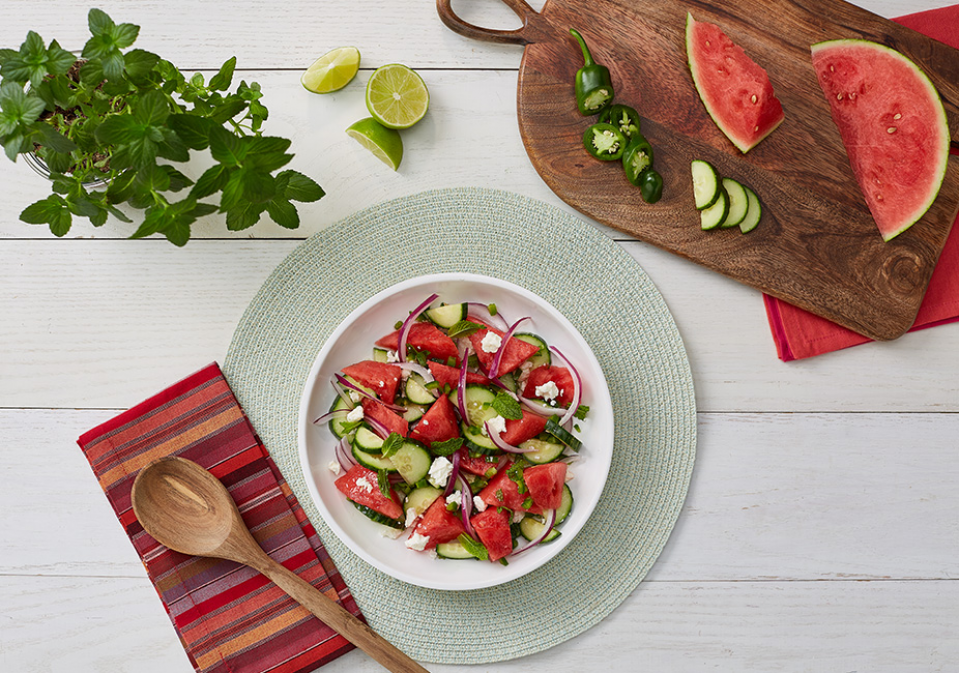 Temperature:
N/A
Serving size:
1/2 cup
Prep time:
12 minutes
Cook time:
N/A
Total time:
12 minutes
Equipment:

Small bowl

Large plate or serving platter

Utensils:

Fork or whisk

Measuring cups and spoons
* Cost and availability of recipe ingredients may vary across different regions of Ohio. Cost per serving information should be used as a general guide when considering recipe cost.
For the Dressing
2 tablespoons olive oil OR vegetable oil
3 tablespoons lime juice (about 1.5 limes)
1/4 teaspoon salt
For the Salad
5 cups seedless watermelon (about 1 small melon), cubed
1 medium cucumber, sliced into half moons
1 cup red onion, thinly sliced
1/3 cup crumbled feta cheese
1/3 cup torn mint OR basil leaves
1 pinch salt
1/2 (jalapeño or serrano) pepper (optional)
Instructions
Before you begin, wash your hands, surfaces, utensils, and produce.
Make the dressing: In a small bowl, whisk together the oil, lime juice, and salt.
Arrange the watermelon, cucumber, and red onions on a large plate or platter. Drizzle with half the dressing. Top with the feta, mint, and jalapeño pepper, if using, and drizzle with remaining dressing. Season to taste and serve.
Tips
For a spicier option, add 1/2 jalapeno or serrano pepper, thinly sliced.
To jazz it up, try adding fresh berries to the watermelon salad!
Featured
Ingredients


What goes in Watermelon Summer Salad?

Jalapeño

Red Onion

Cucumber
Watermelon

Mint
Nutritional Information
(Per Serving)
See complete nutrition facts >>
Comments