Yogurt Parfaits
Breakfast |
Desserts |
Kid Approved |
Quick & Easy |
Snacks |
Low Sodium |
Low Fat |
High in Fiber |
Vegetarian |
WIC Friendly |
Egg-Free |
Nut-Free
Layer your favorite fruit with crunchy granola and non-fat vanilla yogurt for parfaits that are pretty to look at and even better to eat.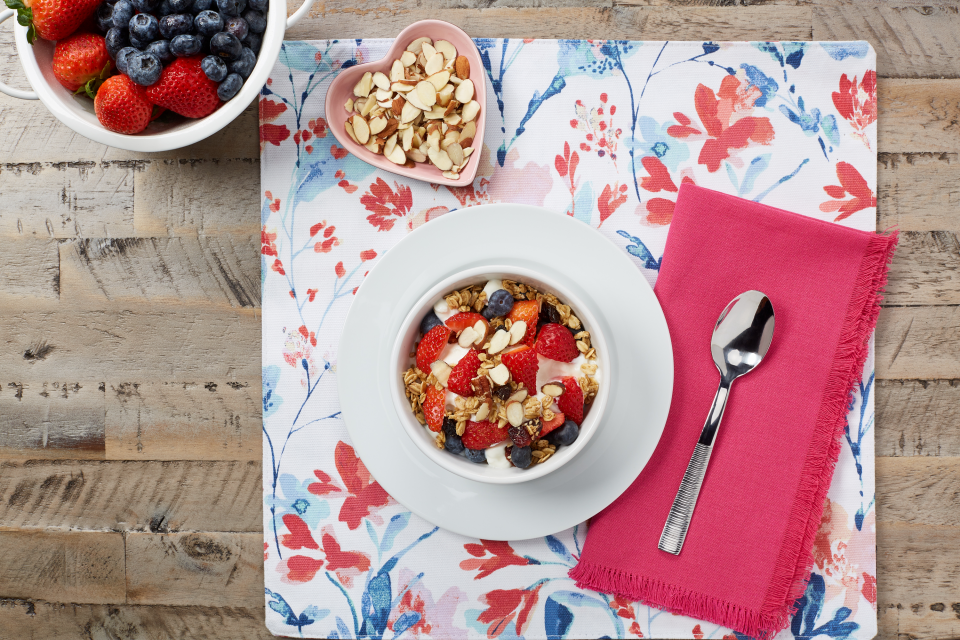 Temperature:
N/A
Serving size:
One parfait
Prep time:
10 minutes
Cook time:
N/A
Total time:
10 minutes
Equipment:

Cutting board

Serving bowls

Utensils:

Knife

Spoon for layering ingredients

Measuring cups and spoons
* Cost and availability of recipe ingredients may vary across different regions of Ohio. Cost per serving information should be used as a general guide when considering recipe cost.
4 cups (fresh or frozen) fruit, thawed
3 cups vanilla low-fat yogurt
1 1/2 cups granola
2 tablespoons almonds, sliced (optional)
Instructions
Before you begin, wash your hands, surfaces, utensils, and fruit.
If using fresh fruit, peel, and/or trim as needed. Cut fresh or frozen fruit into 1/2 inch thick slices.
Layer 1/4 cup yogurt into each of 6 cups or bowls. Top with 1/4 cup sliced fruit and 2 tablespoons of granola.
Repeat layers one more time, ending with a layer of granola.
Top with sliced almonds (if using).
Tips
Try using different flavors of low-fat yogurt in your parfait.
Layer parfait just before serving to keep granola crunchy.
Use any high-fiber cereal you like instead of granola.
To save money, use fresh fruits in season. When seasonal fruits are hard to find, used thawed frozen fruit.
Featured
Ingredients


What goes in Yogurt Parfaits?

Low-fat Yogurt

Frozen Fruit

Granola
Nutritional Information
(Per Serving)
See complete nutrition facts >>
Comments