Baked Garden Green Tomatoes
Side Dishes |
Snacks |
Vegetarian |
Nut-Free
A lighter version of the Southern classic, breaded tomato slices are baked, not fried!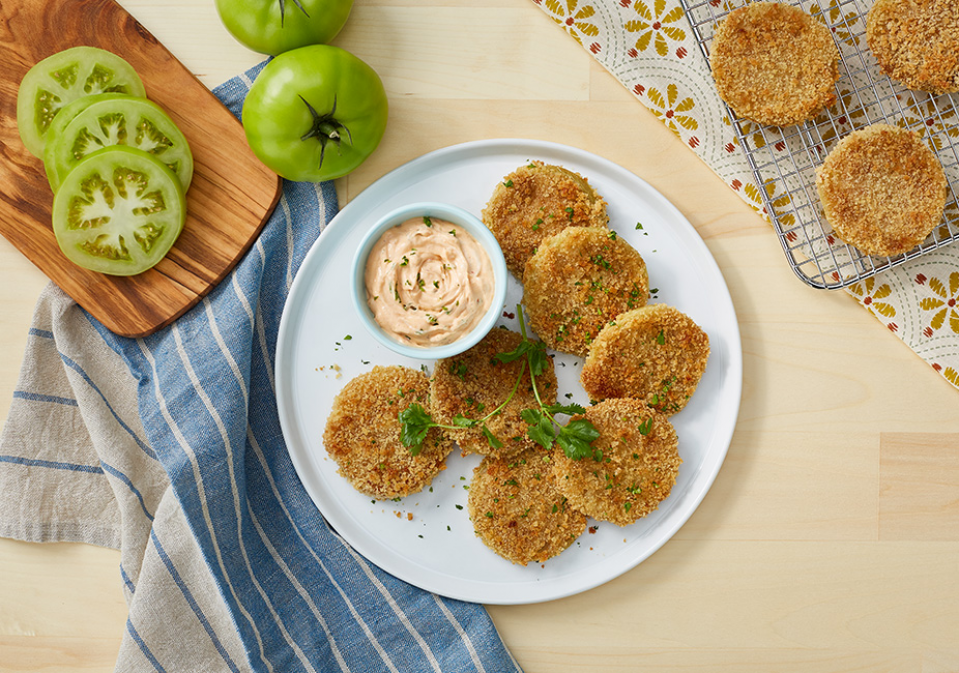 Temperature:
400 degrees
Serving size:
3 pieces
Prep time:
15 minutes
Cook time:
24 minutes
Total time:
39 minutes
Equipment:

4 Bowls

Baking sheet

Can opener

Utensils:

Serrated knife

Fork or whisk

Measuring cups and spoons

Spoon
* Cost and availability of recipe ingredients may vary across different regions of Ohio. Cost per serving information should be used as a general guide when considering recipe cost.
For the Baked Green Tomatoes
2 large green tomatoes
3 egg whites
2 tablespoons flour
1 teaspoon paprika
1 teaspoon ground cumin
1/2 teaspoon salt
1 cup panko bread crumbs
Non-stick spray
For the Dip
1 tablespoon canned chipotle pepper in adobo
1/4 cup light mayonnaise
1/4 cup plain low-fat yogurt
1 tablespoon ranch seasoning

Instructions
Before you begin, wash your hands, surfaces, utensils, and produce.
Preheat the oven to 400 degrees.
Slice green tomatoes into even slices (about ¼ inch thick).
Lightly beat egg whites in a medium mixing bowl. Place flour, paprika, cumin, and salt in a second bowl and mix to combine. Place panko breadcrumbs in a third bowl.
Spray a baking sheet with non-stick spray.
Delicately press tomatoes into flour, coating both sides. Dredge in egg whites, and cover in panko breadcrumbs. Place slices on a baking sheet that has been covered in non-stick spray.
Bake for 12 minutes, flip the tomatoes, and bake for another 12 minutes until tomatoes are golden.
While the green tomatoes are baking, prepare the dip. Mince the chipotle pepper, combine with light mayo, low-fat yogurt, and ranch seasoning in a bowl. Stir to mix thoroughly. Serve as a dip for the green tomatoes.
Tips
This recipe is great with other vegetables too! Try coating sliced peppers, eggplant, or broccoli.
Featured
Ingredients


What goes in Baked Garden Green Tomatoes?

Paprika

Eggs

Cumin

Green Tomatoes
Panko Breadcrumbs
Nutritional Information
(Per Serving)
See complete nutrition facts >>
Comments