Sunny Baked Eggs and Vegetables
Breakfast |
Main Dishes |
Vegetarian |
WIC Friendly
This colorful, fluffy breakfast dish tastes great any time of day.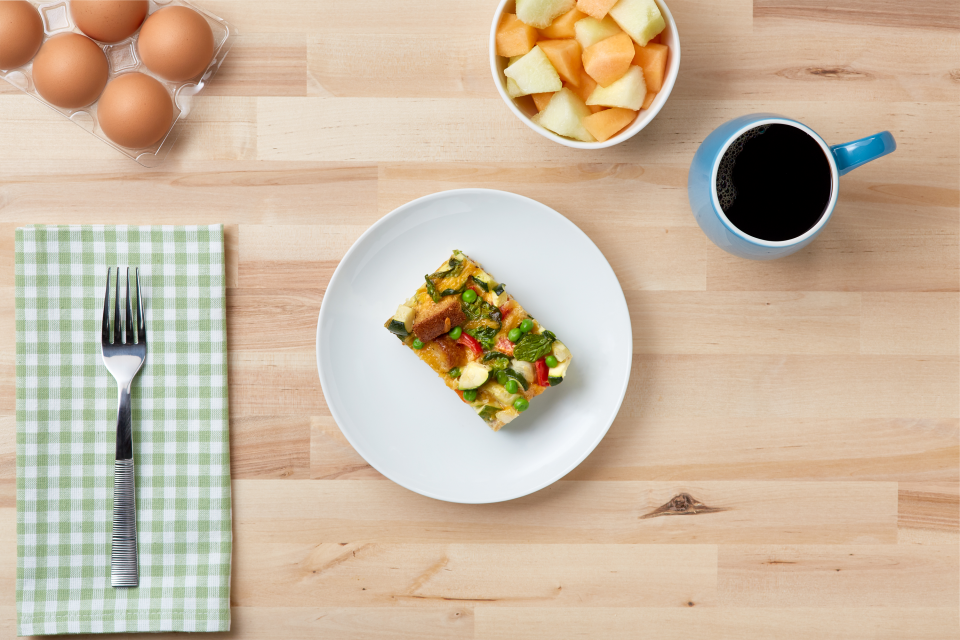 Temperature:
350 degrees
Serving size:
1 1/3 cups
Prep time:
15 minutes
Cook time:
45 minutes
Total time:
60 minutes
Equipment:

2 quart baking dish or pan (square or round)

Cutting board

Large Skillet

Large bowl

Utensils:

Knife

Spoon to mix

Whisk or fork
Non-stick spray
1 tablespoon olive or vegetable oil
1 onion, finely chopped
2 cups mixed vegetables, finely chopped (bell pepper, mushrooms, spinach, grated carrots, zucchini, peas, tomatoes, etc.)
6 large eggs
1/2 cup non-fat milk
1/4 teaspoon ground black pepper
4 slices whole-grain bread, cut in 1/2 inch cubes (about 4 cups)
1/2 cup shredded cheese
Instructions
Before you begin wash your hands, surfaces, utensils and vegetables.
Preheat oven to 350 degrees.
Heat oil in a large skillet over medium heat. Add vegetables and cook for 5-8 minutes or until tender. Remove from the heat and allow to cool slightly.
Using a whisk or fork, whisk together eggs, milk, and pepper in a large mixing bowl.
Spray baking dish with non-stick spray. Arrange bread cubes in the bottom of the baking dish and sprinkle with shredded cheese.
Evenly distribute cooked vegetables on top of the bread and cheese and pour egg mixture over the top.
Bake for 45 minutes or until the center is set. Allow to sit for 10 minutes before serving.
Tips
You can make individual servings by baking in 2 1/4 inch muffin tins (large). Spray each muffin cup or line with bake cup. Add each layer: bread, cheese, cooked vegetables, egg mixture. Cooking time is 15-20 minutes. Eggs are set when still slightly moist in the center. Check with a toothpick. Yield: 12 egg cups.
If you use a square pan the corners will cook more quickly than the center.
Refrigerate leftovers or freeze individual servings.
Assemble, refrigerate overnight and then cook for a filling breakfast.
Try these vegetable combinations:
Frozen: peas, broccoli, sweet peppers, chopped spinach. Add 1 teaspoon Italian Seasoning.
Fresh: Grated carrots, grated zucchini, chopped spinach, mushrooms. Add 1 tablespoon fresh chopped parsley.
Canned: black beans, diced tomatoes, corn. Drain each. Add 1 teaspoon ground cumin. Save the tomato and corn liquid to use as stock for soup.
Featured
Ingredients


What goes in Sunny Baked Eggs and Vegetables?

White Onion

Spinach

Zucchini

Roma Tomatoes

Eggs
Nutritional Information
(Per Serving)
See complete nutrition facts >>
Comments