Black Bean Soup
Dairy-Free |
Gluten-Free |
Main Dishes |
Quick & Easy |
Soups |
High in Fiber |
Vegan |
Vegetarian |
WIC Friendly |
Egg-Free |
Nut-Free
Hearty, wholesome, and with just the right amount of spice. Top it off with nonfat yogurt or low-fat sour cream.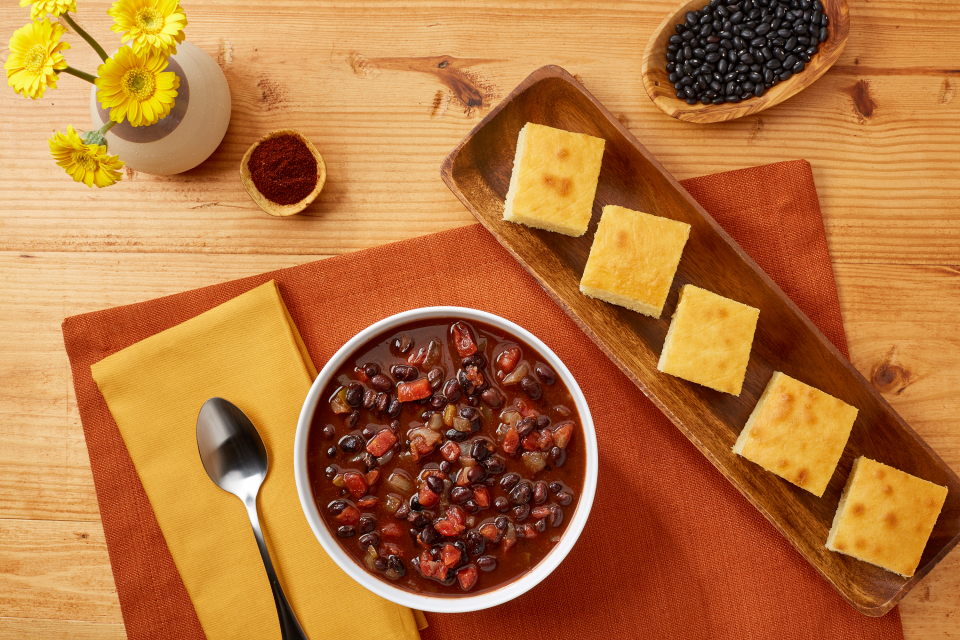 Temperature:
Medium heat, Simmer
Serving size:
1-1/2 cups
Prep time:
10 minutes
Cook time:
15 minutes
Total time:
25 minutes
Equipment:

Large saucepan

Colander

Utensils:

Mixing spoon

Measuring cups and spoons
* Cost and availability of recipe ingredients may vary across different regions of Ohio. Cost per serving information should be used as a general guide when considering recipe cost.
2 15 ounce cans of no salt added black beans, drained and rinsed
2 teaspoons olive oil OR vegetable oil
1/2 medium onion, chopped
1 tablespoon chili powder
1 teaspoon ground cumin (optional)
1 14.5 ounce can no salt added diced tomatoes with green chilies
1 cup water
1 tablespoon lime OR lemon juice (optional)
1 tablespoon lime juice (about 1/2 lime) (optional)
Optional toppings:
Non-fat yogurt, low-fat sour cream, cilantro
Instructions
Before you begin, wash your hands, surfaces, utensils, and vegetables.
Heat oil in a large saucepan over medium heat. Add onion and cook, stirring frequently until onion begins to soften (about 2 to 3 minutes). Add chili powder. Add cumin, if using. Cook and stir for 1 minute.
Add beans, tomatoes, and water to saucepan and bring to boil. Reduce heat and simmer, covered, for 10 minutes.
Remove from heat and stir in lemon or lime juice, if using.
Garnish with yogurt or sour cream and cilantro before serving, if using.
Tips
Soup can be cooked in a slow cooker on low for 3-4 hours.
Thin the soup by adding water. Thicken soup by cooking longer without cover.
Featured
Ingredients


What goes in Black Bean Soup?

Black Beans

Canned Diced Tomatoes

Chopped Onions
Nutritional Information
(Per Serving)
See complete nutrition facts >>
Comments