Broccoli Potato Soup
Main Dishes |
Soups |
Low Fat |
Vegetarian |
WIC Friendly
Enjoy the velvety smooth, rich cheese flavor of this soup in a bowl or cup—rainy day optional.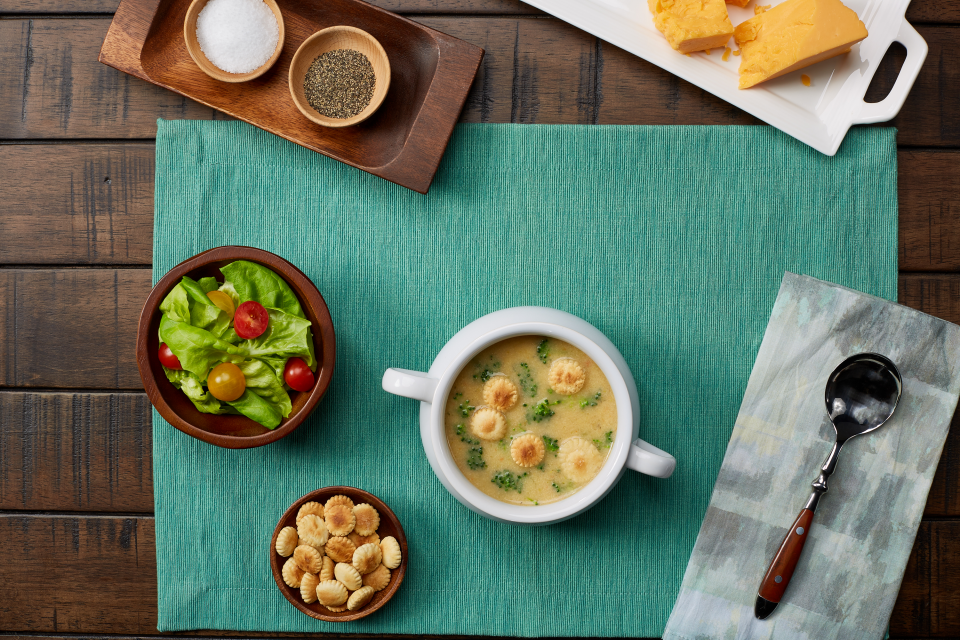 Temperature:
Medium-high
Serving size:
1 1/2 cups
Prep time:
10 minutes
Cook time:
30 minutes
Total time:
40 minutes
Equipment:

Large sauce pan

Cutting board

Bowl to pour blended soup

Blender

Utensils:

Mixing spoon

Knife
4 cups low sodium broth (vegetable or chicken broth work OR 4 cups of water with 4 bouillon cubes)
1 1/4 pounds white potatoes, peeled and cut into bite-size cubes
2 stalks celery, chopped
1 medium onion, chopped
1 small carrot, peeled and chopped
2 cups broccoli florets, 1 cup chopped into bite-size pieces, 1 cup chopped very small
2 cups low-fat milk
1/2 teaspoon Italian seasoning
1 cup shredded reduced fat sharp cheddar cheese
Instructions
1. Before you begin, wash your hands, surfaces, utensils, and vegetables.
2. In a large sauce pan, bring broth to a boil over medium high heat.
3. While broth is heating, chop vegetables. Add potatoes, celery, onion, carrot, and 1 cup bite-size broccoli florets to broth.
4. Bring soup to a boil, reduce heat, cover pan and simmer for 20 minutes. Remove from heat.
5. Cool soup slightly; in small batches, transfer soup to a blender and blend until smooth. Transfer blended soup to a bowl. Repeat process until all soup is smooth.
6. Transfer soup back to saucepan and stir in milk, Italian seasoning, 1 cup finely chopped broccoli, and cheese and cook on medium heat for 10-15 minutes more, stirring occasionally.
Tips
Use a towel to hold the blender down in case the steam causes the top to pop off.
For a chunkier soup, skip the blending step.
Featured
Ingredients


What goes in Broccoli Potato Soup?

Celery

Carrots

Broccoli

Chopped Onions

Potato
Nutritional Information
(Per Serving)
See complete nutrition facts >>
Comments