Butternut Squash and Black Bean Skillet
Dairy-Free |
Gluten-Free |
Side Dishes |
Low Sodium |
Low Fat |
No Added Sugars |
High in Fiber |
Vegan |
Vegetarian |
WIC Friendly |
Egg-Free |
Nut-Free
Butternut squash and black beans make a delicious, hearty side dish full of fiber and protein.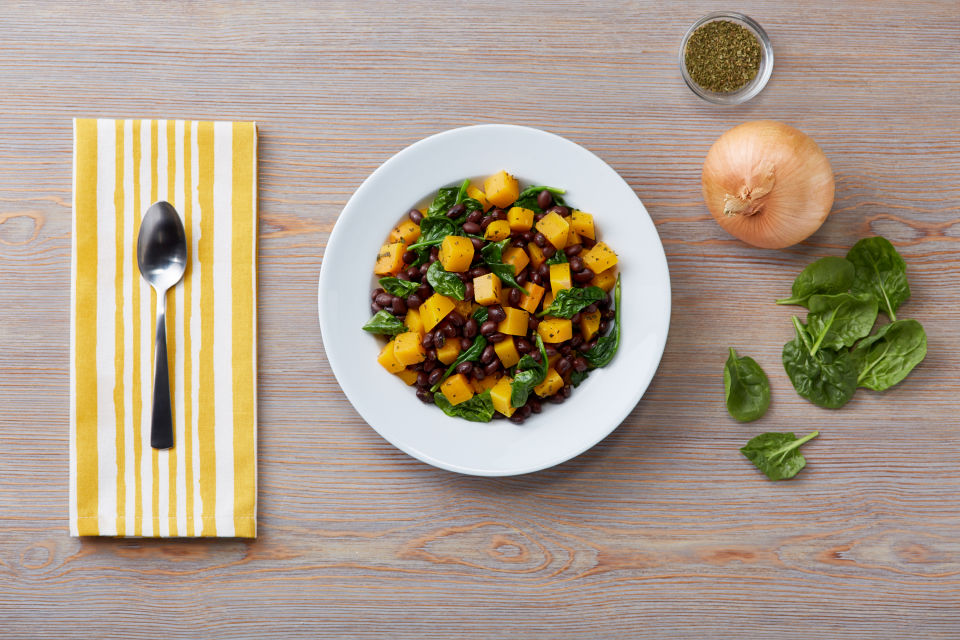 Temperature:
Medium high to Medium low
Serving size:
2/3 cup
Prep time:
15 minutes
Cook time:
25 minutes
Total time:
40 minutes
Equipment:

Cutting board

Vegetable peeler or sharp knife

Measuring cups and spoons

Can opener

Strainer

Wok or large skillet

Utensils:

Knife

Spatula or wooden spoon
Serving Suggestion:
Serve with a lean protein, such as chicken or turkey, and steamed vegetables for a complete meal.
Mix leftovers with salad greens and your favorite veggies for a filling salad.
* Cost and availability of recipe ingredients may vary across different regions of Ohio. Cost per serving information should be used as a general guide when considering recipe cost.
2 3/4 cups fresh butternut squash, cubed (about 1 pound) OR 15 ounces frozen butternut squash, cubed
1 small onion, chopped
1 teaspoon olive oil OR vegetable oil
1 clove garlic, minced OR 1 teaspoon garlic powder
1/4 cup red wine vinegar
1/4 cup water
1 15 ounce can no salt added black beans, drained and rinsed
(optional) 2 cups leafy greens (spinach, kale, etc.), shredded
1/2 teaspoon dried oregano
Instructions
Before you begin wash your hands, surfaces, utensils, and vegetables.
Wash and dry the squash. Heat squash in the microwave on high for 1-2 minutes to soften the skin.
Carefully peel the squash using a vegetable peeler or small knife. Remove seeds. Cut squash into 1/2-inch cubes.
Heat oil in a large skillet over medium heat and add squash, vinegar and water and stir to coat the squash.
Reduce heat to medium-low, cover the pan, and cook the squash for about 15 minutes, or until it can be pierced easily with a fork.
Add beans, onion, garlic, and oregano and cook for an additional 5 minutes.
Tips
Sweet potatoes may be substituted for butternut squash. Adjust cooking time as needed.
Add even more color (and nutrients!) to this dish by stirring in spinach or kale while beans are heating.
Balsamic vinegar may be substituted in place of red wine vinegar.
No vinegar? No problem. Recipe can be made with 1/2 cup water in place of vinegar and water mixture. If using water in place of vinegar, try adding lemon juice and additional spices, such as cumin, paprika, or chili powder, to boost the flavor of the dish.
Featured
Ingredients


What goes in Butternut Squash and Black Bean Skillet?

Black Beans

Butternut Squash

White Onion
Nutritional Information
(Per Serving)
See complete nutrition facts >>
Comments