Hamburger Skillet
Dairy-Free |
Main Dishes |
Low Sodium |
No Added Sugars |
High in Fiber |
WIC Friendly
Your skillet is the key to delicious comfort food easily made from scratch.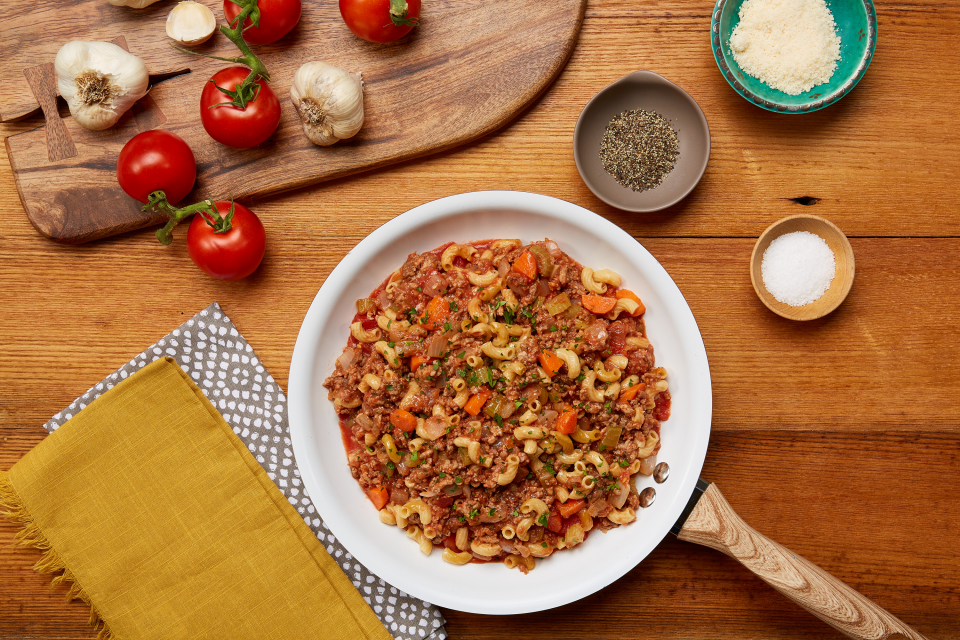 Temperature:
Medium-high
Serving size:
1 cup
Prep time:
15 minutes
Cook time:
30 minutes
Total time:
45 minutes
Equipment:

Cutting board

Large pot

Can opener

Paper towels

Bowl or mug

Utensils:

Knife

Measuring spoon

Measuring cup

Mixing spoon
1 pound lean (85%) ground beef
1 onion, chopped into ½-inch pieces
2 carrots, chopped into ½-inch rounds and halved
2 celery ribs, chopped into ½-inch pieces
2 tablespoons minced garlic or 1 tablespoon garlic powder
28 ounces canned crushed tomatoes, no salt added
2 tablespoons Italian seasoning
2 cups whole grain elbow macaroni (or other small, whole grain pasta shape), uncooked
Instructions
1. Before you begin wash your hands, surfaces, utensils, and vegetables.
2. In a large pot, brown ground beef over medium heat, 5-7 minutes.
3. Drain excess fat into a paper towel-lined bowl or mug, allow to cool, and discard.
4. Add onion and garlic to ground beef and cook until onion is tender, 5-7 minutes.
5. Add remaining ingredients, stir well to combine, increase heat and bring to a simmer.
6. Cover and cook for an additional 20 minutes until macaroni is tender.
Ingredients


What goes in Hamburger Skillet?

Celery

Carrots

Chopped Onions

Whole Grain Pasta

Canned Crushed Tomatoes
Nutritional Information
(Per Serving)
See complete nutrition facts >>
Comments