Chocolate PB Banana Bites
Desserts |
Gluten-Free |
Kid Approved |
Snacks |
Low Sodium |
Vegetarian |
WIC Friendly |
Egg-Free
This cool snack is naturally sweet, fun to eat, and easy to make.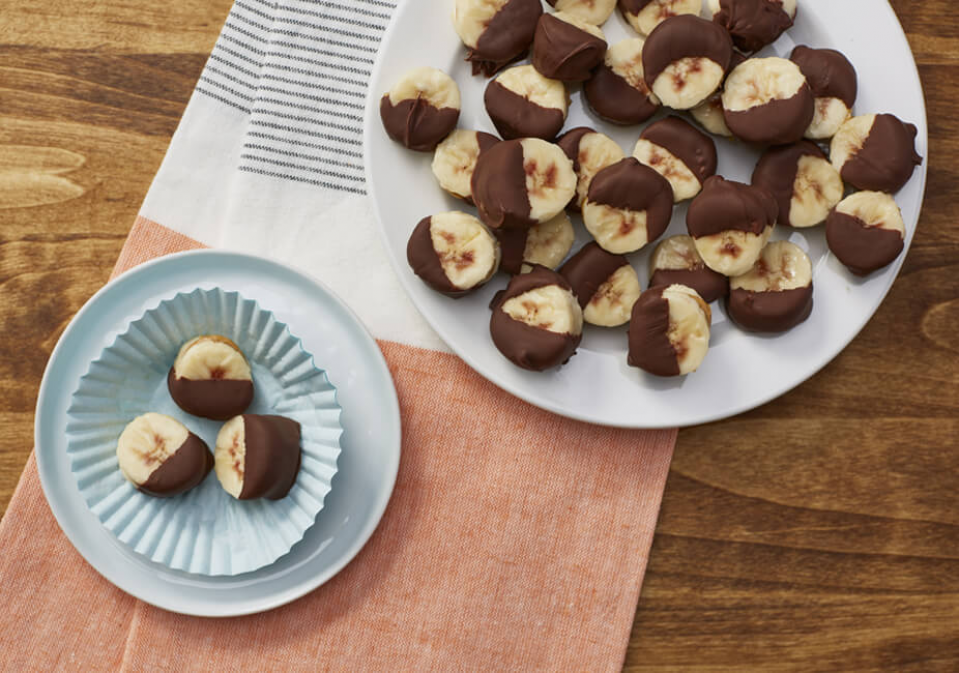 1 hour 15 minutes
Total Time
Temperature:
N/A
Serving size:
3 sandwich bits
Prep time:
1 hour 15 minutes
Cook time:
N/A
Total time:
1 hour 15 minutes
Equipment:

Baking sheet

Wax paper or aluminum foil

Small microwave-safe bowl

Utensils:

Knife

Fork or spoon for stirring

Measuring cups and spoons
* Cost and availability of recipe ingredients may vary across different regions of Ohio. Cost per serving information should be used as a general guide when considering recipe cost.
3 ripe bananas
1/4 cup smooth peanut butter
1/2 cup dark chocolate chips
2 teaspoons vegetable oil OR canola oil
Instructions
Before you begin, wash your hands, surfaces, and utensils.
Peel and slice bananas into 1/4 inch thick coins. Line a large plate or small baking sheet with wax paper or aluminum foil.
Place about 1/4 teaspoon of peanut butter on half the banana slices. Top with another slice to form a banana peanut butter sandwich. Repeat until all banana slices have become sandwiches making about 30 bites (around 10 "sandwiches" per banana.)
Place bites on prepared baking sheet, and put into freezer to harden, about 30 minutes to 1 hour.
After banana bites are frozen, begin to melt the chocolate. Add chocolate chips and oil to a small microwave-safe bowl, mix gently so oil is distributed among chocolate evenly. Microwave for 1 minute, stir and microwave in additional 30 second bursts until chocolate is completely melted. Do not exceed 2 minutes of melting time, as chocolate may burn.
After chocolate has melted, remove frozen banana bites from the freezer. Dip each frozen banana bite into the
Place chocolate covered bites back on to the lined baking sheet. Once all sandwiches are dipped return to the freezer for 15 minutes or until chocolate is frozen. Serve immediately.
Tips
These frozen treats should be eaten quickly before they start to melt. Or they can be stored in the freezer in an airtight container or zip-close bag for up to two weeks.
This recipe is best with ripe bananas that are still mostly firm. Bananas that are overripe will be too mushy to make into neat slices.
Featured
Ingredients


What goes in Chocolate PB Banana Bites?

Banana

Chocolate Chips

Peanut Butter
Nutritional Information
(Per Serving)
See complete nutrition facts >>
Comments