Cinnamon Oatmeal Banana Bread
Breakfast |
Dairy-Free |
Desserts |
Kid Approved |
Snacks |
Vegetarian |
Nut-Free
You probably already have everything you need to make this absolutely cravable bread.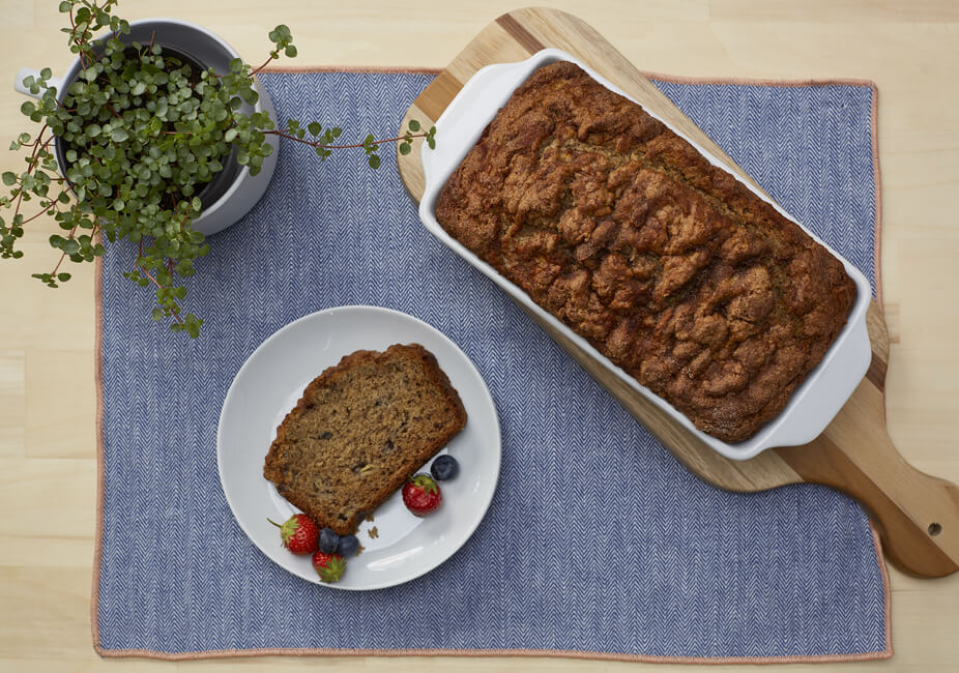 1 hour, 10 minutes
Total Time
Temperature:
350 degrees
Serving size:
1/10 of recipe
Prep time:
10 minutes
Cook time:
1 hour
Total time:
1 hour, 10 minutes
Equipment:

9x5-inch loaf pan

Two medium bowls

Utensils:

Mixing spoon

Fork

Measuring cups and spoons

Toothpick to test
* Cost and availability of recipe ingredients may vary across different regions of Ohio. Cost per serving information should be used as a general guide when considering recipe cost.
Non-stick spray
1 cup quick-cooking oats
1 1/2 cups all-purpose flour
2 teaspoons baking powder
1 teaspoon baking soda
1/2 teaspoon salt
1 tablespoon ground cinnamon
1 1/2 cups ripe bananas, mashed (about 4 medium bananas)
2 large eggs
1/3 cup unsweetened applesauce
1/3 cup sugar
1 tablespoon vegetable oil OR canola oil
Instructions
Before you begin, wash your hands, surfaces, utensils, and fruits.
Preheat oven to 350 degrees and spray a 9x5-inch loaf pan with non-stick spray.
In a medium bowl, mix oats, all-purpose flour, baking powder, baking soda, salt, and cinnamon. Set aside.
In another medium bowl, mash bananas with a fork. Then add eggs and applesauce, mix well. Next add sugar and oil and mix until combined. Add the dry ingredients from the other bowl, and mix scraping spatula along the sides to ensure no pockets of dry ingredients remain.
Pour the banana bread batter into prepared loaf pan and bake for 50-60 minutes or until an inserted toothpick comes out clean.
Allow to cool for at least 10 minutes in pan. Then remove and let sit until fully cooled before eating.
Tips
This recipe freezes very well. Wrap tightly in plastic wrap or in a zip-close bag and store in the freezer for up to two months. To defrost, put in the refrigerator for several hours.
Want to get some extra fruit in your day? Try slicing the banana bread and adding no-sugar added fruit preserves or jelly.
Have very brown bananas? This recipe tastes even better with very ripe bananas.
Featured
Ingredients


What goes in Cinnamon Oatmeal Banana Bread?

Cinnamon

Applesauce

Banana

Eggs

Flour
Nutritional Information
(Per Serving)
See complete nutrition facts >>
Comments