Mushroom Quinoa Pilaf
Gluten-Free |
Quick & Easy |
Side Dishes |
No Added Sugars |
Vegetarian |
Egg-Free |
Nut-Free
The savory flavors in this quinoa dish make it a meal prep essential. Make a big batch on Sunday and eat well all week.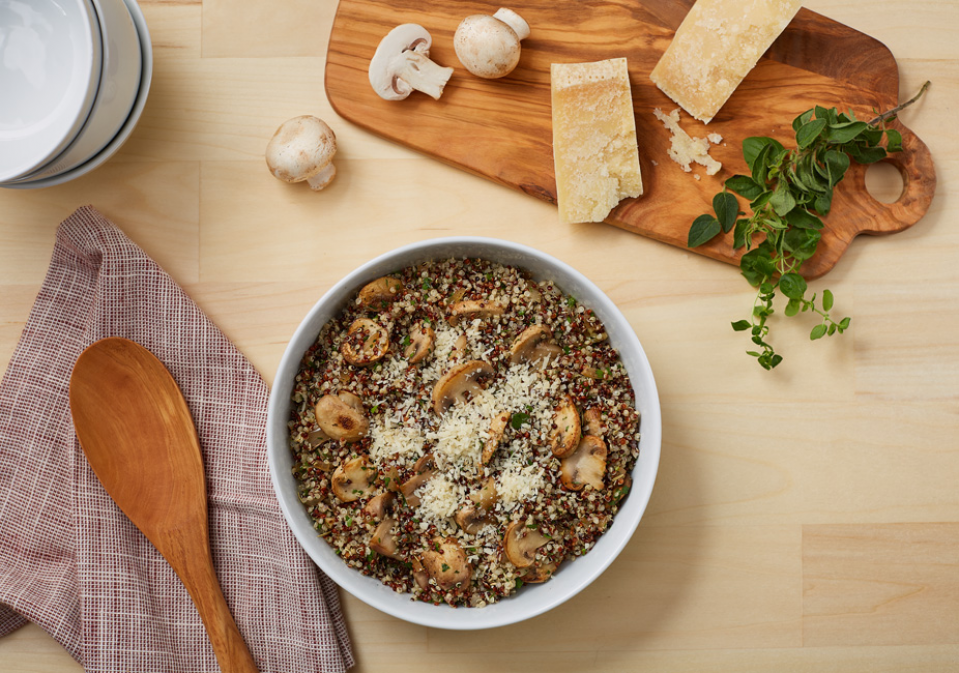 Temperature:
Medium-high heat
Serving size:
1 cup
Prep time:
10 minutes
Cook time:
30 minutes
Total time:
40 minutes
Equipment:

Frying pan

Utensils:

Mixing spoon

Measuring cups and spoons
* Cost and availability of recipe ingredients may vary across different regions of Ohio. Cost per serving information should be used as a general guide when considering recipe cost.
1 cup uncooked quinoa
1 tablespoon olive oil OR vegetable oil
1 8 ounce package mushrooms, sliced
1 medium onion, diced
3 cloves garlic, minced OR 1 tablespoon garlic powder
1/2 teaspoon Italian seasoning OR Celebrate Your Plate Italian Seasoning
1/8 teaspoon black pepper
1/4 teaspoon salt
1/4 cup grated Parmesan cheese
Instructions
Before you begin, wash your hands, surfaces, utensils, and produce.
Using a shallow bowl, rinse quinoa under cold water and drain until water runs clear. Cook quinoa according to package directions. Set aside.
Heat oil in a frying pan over medium-high heat. Add mushrooms, onion, garlic, Italian seasoning, black pepper, and salt. Cook 6 minutes, until mushrooms and onions are tender, stirring often.
Add cooked quinoa to frying pan of cooked vegetables, stirring to blend.
Top with Parmesan cheese.
Featured
Ingredients


What goes in Mushroom Quinoa Pilaf?

Chopped Onions

Garlic Cloves

Mushrooms

Parmesan Cheese

Quinoa
Nutritional Information
(Per Serving)
See complete nutrition facts >>
Comments