Fruit and Nut Slaw
Dairy-Free |
Gluten-Free |
Salads |
Side Dishes |
Vegan |
Vegetarian |
Egg-Free
An ultra-fast way to add a new dimension of delicious to typical slaw.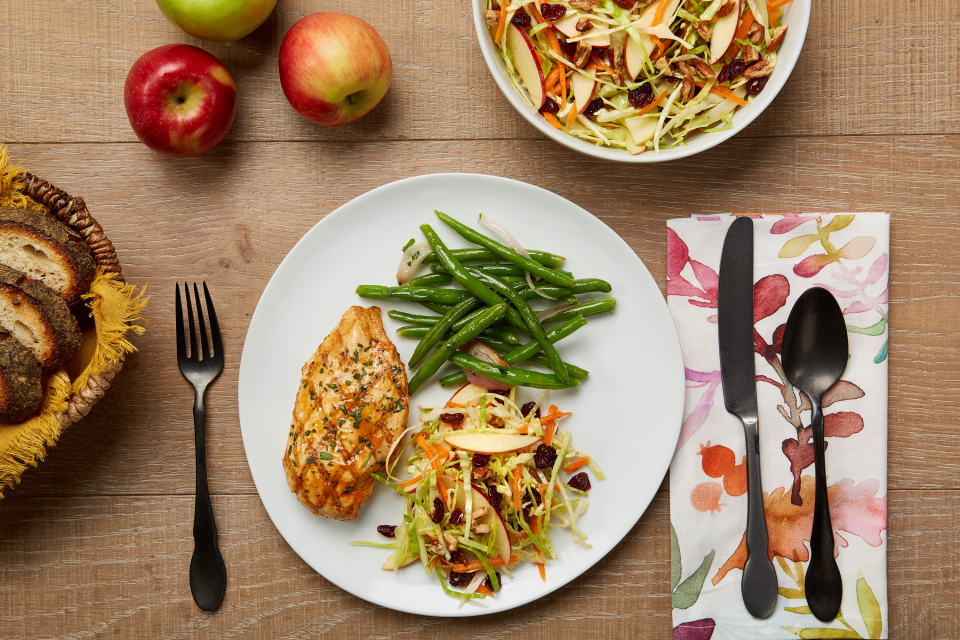 Temperature:
N/A
Serving size:
1 cup
Prep time:
15 minutes
Cook time:
N/A
Total time:
15 minutes
Equipment:

Cutting board

Large bowl

Small bowl

Box grater

Utensils:

Knife

Spatula or wooden spoon

Fork or whisk

Measuring cups and spoons
* Cost and availability of recipe ingredients may vary across different regions of Ohio. Cost per serving information should be used as a general guide when considering recipe cost.
5 cups cabbage, thinly sliced OR 1 16 ounce bag coleslaw mix
1/2 cup dried fruit (reduced sugar cranberries, raisins, etc.)
1 carrot, shredded
1/3 cup vinegar (white, red wine, or apple cider)
2 tablespoons sugar
2 teaspoons olive oil OR vegetable oil
3/4 teaspoon salt
1/2 teaspoon black pepper
2 medium apples, cored and thinly sliced
1/4 cup unsalted nuts (pecans, walnuts, etc.), chopped
Instructions
Before you begin, wash your hands, surfaces, utensils, fruit, and vegetables.
Add cabbage, dried fruit, and carrots to large bowl.
In small bowl, mix vinegar, sugar, oil, salt and pepper with a fork or whisk.
Pour vinegar mixture over cabbage mixture. Toss to combine.
Add apple and nuts just before serving and mix well.
Featured
Ingredients


What goes in Fruit and Nut Slaw?

Apples

Carrots

Dried Fruit

Cabbage
Nutritional Information
(Per Serving)
See complete nutrition facts >>
Comments