Chicken Gyro with Vegetables
Kid Approved |
Main Dishes |
No Added Sugars |
Egg-Free |
Nut-Free
Fuel your afternoon with flavorful marinated chicken, crunchy veggies, packed in a pita and ready to go.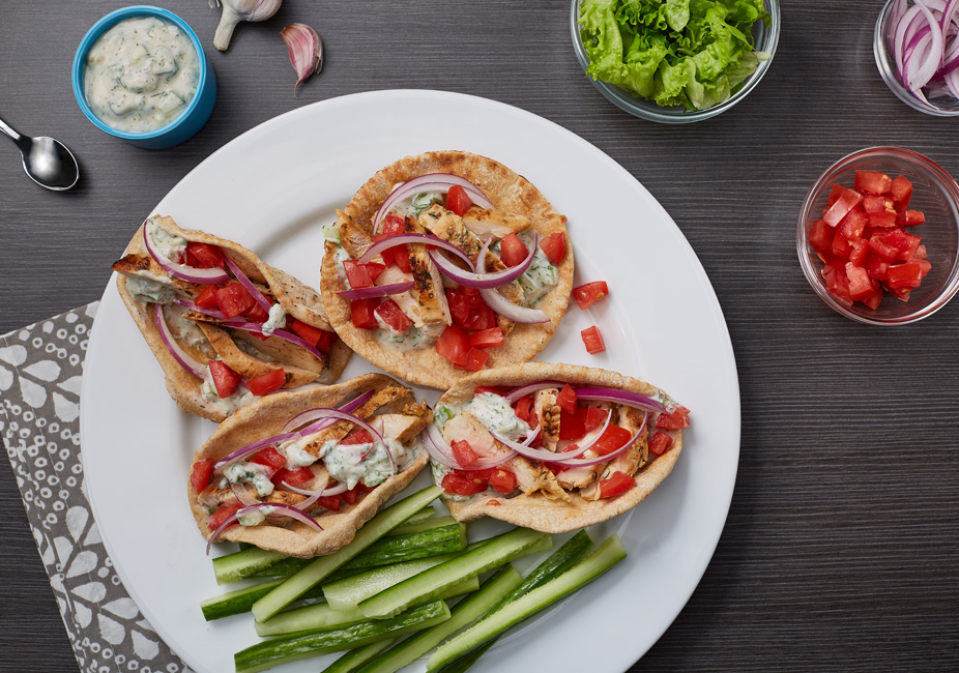 Temperature:
Medium-high heat
Serving size:
1 gyro
Prep time:
40 minutes
Cook time:
8 minutes
Total time:
48 minutes
Equipment:

Large bowl

Plastic wrap

Large frying pan

Medium bowl

Utensils:

Fork or tongs

Knife

Measuring cups and spoons
* Cost and availability of recipe ingredients may vary across different regions of Ohio. Cost per serving information should be used as a general guide when considering recipe cost.
1 tablespoon lemon juice
1/2 cup plain low-fat yogurt
1/2 teaspoon salt
1/4 teaspoon dried oregano
1/4 teaspoon ground thyme
1 clove garlic, minced OR 1 teaspoon garlic powder
2 boneless skinless chicken breasts
2 tablespoons olive oil OR vegetable oil
1 cup tzatziki sauce OR Celebrate Your Plate Cucumber Tzatziki Sauce (optional)
4 whole wheat pita breads
1 medium tomato, diced
1 red onion, thinly sliced
Instructions
Before you begin, wash your hands, surfaces, produce, and utensils.
Combine the lemon juice, yogurt, salt, dried oregano, thyme, and garlic powder in a large bowl and add the chicken breasts, tossing to coat well. Cover with plastic wrap and refrigerate for 30 minutes or overnight.
Heat a large non-stick frying pan over medium-high heat and add 1 tablespoon of oil. Add half of the chicken breasts to the pan, shaking off the excess yogurt mixture before adding to the pan. Cook the chicken breasts for about 5 minutes, undisturbed, until browned, then flip and cook the other side until the chicken is cooked through, about 5-7 minutes. Set cooked chicken aside, add the additional tablespoon of oil to the pan and cook the remaining chicken breast.
Warm the pita bread in a toaster or in the microwave for 30 seconds.
Cut chicken breasts into bite-sized pieces or pieces that fit onto a pita.
If eating with tzatziki sauce, spread 1/2 cup sauce onto the warm pita bread. Add tomatoes, sliced red onion, and about 1/2 of a chicken breast.
Tips
You could also use chicken tenders in place of chicken breasts. The chicken tenders could also be grilled or baked for about 20 minutes at 375 degrees F, or until cooked through.
Featured
Ingredients


What goes in Chicken Gyro with Vegetables?

White Onion

Chopped Tomatoes

Low-fat Yogurt
Whole Wheat Pita

Chicken Breast
Nutritional Information
(Per Serving)
See complete nutrition facts >>
Comments