Morning Glory Muffins
Breakfast |
Dairy-Free |
Snacks |
Vegetarian
This recipe brings together all kinds of fruits and vegetables in an earthy whole-grain muffin that's moist and just sweet enough. These are a great eat-in-the-car treat on the way to school or work.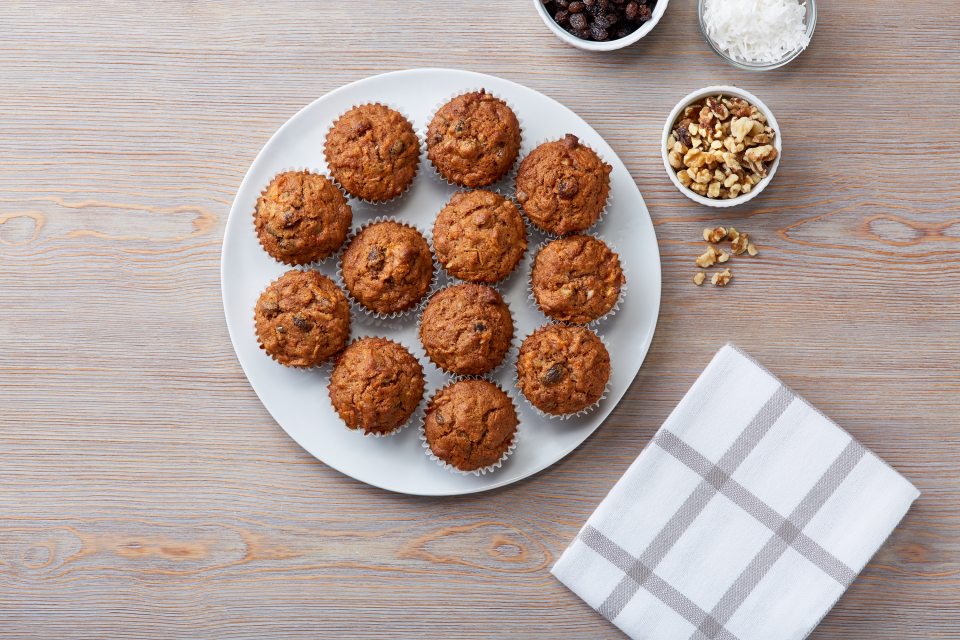 12 large or 24 regular
Servings
35-38 min/reg or 45-68 min large
Total Time
Temperature:
375 degrees
Serving size:
1 large muffin or 2 regular muffins
Prep time:
20 minutes
Cook time:
15-18 minutes for 2 1/2 inch muffins or 25-28 minutes for 3 1/4 inch muffins
Total time:
35-38 min/reg or 45-68 min large
Equipment:

Muffin tin

Paper bake cups for muffins

Measuring cups and spoons

Grater

Cup to soak raisins

Small bowl for liquid ingredients

Large mixing bowls

Utensils:

Peeler

Knife

Mixing spoon

Spoon or spatula to mix

Toothpick
Serving Suggestion:
6 ounce yogurt and glass of 100% juice OR piece of fruit and a glass of fat-free milk
Recipe sourced from King Arthur Flour
Non-stick spray or paper baking cups
1/2 cup raisins or dried cranberries, chopped dried plums or other dried fruit
2 cups whole wheat flour
1 cup brown sugar
2 teaspoons baking soda
2 teaspoons ground cinnamon (optional)
1/2 teaspoon ground ginger (optional)
1/2 teaspoon salt (optional)
3 carrots, grated (about 2 cups)
1 large tart apple, grated
1/2 cup shredded coconut, sweetened or unsweetened (optional)
1/2 cup chopped walnuts (optional)
1/3 cup sunflower seeds or wheat germ (optional)
3 large eggs
2/3 cup vegetable or canola oil
2 teaspoons vanilla extract (regular or imitation)
1/4 cup orange juice
Instructions
Before you begin wash your hands, surfaces, utensils, fruits and vegetables.
Preheat the oven to 375 degrees.
Lightly spray muffin tin with non-stick spray or line paper baking cups.
In a small bowl or cup, cover the raisins with hot water. Set them aside to soak while you assemble the rest of the recipe.
In a large bowl, whisk together the flour, sugar, baking soda, spices, and salt.
Stir in the carrots, apple, coconut, nuts, and sunflower seeds or wheat germ into the bowl with the flour mixture.
In a separate bowl, beat together the eggs, oil, vanilla, and orange juice.
Add liquid to the flour mixture, and stir until evenly moistened.
Drain the raisins and stir them in.
Divide the batter among the cups of the prepared pan. They'll be full almost to the top.
Bake the muffins for 15-18 minutes for regular size and 25-28 minutes for large muffins, until they're nicely domed. When done, a toothpick inserted in the center of one of the middle muffins will come out clean.
Remove from the oven, let cool for 5 minutes in pan on a rack. Then turn out of pans to finish cooling.
Put any leftovers in an airtight container. Store at room temperature for several days. Freeze for up to 3 months.
Tips
You can use grated sweet potato or butternut squash in place of grated carrots, but you may need to add 1-2 teaspoons of water because the carrots are juicier.
1 cup grated apple = 1 large apple or 1 1/2 medium apples (like those in a 3 pound bag in the grocery store). Grate the peel with the apple.Alternatives to apple:
Use vegetables in season, grated: zucchini, parsnip, turnip, pumpkin, summer squash
Use fruit in season, grated: pear, apricot, fig
Featured
Ingredients


What goes in Morning Glory Muffins?

Apples

Carrots

Coconut

Raisins
Nutritional Information
(Per Serving)
See complete nutrition facts >>
Comments