Quick and Easy Chicken Pot Pie
Main Dishes |
High in Fiber
A simple cream sauce surrounds chicken and vegetables under a biscuit layer in this one dish meal. Each of the four servings has one full cup of vegetables – a winning meal with easy clean up.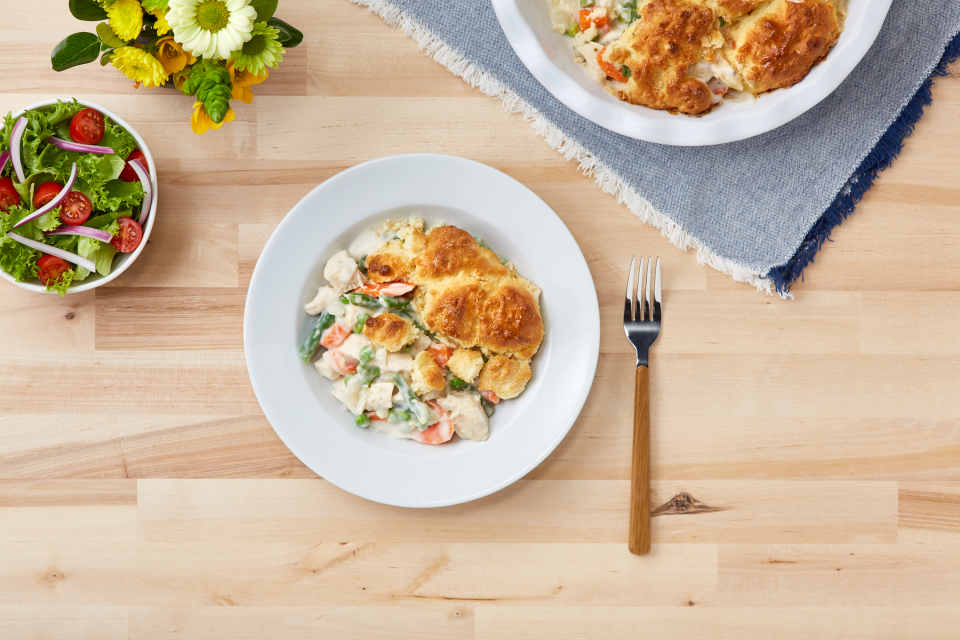 Temperature:
Medium high / 375 degrees
Serving size:
2 cups
Prep time:
15 minutes
Cook time:
25-35 minutes
Total time:
40-50 minutes
Equipment:

2 quart baking dish (10 cups)

10 inch skillet

Measuring cups and spoons

Utensils:

Knife

Spatula

Mixing spoon
Serving Suggestion:
Add a glass of fat-free milk to complete this meal.
2 tablespoons oil, vegetable or canola
1 cup onion, chopped
1 teaspoon oregano, optional
1 teaspoon garlic powder (optional)
1/2 teaspoon salt
1/2 teaspoon black pepper
Sauce
1/4 cup flour
2 cups fat-free milk or vegetable stock (or bouillon cubes to make 2 cups)
Stir in
16 ounce package frozen mixed vegetables, thawed (4 cups)
1 cup cooked chopped chicken (9-10 ounces)
Topping
1 cup baking mix
1/2 cup fat-free milk
1 egg, lightly beaten
Instructions
Before you begin wash your hands, surfaces, utensils, and vegetables.
Heat oil in skillet over medium heat. Sauté onion for 5 minutes.
Add salt and pepper. Add oregano and garlic powder, if using.
Sprinkle flour over the cooked onion.
Slowly stir in the milk (or milk and stock combined) to make a sauce.
Allow the sauce to thicken slightly.
Add the vegetables to heat.
Add the cooked, chopped chicken.
Pour into the 2 quart baking dish.
Topping: Stir together the baking mix, milk and egg. Pour over the top of the chicken vegetable mixture in the baking dish.
Bake for 25-30 minutes until lightly browned.
Allow to sit for 5 minutes before serving.
Tips
Try different vegetables. Use four cups of whatever vegetables you have on hand: peas, carrots, broccoli, corn, celery, sweet pepper, zucchini, yellow squash, mushrooms or leftover veggies.
1 cup of chopped chicken is equal to 16 ounces of uncooked chicken.
Leftover chicken or vegetables can make this a quick meal.
Ingredients


What goes in Quick and Easy Chicken Pot Pie?

White Onion

Frozen Mixed Vegetables
Nutritional Information
(Per Serving)
See complete nutrition facts >>
Comments