Quick and Easy Chicken Pot Pie
Main Dishes |
High in Fiber |
Nut-Free
A simple cream sauce surrounds chicken and vegetables under a biscuit layer in this one dish meal. Each of the four servings has one full cup of vegetables – a winning meal with easy clean up.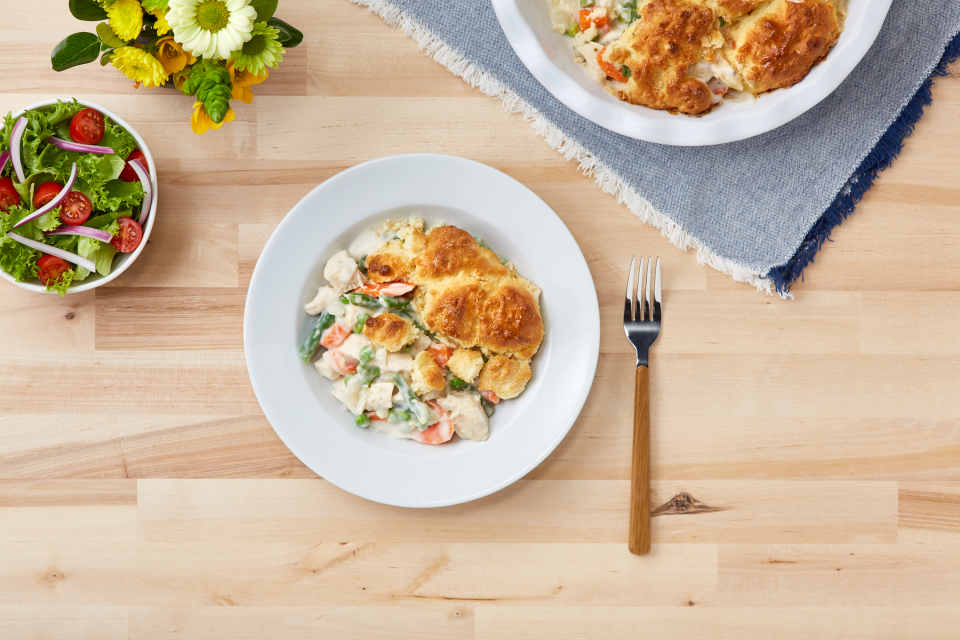 Temperature:
375 degrees, Medium heat, Low heat
Serving size:
2 cups
Prep time:
15 minutes
Cook time:
25-35 minutes
Total time:
40-50 minutes
Equipment:

2-quart baking dish

Large frying pan

Utensils:

Knife

Spatula

Mixing spoon

Measuring cups and spoons
* Cost and availability of recipe ingredients may vary across different regions of Ohio. Cost per serving information should be used as a general guide when considering recipe cost.
For the filling
1 tablespoon olive oil OR vegetable oil
1 onion, chopped
1/2 teaspoon black pepper
1 teaspoon dried oregano
1 clove garlic, minced OR 1 teaspoon garlic powder
1/4 cup flour
2 cups low-fat milk OR low-sodium (chicken or vegetable) broth
1 16 ounce package frozen vegetable mix
1 cup chicken, cooked and chopped
For the topping
1 cup all-purpose baking mix*
1/2 cup low-fat milk
1 egg, lightly beaten
*1 cup flour, 2 teaspoons baking powder, 3/4 teaspoon salt
Instructions
Before you begin, wash your hands, surfaces, utensils, and vegetables.
Heat oil in a frying pan over medium heat. Add onion and cook for 5 minutes, or until onions become see-through.
Add black pepper, oregano, and garlic powder. Stir to coat the onion.
Reduce heat to low, sprinkle flour over the onion, and stir to coat the onion. Cook for 2 minutes, stirring constantly so the flour doesn't burn.
Slowly pour the milk or broth into the frying pan, stirring constantly. Increase the heat to medium and continue to stir for 5 minutes, or until the sauce has thickened.
Add the vegetables and chicken. Stir to combine. Pour mixture into a 2-quart baking dish.
For the topping, stir together the baking mix, milk, and egg. Pour over the chicken mixture in the baking dish.
Bake for 25-30 minutes, or until the top is slightly browned.
Remove from oven and allow to sit for 5 minutes before serving.
Tips
This recipe tastes great with many kinds of vegetables! Try using and fresh or frozen veggies that you have on-hand.
Featured
Ingredients


What goes in Quick and Easy Chicken Pot Pie?

White Onion

Frozen Mixed Vegetables

Low-fat Milk

Chicken Breast
Nutritional Information
(Per Serving)
See complete nutrition facts >>
Comments