Sautéed Greens
Dairy-Free |
Gluten-Free |
Side Dishes |
No Added Sugars |
Vegan |
Vegetarian
It doesn't get much simpler than chopped greens sautéed with garlic and oil. Try chard, kale, or other leafy greens instead of collard greens.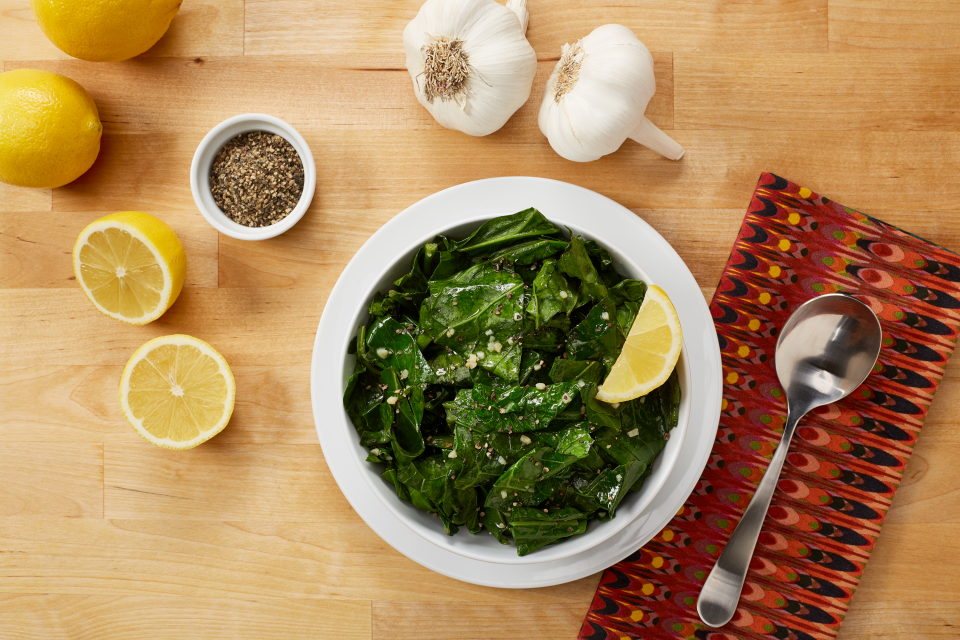 Serving size:
1/2 cup
Prep time:
20 minutes
Cook time:
15 minutes
Total time:
35 minutes
Equipment:

Large bowl

Colander

Large skillet

Cutting board

Measuring spoons

Utensils:

Knife

Tongs or spoon
Serving Suggestion:
Serve with baked chicken, tofu, or fried egg, and a glass of low-fat milk.
Recipe sourced from Share Our Strength's Cooking Matters
1 pound collard greens
2 tablespoons oil, vegetable or canola
4 cloves garlic, minced
¼ teaspoon salt
¼ teaspoon ground black pepper
Instructions
Before you begin wash your hands, surfaces and utensils.

Remove stems from greens

Place greens into a large bowl filled with water. Submerge the greens to rinse them. Replace water in the bowl and repeat 2-3 times or until greens are clean.

Transfer greens to colander to dry

Place skillet over medium-high heat and add oil.

Shake excess water from greens and roughly chop them into bite-size pieces. Add greens to skillet. If all of the greens won't fit in the skillet, cook them in batches.

Stir greens over medium-high heat until wilted, about 1-2 minutes.

Reduce heat to medium, add garlic, and cook greens for 5-7 minutes, or until tender.

Add salt and pepper and serve immediately.
Tips
Try chard, kale or other leafy greens instead of collard greens.

Combine greens with a whole grain pasta or brown rice for a side or meal.
Ingredients


What goes in Sautéed Greens?

Garlic Powder

Olive Oil

Collard Greens
Nutritional Information
(Per Serving)
See complete nutrition facts >>
Comments