Sautéed Greens
Dairy-Free |
Gluten-Free |
Side Dishes |
No Added Sugars |
Vegan |
Vegetarian |
Egg-Free |
Nut-Free
It doesn't get much simpler than chopped greens sautéed with garlic and oil. Try chard, kale, or other leafy greens instead of collard greens.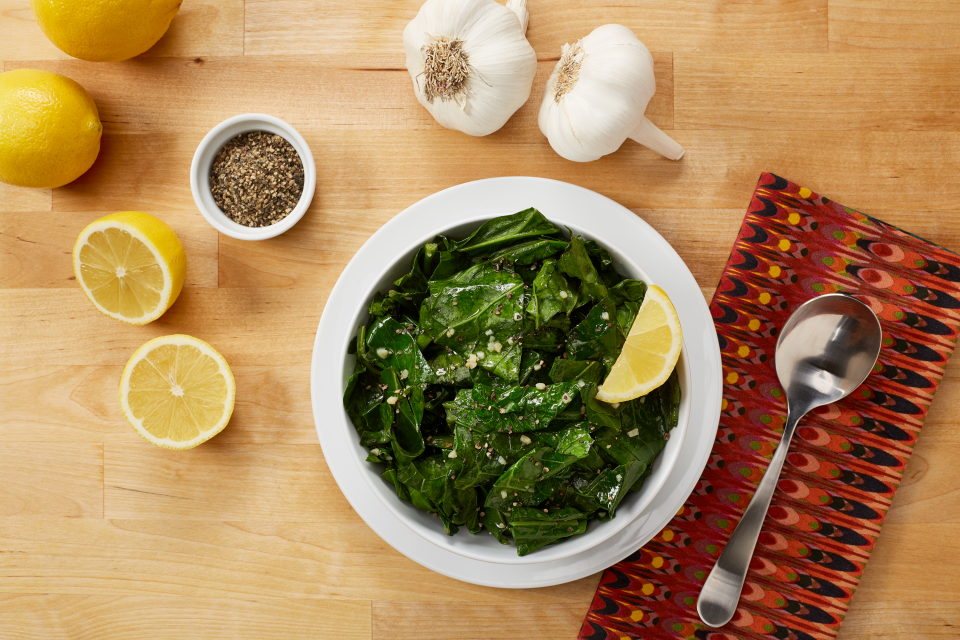 Temperature:
Medium-high heat, Medium heat
Serving size:
1/2 cup
Prep time:
20 minutes
Cook time:
15 minutes
Total time:
35 minutes
Equipment:

Large bowl

Colander

Large frying pan

Cutting board

Utensils:

Knife

Tongs or spoon

Measuring spoons
* Cost and availability of recipe ingredients may vary across different regions of Ohio. Cost per serving information should be used as a general guide when considering recipe cost.
1 pound collard greens
2 tablespoons olive oil OR vegetable oil
4 cloves garlic, minced
1/4 teaspoon salt
1/4 teaspoon ground black pepper
Instructions
Before you begin, wash your hands, surfaces, utensils, and produce.
Remove stems from greens.
Put frying pan over medium-high heat and add oil.
Shake excess water from greens and roughly chop them into bite-sized pieces. Add greens to frying pan. If all of the greens won't fit in the frying pan, cook them in batches.
Stir greens over medium-high heat until wilted, about 1-2 minutes.
Reduce heat to medium, add garlic, and cook greens for 5-7 minutes, or until tender.
Add salt and black pepper. Serve immediately.
Tips
Try chard, kale or other leafy greens instead of collard greens.
Freshen it up! Try eating your collard greens with squeezed lemon or lemon juice.
To wash greens, place them into a large bowl filled with water. Submerge the greens to rinse them. Replace the water in the bowl and repeat 2-3 times or until greens are clean. Transfer greens to a colander to dry.
Featured
Ingredients


What goes in Sautéed Greens?

Garlic Powder

Olive Oil

Collard Greens
Nutritional Information
(Per Serving)
See complete nutrition facts >>
Comments