Turkey Apple Breakfast Sausage
Breakfast |
Dairy-Free |
Side Dishes |
Low Sodium |
No Added Sugars |
Egg-Free |
Nut-Free
Combine these savory patties with a side of eggs for a hearty breakfast you'll love.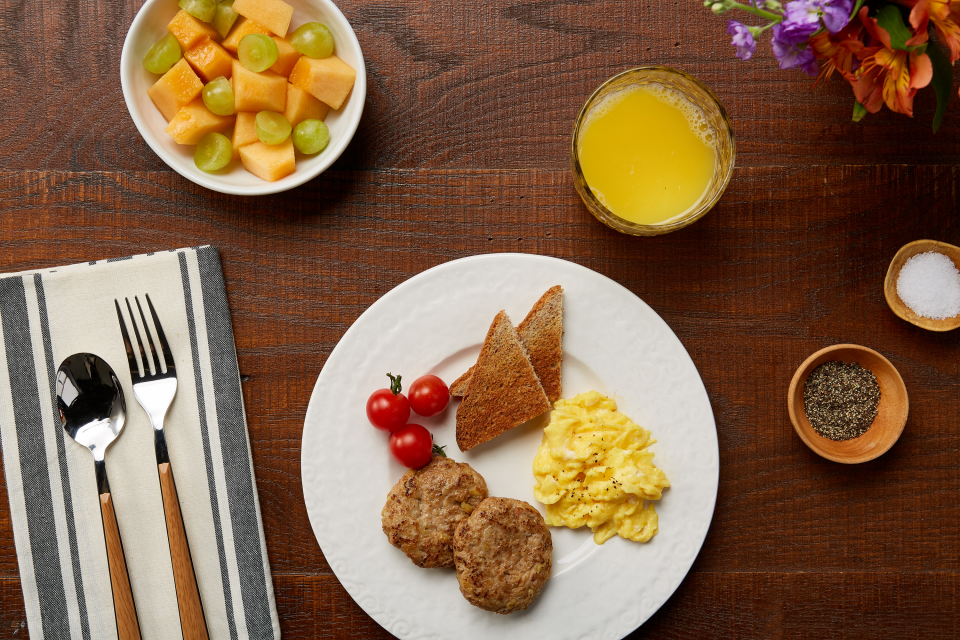 Temperature:
Medium heat
Serving size:
2 patties
Prep time:
10 minutes
Cook time:
20 minutes
Total time:
30 minutes
Equipment:

Box grater

Frying pan

Large bowl

Meat thermometer

Utensils:

Measuring cups and spoons

Mixing spoon

Spatula
* Cost and availability of recipe ingredients may vary across different regions of Ohio. Cost per serving information should be used as a general guide when considering recipe cost.
Non-stick spray
1 cup apple, shredded using large holes of box grater
4 tablespoons bread crumbs
1 teaspoon ground sage
1/2 teaspoon black pepper
1/4 teaspoon salt
1/4 teaspoon paprika
1 pound lean (85% or leaner) ground turkey OR 1 pound ground chicken
Instructions
Before you begin wash your hands, surfaces, utensils, and fruit.
Spray frying pan with non-stick spray and place over medium heat. Add apples and cook until they are tender, about 3-5 minutes. Transfer to a large bowl and allow to completely cool.
Add turkey, breadcrumbs, sage, black pepper, salt, and paprika to the large bowl. Mix well.
Divide the sausage mixture into 16 portions and form into 3/4 inch-thick patties.
Cook the patties in a frying pan on medium heat, about 4 minutes per side, until the internal temperature measures 165 degrees on a meat thermometer.
Tips
You could also try cooking sausage patties on a baking sheet in the oven at 450 degrees for 8 minutes.
Featured
Ingredients


What goes in Turkey Apple Breakfast Sausage?

Paprika

Apples
Dried Sage

Ground Turkey
Nutritional Information
(Per Serving)
See complete nutrition facts >>
Comments