Turkey Apple Breakfast Sausage
Breakfast |
Dairy-Free |
Low Sodium |
No Added Sugars
Combine these savory patties with a side of eggs for a hearty breakfast you'll love.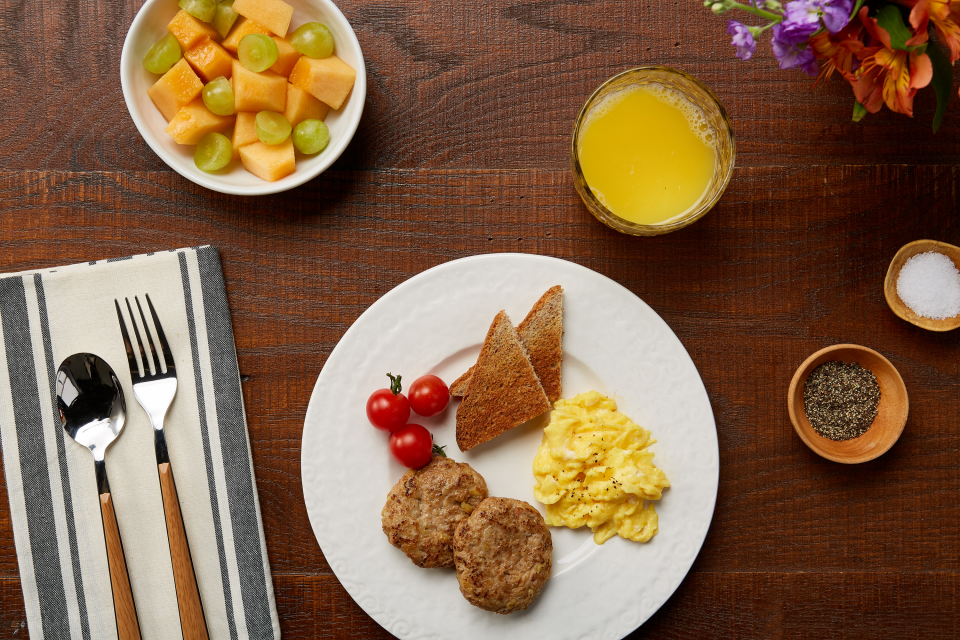 Temperature:
Medium
Serving size:
2 patties
Prep time:
10 minutes
Cook time:
20 minutes
Total time:
30 minutes
Equipment:

Box grater

Skillet

Large bowl

Meat thermometer

Utensils:

Measuring cups and spoons

Mixing spoon

Spatula
Non-stick spray
1 cup shredded apple (shredded using the large holes of a box grater)
4 tablespoons breadcrumbs
1 teaspoon dried sage
1/2 teaspoon black pepper
1/4 teaspoon salt
1/4 teaspoon paprika
16 oz. lean ground turkey (or chicken)
Instructions
1. Before you begin wash your hands, surfaces, utensils, and fruit.
2. Spray skillet with non-stick spray and place over medium heat. Add apples and cook until the apples are tender, 3 to 5 minutes. Transfer to a large bowl and cool completely.
3. Add turkey, breadcrumbs, sage, pepper, salt, and paprika; mix well.
4. Divide the sausage mixture into 16 portions and form into 3/4 inch-thick patties.
5. Cook the patties in skillet on medium heat about 4 minutes per side until the internal temperature measures 165 degrees on a meat thermometer.
Tips
Could also cook sausage patties on a baking sheet in the oven at 450 degrees for 8 minutes.
Featured
Ingredients


What goes in Turkey Apple Breakfast Sausage?

Paprika

Apples
Dried Sage

Ground Turkey
Nutritional Information
(Per Serving)
See complete nutrition facts >>
Comments