Asian Chicken Pita Pocket
Dairy-Free |
Main Dishes |
Quick & Easy |
Snacks |
WIC Friendly |
Egg-Free |
Nut-Free
This dish combines a Mediterranean staple with sweet and savory Asia-inspired flavors.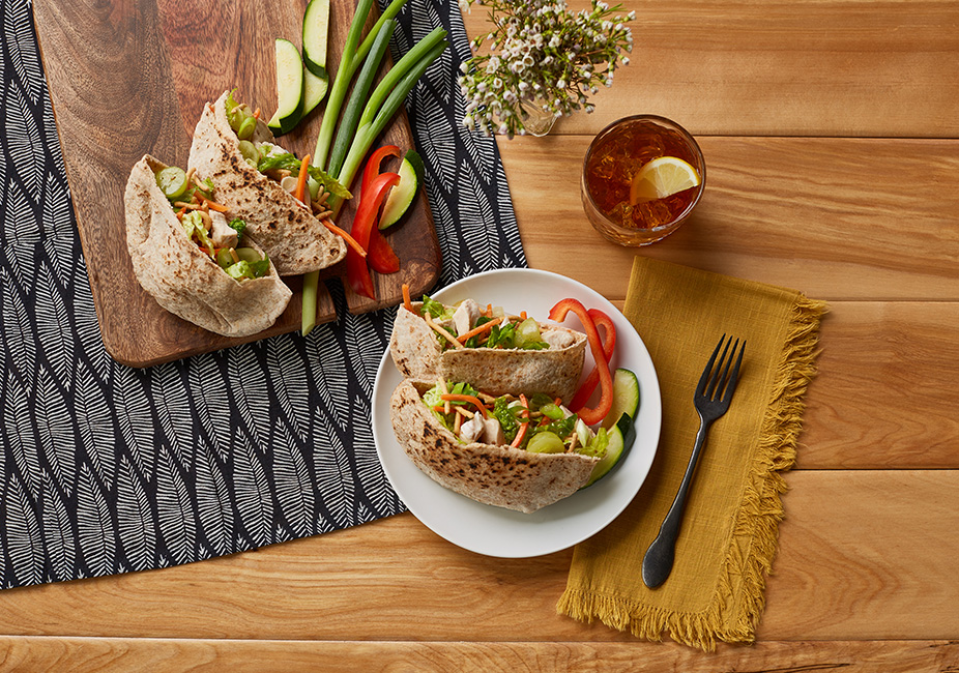 Temperature:
N/A
Serving size:
2 filled pita halves
Prep time:
10 minutes
Cook time:
N/A
Total time:
10 minutes
Equipment:

Cutting board

Medium bowl

Mixing spoon

Utensils:

Knife

Measuring cups and spoons
* Cost and availability of recipe ingredients may vary across different regions of Ohio. Cost per serving information should be used as a general guide when considering recipe cost.
2 cups leafy greens (romaine lettuce, kale, etc.), shredded
1 cup (red or green) seedless grapes, cut in half
1 cup chicken, cooked and chopped
1/3 cup crispy chow mein noodles
1/3 cup carrots, shredded
2 tablespoons green onion, sliced
2 tablespoons light Asian salad dressing
2 whole wheat pita pockets, cut in half
Instructions
Before you begin, wash your hands, surfaces, vegetables, fruit, and utensils.
Combine all ingredients except the pitas in a medium bowl and stir to combine.
Divide the chicken mixture evenly among the four whole wheat pitas.
Tips
If you can't find light Asian salad dressing in stores or if you would prefer to make your own, combine ¼ cup olive oil, 2 tablespoons rice wine vinegar, ½ tablespoon sesame oil, ½ tablespoon soy sauce, ½ tablespoon honey. Use 2 tablespoons to "dress" the pita filling and store the rest in an airtight container in the refrigerator.
Featured
Ingredients


What goes in Asian Chicken Pita Pocket?

Carrots

Romaine Lettuce
Whole Wheat Pita

Red Grapes

Chicken Breast
Nutritional Information
(Per Serving)
See complete nutrition facts >>
Comments