Whole Grain Cereal Treats
Desserts |
Gluten-Free |
Kid Approved |
Quick & Easy |
Snacks |
Low Sodium |
Low Fat |
High in Fiber |
Egg-Free |
Nut-Free
Use your favorite whole-grain cereal in this sweet and fruity version of the puffed-rice treats from our childhood.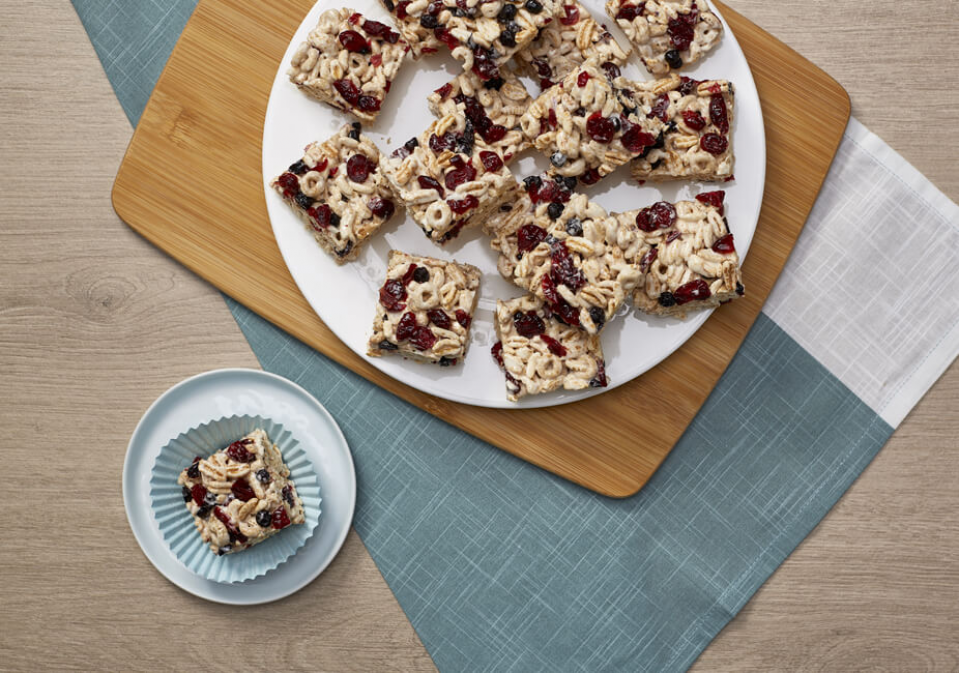 Temperature:
High heat
Serving size:
1, 2-inch square
Prep time:
15 minutes
Cook time:
N/A
Total time:
15 minutes
Equipment:

9x13-inch baking dish

Large microwave-safe bowl

Utensils:

Fork or spoon for stirring

Spatula

Measuring cups and spoons




Recipe Sourced from Iowa State University's Spend Smart. Eat Smart.
* Cost and availability of recipe ingredients may vary across different regions of Ohio. Cost per serving information should be used as a general guide when considering recipe cost.
Non-stick spray
3 tablespoons butter OR margarine
4 cups miniature marshmallows (about 1 10 ounce package)
6 cups whole grain cereal (oat circles, rice puffs, oat checkers, corn flakes, wheat flakes, etc.)
1 cup dried fruit (banana chips, reduced sugar dried cranberries, mixed dried berries, etc.)
Instructions
Before you begin, wash your hands, surfaces, and utensils.
Prepare a 9x13-inch baking sheet by spraying with non-stick spray.
In a large microwave-safe bowl, heat butter or margarine and marshmallows on high in the microwave for 2 minutes. Stir the mixture and microwave for 1 more minute.
Stir again until smooth. Add cereal and dried fruit and stir until well coated.
Press mixture into prepared baking dish with a spatula. Leave on sheet and allow to cool for at least 10-15 minutes. Cut into 2-inch squares when cool.
Tips
Use whatever pan you have on hand! This recipe fits into any size baking dish.
This recipe is great with whatever whole-grain cereal, dried fruit, or other toppings such as sliced nuts you have on hand.
Try adding some protein by topping them off with a thin layer of peanut butter or other nut butter.
Featured
Ingredients


What goes in Whole Grain Cereal Treats?

Dried Fruit

Cereal

Corn flakes

Mini marshmellows
Nutritional Information
(Per Serving)
See complete nutrition facts >>
Comments